Teaching Microbiology in Higher Education Symposium 2019 – an Annual Conference satellite meeting
Issue: Oceans
05 February 2019 article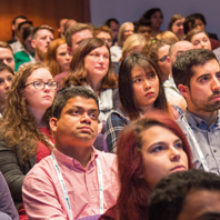 After the success of last year's event, the Microbiology Society will be hosting its Teaching Microbiology in Higher Education Symposium at the ICC Belfast on Sunday 7 April 2019, as a satellite meeting before the Microbiology Society Annual Conference.
As many of our members are involved in teaching at some level, the Society's Professional Development Committee is committed to supporting and enhancing the careers of those active in teaching, as well as the wider membership. This year's symposium will create a thread, beginning with discussions around the teaching landscape and transitioning into higher education, and ending with preparing students for independence and postgraduate studies.
During the sessions, attendees will hear from speakers who have successfully built and maintained microbiology curriculums by focusing on developing engaging degree courses. Delegates will also hear about quality assurance, accreditation and creating a course that is current.
Last year, delegates were proactive in sharing their use of digital platforms and novel techniques in the lecture theatre, as well as in discussing external factors affecting teaching. This year, the symposium will aim to continue the exchange of ideas and support delegates in sharing different teaching methods in the lab and the lecture theatre.
The symposium will facilitate a space for microbiology lecturers to interact and be part of a network, and will aim to provide a platform for delegates to continue to share and discuss teaching practices after the event.
Posters submitted to the symposium will also be available for viewing during the Annual Conference.
Tickets are priced at £20. Find out more and register your place online.