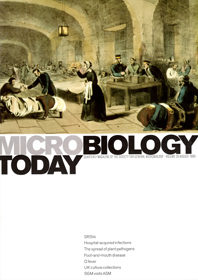 To view and print this document, you will need to download Adobe Acrobat Reader.
Pathogens
01 August 1999 publication
The lead articles of the August 1999 issue of Microbiology Today are on SRSVs; hospital-acquired infections; the spread of plant pathogens; foot-and-mouth disease; Q fever; UK culture collections; and when the Society visited ASM.
Opportunist pathogens in hospitals – all change please (p. 106)
Is it healthy to be admitted to hospital? Your risk of contracting an infection is high, Nick Brown reveals.
'Hyperemesis hiemis': new light on an old syndrome (p. 110)
Small Round Structured Viruses are a significant cause of gastroenteritis which have only been identified in recent years. Now molecular methods are aiding the research into the transmission and diagnosis of these organisms. Barry Vipond, Owen Caul, Paul Lambden and Ian Clarke describe the latest research.
Phytophthora – an abiding threat to our crops (p. 114)
Late blight caused the Irish Potato Famine in the 1840s, but as Jim Duncan describes, the dangers from this plant pathogen to food crops are still significant.
Airborne spread of foot-and-mouth disease (p. 118)
Foot-and-mouth disease is one of the most important diseases of farm animals in the world. Alex Donaldson describes how computer models can be used to predict and thus control its spread.
Sugar-beet rhizomania: the spread of a soil-borne disease (p. 120)
Sugar-beet crops can be decimated by rhizomania, a disease caused by a virus, yet transmitted by a fungus in the soil. Although stringent control measures are in place in the UK to prevent its spread, severe economic losses are being experienced in other parts of the world. Mike Asher explains the dangers of rhizomania in sugar-beet.
Q for query (p. 123)
Coxiella burnetii can pass from human to man, causing Q fever according to Ulrich Desselberger.
The United Kingdom National Culture Collection (UKNCC): microbiological resources to meet your needs (p. 124)
The UK culture collections have recently undergone a stringent review. David Smith describes the new system that is now in place and the services that are available from the UKNCC.
Chicago! Chicago! SGM meets ASM (p. 131)
Exhibiting at the ASM 99th Annual Meeting was a completely new venture for the Society. Ron Fraser and Janet Hurst report back on their experiences.
Gradline (p. 138)
Find out about upcoming events such as the Promega Prize meeting and the workshop & reception for young members. Sarah Field describes her running a SET week activity on microbiology for 90 five to seven year olds.
Going Public (p. 140)
Jane Westwell writes about the antibiotics event at the Edinburgh International Science Festival.