Best of the blog
Issue: Soil
07 May 2015 article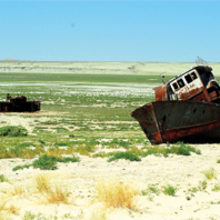 I can't believe we're in May already; where does the time go? Thankfully – for those of us in the Northern Hemisphere, at least – summer is right around the corner. Sure, you could go out and enjoy the beautiful outdoors, or you could stay in and read some of the great microbiology content we've had on our blog over the past few months.
Earlier in the year, we learnt a lot about an emerging disease with a very long name: Crimean–Congo Haemorrhagic Fever. This viral pathogen is spread by ticks and has a high mortality rate. Thankfully, microbiologists are working on a vaccine, as Jon Fuhrmann learnt while interviewing Society member Dr Karen Buttigieg.
I read a great thought-experiment paper in January – what would happen if every bacteria and archaea disappeared with the wave of a magic wand? This is a scenario that Dr Jack Gilbert and Dr Josh Neufeld tried to imagine. I recorded a podcast with them both, outlining the likely outcome for this microbe-free future (spoiler: it's not pretty).
A lack of archaea would certainly affect the digestive tracts of cattle. Jon spoke to Dr Christopher Buck to find out about a different aspect of bovine research, learning about the polyomaviruses that were isolated from ground beef bought in American supermarkets. Other polyomaviruses are known to raise the risk of some cancers – Dr Buck is working to see if this is the case with the newly discovered viruses.
Finally in this round up, we learnt about two new species of bacteria that were isolated from bats emerging from hibernation in the Czech Republic. The researchers behind these discoveries hope that the bacteria might have a role to play in controlling the fungus that causes "white nose", a disease that has decimated bat populations in North America.
BENJAMIN THOMPSON
Public Relations Manager
[email protected]
---
Image: Aral sea ships. Captain_Nimmo/Thinkstock..