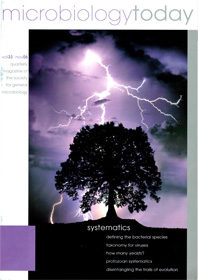 To view and print this document, you will need to download Adobe Acrobat Reader.
Systematics
01 November 2006 publication
The lead articles of the November 2006 issue of Microbiology Today are on defining the bacterial species; taxonomy for viruses; how many yeasts?; protozoan systematics; and disentangling the trails of evolution.
'Species' (p. 148)
W. Ford Doolittle discusses how genome sequence data are raising questions over the definition of bacterial 'species'.
Taxonomic parameters revisited: tarnished gold standards (p. 152)
Erko Stackebrandt and Jonas Ebers believe that molecular standards used to characterise species are outdated and may require re-defining.
Virus systematics: taxonomy for the tiny (p. 156)
Anne-Lise Haenni and Mike Mayo describe how a host of factors complicate the classification of viruses.
How many yeasts? (p. 160)
Meredith Blackwell reveals where to start when classifying novel yeast species.
Protozoa: the most abundant predators on earth (p. 166)
Thomas Cavalier-Smith explains how, after decades of radical reform, protozoan systematics reaches a consensus.
Disentangling the trails of evolution (p. 170)
Gemma Atkinson and Sandra Baldaug show how phylogenetic trees are making analysis of the abundance of new sequence data possible.
Schoolzone (p. 178)
Jane Westwell, John Grainger and Janet Hurst review recent educational resources about health and disease.
Gradline (p. 180)
David Glover, the Diretor of UCB Celltech, writes a short piece on research and development in the biopharmaceutical industry, and also gives an interview in a Q&A format.
Vacation studentships (p. 182)
Sue Assinder reviews some of the reports written by the recipiens of SGM Vacation Studentships in 2005.
Going public (p. 186)
Sue Assinder describes her experience speaking about Science Teaching in Schools Enquiry to the House of Lords Select Committee.
Obituary (p. 190)
John Peel and Bernard Fry write about the achievements of Sidney Reuben Elsden, who passed away aged 91 in April.
Comment - MicrobiologyBytes (p. 192)
Alan Cann asks, "are 'new media' the future for microbiology education?"