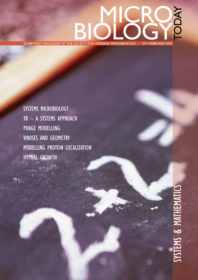 To view and print this document, you will need to download Adobe Acrobat Reader.
Systems and mathematics
01 February 2010 publication
The lead articles of the February 2010 issue of Microbiology Today are on systems microbiology; TB: a systems approach; phage modelling; viruses and geometry; modelling protein localisation; and hyphal growth.
Systems microbiology – Douglas Kell (p. 14)
Systems are interacting entities that can be modelled using graphs that describe and explain biochemical networks. Douglas Kell tells how systems methods are transforming the way we work and how multidisciplinary approaches allow us to solve complex problems that previously remained a mystery.
Systems biology and the TB bacillus – Johnjoe McFadden (p. 16)
In the era of microbial genomics, much effort has gone into understanding the functions of individual genes. Complex metabolic events, however, rely on the interaction of multiple genes that play multiple roles and are best understood using whole-system modelling. Johnjoe McFadden explains how integrated systems methods are ideal for studying microbes and postulates that his approach could help us take on tuberculosis, one of the biggest global killers.
Modelling bacteriophage – Rosalind Allen (p. 20)
Phage lambda is one of the key model organisms on which molecular biology was built. Such a wealth of existing knowledge on this organism makes it an ideal test model for systems biology. Rosalind Allen explores the usefulness of this bacteriophage to systems biology and vice versa.
Viruses and geometry: where symmetry meets function – Reidun Twarock and Tom Keef (p. 24)
Virus capsids are made from building block proteins that are repeatedly synthesized from a few genes in the viral DNA. Reidun Twarock and Tom Keef discuss the mathematics behind the remarkable symmetry of the viral protective coat and demonstrate how this is far from accidental.
Using modelling to understand protein localization in bacteria – Leendert Hamoen (p. 28)
Unlike eukaryotic cells, bacteria do not possess a cytoskeleton able to transport synthesized proteins to their correct location in the cell. Exactly how bacterial cargo navigates through the great cytoplasmic space is a question Leendert Hamoen had been asking himself for some time. He demonstrates how mathematics provided the answer to this intriguing problem when experimental testing became impossible.
A blueprint for polarized growth – Fordyce Davidson (p. 34)
Actinobacteria and filamentous fungi are just two examples of organisms that use cell elongation for growth. Mathematical models have been used to describe species-specific and more generic polarized growth. Fordyce Davidson suggests that multi-scale modelling could be the most effective approach to help us understand this morphological phenomenon.
Diphtheria and the origins of the UK childhood immunization programme – Philip Mortimer (p. 38)
Before World War II, diphtheria was a killer disease of childhood. Philip Mortimer looks at why Britain did not start its national efforts to vaccinate the population against this bacterial infection sooner and the lessons that have been learnt since.
NamesforLife: BrowserTool takes expertise out of the database and puts it right in the browser – George Garrity (p. 9)
George Garrity explains the philosophy behind the new Names forLife BrowserTool, developed in partnership with the SGM and ICSP to help the wider microbiological community keep in touch with and understand the changes in bacterial and archaeal systematics. Never again need a reader be ill-informed about the status or meaning of a name.
Comment: TB – strength in numbers – Geoffrey D. Coxon and Stephen Gillespie (p. 68)
New drugs are urgently needed to treat TB if we ever hope to eradicate this re-emerging fatal disease. Geoffrey D. Coxon and Stephen Gillespie explore how institutions in the the UK should maximize research potential by collaborating to lead the way in the global war on TB.
Schoolzone (p. 42)
The SGM believes that practical investigations are invaluable to students' learning of microbiology. In this issue we explain how, in partnership with our members, we are supporting practical teaching through the provision of activities, resources and training programmes. Also, scientists and teachers share their experiences of taking students into working labs and demonstrate how this can be a valuable (and memorable) student experience.
Gradline (p. 50)
Developing your communication skills is an important part of your career progression and scientific conferences provide a great opportunity to present your work to others. This issue presents you with tips and advice for putting yourself across in the best possible light, the pitfalls to avoid and offers an amusing-yet-enlightening game to play during your next departmental seminar.
Going Public (p. 54)
Here we showcase some innovative ways of raising HIV awareness to mark World AIDS day, a commemoration of the 80th anniversary of Alexander Fleming publishing his discovery of penicillin and a new project exploring the issue of superbugs.