Editorial
Issue: The Microbiome
09 May 2017 article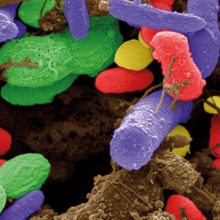 I would like to welcome everyone to the latest edition of Microbiology Today, which addresses one of the most fascinating topics in microbiology: the microbiome. Research surrounding the microbiome has always been both complex and interesting, and with recent advances in technology we have been able to generate more insight into complex communities than ever before. As research interest in this area has grown, we have seen significant interactions between microbes, environment and the host. This has given us a fresh understanding about how they impact on every aspect of life, sometimes in the most unexpected of ways.
The first article, written by Professor Julian Marchesi, outlines how microbiome research has developed and evolved, highlighting how access to a new type of information has allowed us to ask different questions. The article emphasises how an increasing understanding of microbiomes has the potential to impact on how we see and deal with not only human health, where the focus has traditionally been, but also multiple microbiomes within the environment, that when combined together support life on Earth.
Dr Thorunn Helgason has written the second piece, which delves into the importance of microbiomes within soil and how they can affect food production and the ability to support human population growth. The global need for more food means it is essential we understand how the microbiome of soil can help lead to increased crop production. Conversely, it highlights how poor understanding and management of soil can potentially lead to poor crop production, water run-off and flooding. The technology available is now being used to investigate which parts of the soil microbiome are integral to 'good' soil, and how different land management practices impact on these microbiomes.
Following on from this, Dr Melissa Dsouza and Professor Jack Gilbert have given an overview of how improvements in sequencing technology and statistical bioinformatics has given us a new insight into the complexity of both environmental and human microbiomes. They have then suggested ways in which this improved understanding of the interactions and relationships within microbiomes could be used to help us preserve and restore ecosystems across the globe.
In the fourth piece, Dr Sarah Maddocks examines the role of the microbiome in wound healing, outlining how a small shift in the composition of microbial populations within wounds can be the difference between timely and delayed healing. She discusses the latest ideas around the complexity of these systems, and how the diagnosis and treatment of wounds might be influenced by these findings in the future.
Professor Paul O'Toole talks us through through how variation in the microbiome of humans can lead to vastly different outcomes in terms of human health and disease. Again, the great strides forward in technology have allowed questions to be asked, not only about which microbes are present, but also which genes they carry and how that might affect the host. Much research has focused on how the variation within the gut microbiome can impact a whole range of disease, while still leaving plenty of questions about how exactly those effects come about. There is evidence that, as our understanding of the intricacies of microbiomes improves, the findings may be of increasing clinical value.
For our last piece, Professor James Prosser gives a balanced outlook describing how increased accessibility to molecular technology has and can continue to influence research studies, but also reminding us not to forget that all technology has limitations. He observes that, despite advances in sequencing technology and increased access to large data sets, more data doesn't necessarily mean improved understanding. It is essential that robust research questions are asked, to make meaningful use of the information being generated.
It is clear that this fascinating subject area is likely to produce exciting new findings as the research moves forward. This collection of articles begins to show just how significant the interactions between different microbiomes can be, and how understanding the interactions is critical to understanding the impact they might have.
Rowena Jenkins
Editor
[email protected]
---
Image: Coloured scanning electron micrograph of various bacteria found in a sample of human faeces. Steve Gschmeissner/Science Photo Library.