Grants
Issue: The Microbiome
09 May 2017 article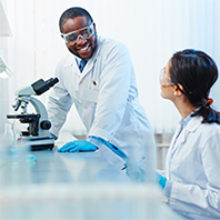 Research Visit Grants: supporting international collaboration
The Society's Research Visit Grant scheme supports early career members to build collaborations, whether that's on a local scale or internationally. With funded projects, including those bolstering existing collaborations and those establishing new ones, the grant scheme supports the growth of networks of microbiologists throughout the world. Read about the experience of some of our recent grant recipients below.
Agata Lisik, from NUI Galway, visited Dr Hélène Agogué at the University of La Rochelle, France, to compare the nitrate reduction and biogeography of nitrate reducers in intertidal sediments from the French and Irish Atlantic coast – accessing samples from France to compare to those collected in Ireland. During her visit, Agata was able to learn and apply two new research techniques, and the results of the work will contribute to a joint publication by the two groups.
Agata says, "Working at the University of La Rochelle added an international aspect to my research that has benefited and improved my laboratory skills together with communication, troubleshooting and lab management practice. This research visit has broadened my future career perspectives, improved my scientific skills and will benefit me in upcoming job searches on the Irish and international job market."
Matthew Moore, from the University of Liverpool, visited Dr Roger Levesque at the Integrative and Systems Biology Institute (IBIS) at Université Laval in Québec, Canada, in late 2016. Matthew wanted to visit the Levesque group to access a large genome sequence dataset of 2,000 isolates of Pseudomonas aeruginosa from around the world – the dataset is particularly detailed as it has associated detailed genotypic, phenotypic and patient data. As it was not possible to arrange to analyse the data in Liverpool, the research visit allowed Matthew to try to assess adaptation of P. aeruginosa to the cystic fibrosis lung, and compare this to environmental isolate genomes.
Matthew says, "Through this collaboration I gained skills and experience in managing these large datasets, efficient use of computing to complete the project in the time that I was in Quebec, and was able to discuss in depth the merits of various methodological approaches and alternative hypotheses to the established understanding of these infections currently."
The next round of Research Visit Grant funding opens on 1 July with a deadline of 1 October – visits should take place from 1 December onwards. To find out more see our website.
Maria Fernandes
Professional Development Manager
---
Image: Thinkstock.