Membership Q&A
Issue: The Microbiome
09 May 2017 article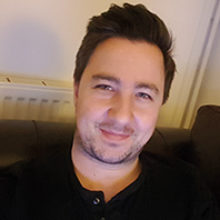 This is a regular column to introduce our members. In this issue, we're pleased to introduce Daniel Morse.
Where are you currently based?
School of Dentistry, Cardiff University, Wales, UK.
What is your area of specialism?
Oral biofilms and infections.
And more specifically?
Microbial interactions within denture-associated biofilms; the effects of bacteria on candidal virulence and pathogenicity; 3D tissue model development; and biofilm infection and subsequent host cell responses.
Tell us about your education to date.
I obtained my Biomedical Sciences undergraduate degree from the University of the West of England. I was then recruited by a probiotic and antimicrobial biotechnology company in Cardiff as a laboratory technician, and promoted to R&D Scientist leading the R&D projects for both probiotics and antimicrobial product development. I applied for a PhD studentship at Cardiff University in 2013, and started in October. I have since worked on developing polymicrobial biofilms with a particular interest in oral acrylic biofilms (denture-associated infections), and how bacteria influence candidal virulence and pathogenicity in vitro and within a 3D tissue model to mimic infections.
Where did your interest in microbiology come from?
After choosing my first microbiology module as an undergraduate, it was like love at first sight! I was fascinated by the world of micro-organisms – the vast variety, how they exist and interact, and what they can do. During my undergraduate degree, I chose further microbiology modules to deepen my knowledge in the field. Microbiology continues to amaze me, even now.
What are the professional challenges that present themselves, and how do you try to overcome them?
My current work involves metataxonomic profiling of micro-organisms within sites in the oral cavity through next-generation sequencing, looking at the microbiome. This results in an incredibly large data set, which needs a lot of analysis, interpretation and careful consideration of the results. On a 'bigger picture' scale, I think the immediate future for science is going to be a challenge – the potential reduction in funding and the changes in the worldwide view of scientific research. Additionally, as an early stage researcher (final stage PhD student), career options are of course on the horizon – whether I can secure a postdoctoral research position, fellowship, eventual lectureship and supervision of my own students to keep on doing what I am doing.
What is the best part about 'doing science'?
It's amazing and so much fun. Sure, there are days where you can bang your head against a wall again and again, but the satisfaction of knowing you are working towards making a difference to scientific knowledge and getting hands-on in research is an incredible feeling. It's very humbling to be able to say, "I'm a research scientist".
Who is your role model?
Let's set the bar high: Sir Alexander Fleming, Louis Pasteur, Robert Koch and of course my PhD supervisor, Professor David Williams. If I can be a fraction of what they are and what they've achieved, I'll be very happy!
What do you do to relax?
I have a young family, so I love to spend time with my wife and two boys – they are my world. I also play guitar in a rock band, so music is an eternal love, and I like to run.
What one record and luxury item would you take to a desert island?
Blink 182 – Take Off Your Pants and Jacket (my absolute favourite album of all time). It reminds me of my school days, and my school friends, and just growing up and having the best time. Luxury item… probably my guitar, to keep me sane.
Tell us one thing that your work colleagues won't know about you.
During my school days, I was quite the geek – I would spend hours playing video games, and represented Wales (as part of a team). I also used to be an online radio presenter for a gaming radio station (cringe)!
If you weren't a scientist, what would you be?
I can't imagine doing anything else. I would love to have been an A&E doctor… Or a musician or professional gamer.
If you would like to be featured in this section or know someone who may, contact Paul Easton, Head of Membership Services, at [email protected]
---
Image: D. Morse.