Reviews
Issue: The Microbiome
09 May 2017 article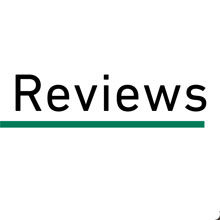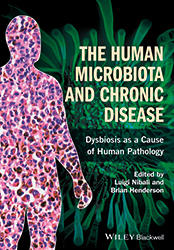 The Human Microbiota and Chronic Diseases: Dysbiosis as a Cause of Human Pathology
Edited by L. Nibali & B. Henderson
Wiley-Blackwell (2016)
£120 ISBN 978-1118982877
A highly popular topic, this book provides extensive coverage of human microbiota at different anatomic sites with a clear illustration of proportions of various micro-organisms in each site. The historical evolution of human microbiota, its relevance to environmental factors and dysbiosis have been discussed. The effect of microbiota on human gene expression has been reviewed although, at one occasion, microbiota has been considered as 'pathogenic', 'indigenous' and 'probiotic' while microbiota is always indigenous (page 185). The possible relationship between dysbiosis and diseases at different body sites – including cancer; chronic and metabolic diseases such as rheumatoid arthritis; inflammatory bowel diseases; and diabetes – has been explored. The book concludes with a chapter on probiotics and prebiotics and their application in medicine, and 'microbial therapy' for cystic fibrosis.
A comprehensive book on a popular subject with up-to-date reviews. It is clearly written and enhanced by clear illustrations. I would recommend it for researchers and students.
Azra Pachenari
Middlesex University
---
The below reviews are published online in addition to those in the print or PDF copy of this issue of Microbiology Today.
The Microbes Fight Back: Antibiotic Resistance
Written by L. Bowater
Royal Society of Chemistry (2017)
£24.99 ISBN 978-1782621676
We are living in an age where antimicrobial resistant infections are a global threat to human health. Much has been written in recent years and not a week goes by when the popular press doesn't contain a story about the next untreatable infection threatening humankind. Often with such emotive stories there is a gap in the literature for a 'go-to' text that covers the basic information that interested parties can access. This is exactly what Laura Bowater's book does – it summarises our current state of thinking on the issue of antimicrobial resistant infection, placing it in historical and contemporary contexts, and how we might move forward to combat this growing threat.
The book is highly readable and informative, and has the advantage that it can be read from cover to cover but is also accessible in bite-sized chunks, making it ideal to recommend to undergraduate students as additional reading for courses. There are plenty of diagrams throughout, and a particularly enjoyable series of 'boxes' focusing on particular subjects and people who illustrate key aspects of antimicrobial resistance and the microbiology that underpins our understanding.
Overall, I would highly recommend this book as an introductory text for academics and students alike. I think it will also act as a great introduction for the general public and journalists, given that it is highly readable with clear explanations of the more technical aspects of antimicrobial resistance.
Paul A. Hoskisson
University of Strathclyde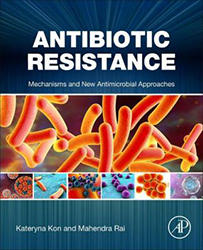 Antibiotic Resistance: Mechanisms and New Antimicrobial Approaches
Edited by K. Kon and M. Rai
Academic Press (2016)
£95 ISBN 978-0128036686
As numerous recent reports have described, antibiotic resistance is a very significant challenge for global public health so a book presenting antibiotic resistance and potential ways of addressing it is certainly needed. As the subtitle of the book suggests, this book is divided into two sections, with chapters 1–5 devoted to mechanisms of resistance and chapters 6–18 focusing on new approaches aimed at dealing with the ever-worsening problem of antibiotic resistance. Since the second section describes novel approaches, the chapters do not have to be presented in any particular order but the manner that the first section is arranged seems somewhat illogical to me. Not only this, but I think the book lacks some important background information. The first chapter concerns antibiotic stewardship while the remainder of the chapters in this section focus on genetic and biochemical mechanisms of resistance. I believe that this book would greatly benefit from an introductory chapter defining antibiotic resistance, describing how it develops in general terms (namely, gene mutation or gene acquisition, followed by selection), and then describing the pathogens that represent the key healthcare challenges by virtue of their resistance to current treatments, together with their public health significance. It is clear that we will not address the problem of antibiotic resistance by merely developing new treatments as it is probably only a matter of time before pathogens develop resistance to them too. We will have to use antibiotics in a more targeted manner, requiring faster and more effective tests for drug susceptibility and the book could have included an entire chapter devoted to this. Having said that, this book will be of interest to all of those involved in the diagnosis of infectious disease, and the development and use of drugs to treat them, whether they are students or practising researchers and clinicians. It is unfortunate, however, that the price tag is so high, putting it way beyond the reach of many.
Christopher Ring
Middlesex University