Society events
Issue: The Microbiome
09 May 2017 article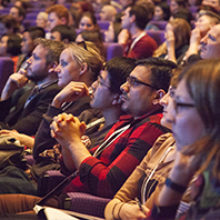 Annual Conference 2017
3–6 April 2017, EICC, Edinburgh, UK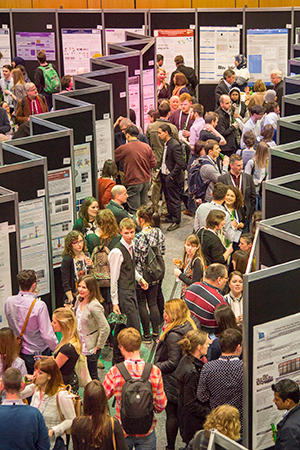 At the start of April, we were delighted to welcome over 1,800 of you to the EICC in Edinburgh to once again enjoy some amazing science and socialising opportunities over the course of four days.
Delegates attended our Conference from all over the globe to hear breakthrough research, and to network and build new connections. Our 2017 Conference programme included:
29 scientific sessions
over 250 offered talks
over 600 posters
talks from over 200 invited speakers
And for the first time:
We ran two sessions dedicated to professional development.
We provided a fun platform over the lunch period with flash poster presentations.
We awarded four poster prizes, including an Early Career Microbiologists' Forum prize, a people's choice award, prizes from our journal Editors, and a prize selected by principal investigators.
To see for yourself what we got up to at Conference, why not check out our YouTube channel to view our videos from the event and see if you can spot someone you know!
Annual Conference 2018
10–13 April 2018, ICC Birmingham
#Microbio18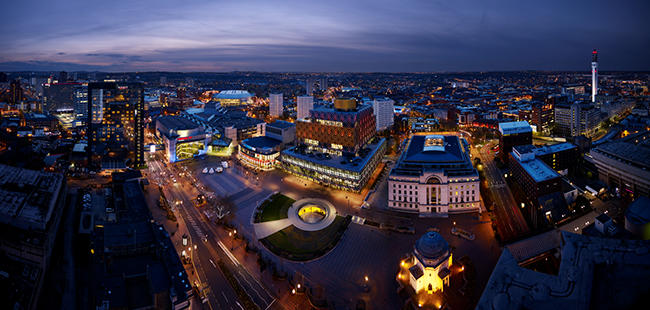 Preparations are underway for Annual Conference 2018 and the programme is looking spectacular. Session topics have now been confirmed and key speakers are being identified to ensure that once again our Conference provide delegates access to hot topics, new developments and leading researchers. Keep your eyes peeled for abstract opening and updates on our website later this year.
Main symposia*:
Biological insights from studying new eukaryotic models
CLIMB workshop (Genome bioinformatics)
Cool tools for imaging
DNA repair to cover control of mutation leading to evolution, recombination, MutS/MutL, phase variation and radioactive tolerant organisms
Drivers and consequences of virus diversity
E. coli to cover environmental isolates, UTI, cell biology and strains from animals and plants
Immunity session and immune models
Microbial diversity: Community interactions in live hosts to cover microbiome, signalling
Microbial diversity: Community interactions in the environment
Microbial mayhem – breaking bad to cover switch of commensal to pathogen including in immunocompromised host
Microbial metal homeostasis: impacts on pathogenicity
Synthetic ecology: from understanding ecological interactions to designing functional microbial communities
The games microbes play
The magic of mushrooms in nature and in industry
Viruses and translation
Zoonosis to cover food security and companion animals
Virus workshops:
Clinical Virology
DNA Viruses
Negative Strand RNA Viruses
Phylogeny
Plant Viruses
Retroviruses
Prokaryotic and Eukaryotic forums:
Environmental and Applied Microbiology
Genetics and Genomics
Microbial Infection
Microbial Physiology, Metabolism and Molecular
*Session titles to be confirmed
Sign up to our newsletter to ensure you are receiving regular updates about Conference and other Society news, and visit our Events pages for further information.
Society-Supported Conferences
The Microbiology Society is pleased to announce that nine meetings have been awarded funding in the first round of Society-Supported Conference Grants. The supported conferences include national and international events that are expected to attract over 1,000 delegates.
Seventh Advanced Lecture Course on Human Fungal Pathogens: Molecular Mechanisms of Host–Pathogen Interactions and Virulence
13–19 May 2017, La Colle sur Loup, France
15th UK Meeting on the Biology and Pathology of hepatitis C virus
19–21 May 2017, Cumbria, UK
24th International HIV Dynamics and Evolution Workshop
23–26 May 2017, Isle of Skye, UK
London Microbiome Meeting
7 June 2017, London, UK
The Annual Irish Fungal Society Conference 2017
15–16 June 2017, Limerick, Ireland
Young Microbiologists' Conference (YMC) 2017 Beyond Petri dishes: Capacity Building for Applied Research
27–28 June 2017, Ilishan Remo, Nigeria
EMBO Conference – Anaerobic protists: Integrating parasitology with mucosal microbiota and immunology
31 Aug–3 Sep 2017, Newcastle upon Tyne, UK
The 2nd International Symposium on Stress-Associated RNA Granules in Human Disease and Viral Infection
10–12 Sep 2017, Heidelberg, Germany
Staphylococcus Great Britain and Ireland 2017
14–15 Sep 2017, Swansea, UK
Call for Round 2 applications
Round 2 of our Society-Supported Conference Grant application is now open! The next closing date is Monday 12 June 2017. If you are organising a conference in any field of microbiology and meet the eligibility requirements, don't miss out on the opportunity to receive up to £2,000 to cover invited speakers' costs.
Further information and application guidelines can be found on the Microbiology Society's website.
Focused Meetings 2017
Focused Meetings are a central part of the Microbiology Society's events programme, with each meeting on a specific microbiological theme. They offer the opportunity of a smaller scale meeting, allowing for informal networking and dedicated time on one subject.
Microbial Resources for Agricultural and Food Security
21–23 June 2017 – Metropolitan Arts Centre, Belfast, UK
#AgriFoodSec17
The meeting will run over three days, with the All Island Phosphorus Sustainability Workshop on day one, followed by the conference on days two and three.
Key workshop topics:
Industrial perspectives on phosphorus recycling
Policy, research and future directions for phosphorus sustainability
Regulatory perspectives on phosphorus management
Key conference topics:
Harnessing microbial processes within the agri-food sector
Nutrients in the environment with a focus on agricultural systems
Microbial ecosystems and nutrient cycling
Abstracts have closed for this meeting but registration is open.
Find out more online.
International Meeting 2017: ISSY33 – Exploring and Engineering Yeasts for Industrial Application
25–29 June 2017 – University College Cork, Ireland
#ISSY33
Four days of science, fascinating speakers, networking, posters and the magical city of Cork.
Key topics:
Analysing and engineering regulatory networks in yeast
Cell factory product pitches
Engineering novel (to yeast) product pathways
Evolutionary approaches for yeast strain improvement
Exploration of yeast biodiversity for industrially relevant traits
Hybrid genomes of industrial yeasts: analysis and engineering
Metabolomics and proteomics of industrial yeasts
New synthetic pathways in yeast
New tools for yeast genome engineering
Registration is open.
Find out more online.
Antimicrobial Resistance and One Health
29–30 August 2017 – Maynooth University, Co. Kildare, Ireland
#AMROneHealth17
Key topics:
Antimicrobial resistance in animals
Antimicrobial resistance evolution in science and politics
Antimicrobial resistance in human health
Antimicrobial resistance in the environment
Abstract submission and registration is open.
Find out more online.
16th International Conference on Pseudomonas
5–9 September 2017 – St George's Hall, Liverpool, UK
#Pseudomonas17
Key topics include:
Antibiotics and biofilms
Ecology, evolution and environment
Genomics
Infections and host–pathogen interactions
Mechanisms: signalling, systems and synthetic
Abstract submission and registration is open.
Find out more online.
2nd International Meeting on Arboviruses and their Vectors (IMAV)
7–8 September 2017 – University of Glasgow, UK
#IMAV17
The meeting will run over two days. The key topics will be:
Antivirals/vaccines
Emergence from A to Zika
Vector biology & ecology
Virus discovery
Virus–host interactions and evolution
Abstract submission and registration is open.
Find out more online.
British Yeast Group (BYG) – The Versatility of Yeasts
11–13 September 2017 – University of Kent, UK
#BYGVOY17
The key topics will be:
Chromosome structure and function
Molecular biology of pathogenic yeasts
Protein folding and quality control
Synthetic and evolutionary genomics
The Cytoskeleton
Yeast metabolism
Abstract submission and registration is open.
Find out more online.
Call for 2018 Focused Meeting proposals
All Microbiology Society Focused Meetings are the result of accepted proposals from our members, and it is our members who provide the expertise in the wide range of fields that shape the Focused Meetings series. We deeply value the relationships we have and the partnerships we make when working together with our members to deliver such fantastic events.
We encourage our members to submit their ideas and proposals for our Focused Meetings series in 2018 and applications are now open. It is a great opportunity to put your name to a meeting and work alongside the Microbiology Society to turn your vision into reality.
The deadline for 2018 applications is 12 June 2017. All forms will be reviewed by our Scientific Conferences Committee, who oversee our scientific programme.
Please send your 2018 proposals to [email protected] by the deadline.
The application form and the terms and conditions can be found on the Microbiology Society website.