From the President
Issue: Water
17 November 2014 article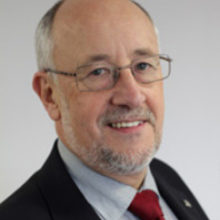 As a Learned Society it is vital that we use our collective knowledge and understanding of our discipline to ensure that policy-makers are aware of global issues affecting and affected by our discipline. Members will be aware of my passion for the Society to engage in policy issues. We have already seen antibiotics voted as the topic of the Longitude Prize 2014 and there continues to be considerable public and press interest in antimicrobial resistance. However, this is not the only global issue of concern to microbiologists. Water, the theme of this edition of Microbiology Today, is another.
I am writing this shortly after attending a meeting of the Society's Policy Committee, where we discussed, among other things, a Policy Roadmap for the Society. This is being actively developed with input from members and, if Council approves, will be rolled out in 2015. We hope that members will engage with microbiological issues in their locality, making the public and politicians aware of our interests and concerns. Several of the articles in this issue show what the Society and individual members are doing in outreach. Since our move to London, the Society is much more active in engaging with the national media. I am sure that more people have read a comment from me about Legionella and hot tubs in the Daily Mail than have read any of my scientific papers!
As we come towards the end of the calendar year, it is a good opportunity to mention membership subscriptions. Subscription rates are unchanged from last year and we have concessionary rates of membership with the same benefits as full members. If you know of someone who has allowed their membership to lapse for financial or other reasons, let them know about the membership categories on the website and that membership is for a full 12 months, irrespective of the date of joining. Under certain circumstances, such as childcare or carer responsibilities or disability, they may be eligible for an Inclusion Grant to attend meetings.
Although member subscriptions are an important source of income for the Society, the majority of our income comes through journal subscriptions and charges. Our journals have undergone many developments this year. A new manuscript submission system has been introduced and a range of policies have been developed to ensure compliance with funding body requirements. We also launched JMM Case Reports, the Society's first fully open access journal. The Publishing Committee and staff have been working hard to bring about these improvements and will continue to do so next year, with a new hosting platform for the journals due to launch in summer 2015. I encourage members to support the Society by submitting their next article to one of our journals. Standard publication is free, and discounts on open access fees are available for members. Information can be found at www.microbiologyresearch.org/
I have now been President of the Society for just over two years. This has been a time of great change. In the November 2013 issue of Microbiology Today I flagged the changes that the Society had undergone during my first year, several instigated by our previous President, Hilary Lappin-Scott. The pace of change has, if anything, increased! In 2014, inter alia, we moved to London, we changed our branding, we published our Equality and Diversity policy and introduced new categories of membership, we introduced a new journal and publishing procedures, we have a new Chief Executive, we run a single Annual Conference and Focused Meetings series, our AGM is separate from our Conference, and we have Society Champions working on our behalf in various localities. What changes does 2015 hold for the Microbiology Society? Some are in the pipeline and I am sure that there will be many others. It is a privilege to represent such a dynamic and forward-looking society.
NIGEL BROWN
President
[email protected]