News
Issue: Water
17 November 2014 article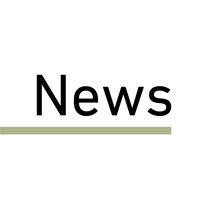 New article submission systems launched for all Society journals
The Microbiology Society's Publishing team has now begun using a new journal manuscript submission and tracking system, Editorial Manager. They have also launched ProduXion Manager, a new production tracking system. Both are provided by Aries Systems. Benefits include clear user interfaces, improved review processes and a transparent manuscript tracking system, which allows authors to monitor their article from submission through to publication. Please direct any queries about the move to Editorial Manager to journals@microbiologysociety.org
Membership rates 2015
The Society would like to thank all its members for their support over the past 12 months. The membership rates were agreed at the Annual General Meeting (AGM) of the Society on 11 September 2014. We are pleased to inform members that the membership rates for 2015 will be held at their current level. If you pay by credit card, you can renew your membership online at www.microbiologysociety.org. If you pay by direct debit you do not need to do anything further – your membership will be renewed automatically unless you have any changes to make.
Membership will now run for a full 12 months from the date you join, irrespective of when that is.
Members are reminded that their subscriptions for next year will be due soon. As in previous years, no journal or conference information will be dispatched to members who are in arrears.
Please contact the Membership Office on +44 (0)20 7685 2691 or by email to [email protected]microbiologysociety.org if you have any questions regarding your membership.
Membership subscription rates
| | | | |
| --- | --- | --- | --- |
| Full Member | £65*/£75 | US$145 | €95 |
| Full Concessionary Member | £28*/£33 | | €40 |
| Postgraduate Student Member | £28*/£33 | US$68 | €40 |
| Undergraduate Student Member | £10*/£15 | | €18 |
| International Associate Member | £20 | US$42 | €24 |
| School Member | £15 | | €18 |
| Affiliate Member | £10*/£15 | US$31 | €18 |
*Direct Debit payment rates
Article processing charges to be introduced for JMM Case Reports in 2015
From 1 January 2015, article processing charges (APCs) will be introduced for all accepted submissions to JMM Case Reports. These charges cover the cost of the editorial and production process. Our APCs will remain highly competitive, with discounts available for Society members, students, and authors from institutions who subscribe to its sister journal, Journal of Medical Microbiology.
Details of the new charges and how they will be applied can be found online at the JMM Case Reports website.
Association for Science Education 2015
The Society will be returning to the Association for Science Education (ASE) annual conference from 7 to 10 January. The 2015 conference will be at the University of Reading and you'll find us in the Exhibition hall. If you are a teacher, PGCE student, technician or involved in science education, please come by for free resources (Key Stages 2, 3, 4 and 5) and chat about how the Society can help you with practical microbiology teaching. We look forward to seeing you!
Sir Howard Dalton Young Microbiologist of the Year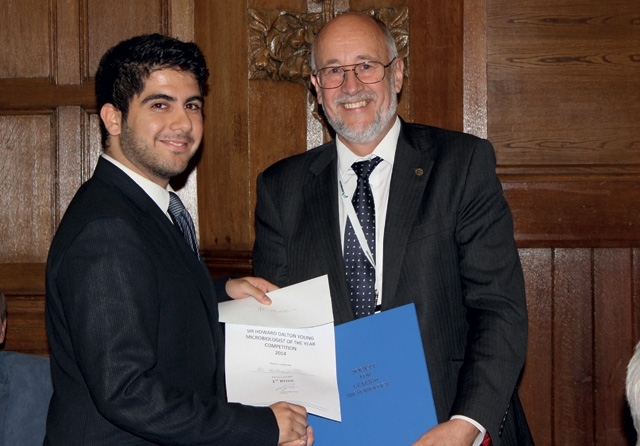 At the President's Dinner, Ali Hussein, a PhD student from the University of Bath, was awarded first prize in the Sir Howard Dalton Young Microbiologist of the Year Competition.
Ali's talk, which he presented at the Society's AGM, covered his work on the thermophilic bacterium Geobacillus thermoglucosidasius, and his attempts to make it more efficient at digesting cellulose and hemicellulose. Professor Nigel Brown, the Society's President, presented Ali his prize. The first runner-up was Maitreyi Shivkumar (University of Cambridge), with Lauren Ames (University of Exeter) the second runner-up.
The Sir Howard Dalton Young Microbiologist of the Year Competition recognises excellence in science communication from a postgraduate or early postdoctoral Society Member who has presented a poster or an offered paper at the Society's Annual Conference or Irish Division Meeting. The presentations from the shortlisted finalists are judged by a panel comprised of members from the Society's four Divisions and Professional Development Committee. Full details on the prize can be found on the Grants & Prizes section on the website.
New members of Council, Committees and Divisions
Council are pleased to announce that the following members have been appointed to the Council, Committees and Divisions.
COUNCIL
The following members of Council will take up office from January 2015:
Mike Skinner (Elected Member)
David Whitworth (Chair of Professional Development Committee)
Charles Dorman (Chair of Publishing Committee)
COMMITTEES
The following members of Committees and Divisions will take office subsequent to the AGM 11 September 2014.
Professional Development Committee
Douglas Browning
Katherine Hargreaves
Virology Division
Erica Bickerton
Stephen Griffin
Andrew Macdonald
Jo Parish
Prokaryotic Division
Stephen Michell
Jennifer Mitchell
Sheila Patrick
Ryan Seipke
Lori Snyder
Sabine Totemeyer
Martin Welch
Eukaryotic Division
James Ajioka
Gareth Bloomfield
Kevin Kavanagh
Jason King
Edward Louis
Ian Roberts
Colin Robinson
Irish Division
David Clarke
Marguerite Clyne
CHAIR-ELECTS OF COMMITTEES
The following candidate has been recommended by their current committee to become Chair-elect:
Communications Committee
David Bhella
For more information about the Council, Committees and Divisions please visit the About Us section of our website.
Deaths
The Society notes with regret the passing of three long-standing members of the Society, Professor Alan Glyn (member since 1967), Dr Royall Moore (member since 1973) and Professor Axel Rethwilm (member since 1994).
Stand-alone Society Annual General Meeting and Celebration of the Society's Work
For the first time, the Society's Annual General Meeting (AGM) was held independently of a Society conference. Professor Melanie Welham, Executive Director of Science at the Biotechnology and Biological Sciences Research Council (BBSRC), delivered an inspiring keynote address, entitled BBSRC strategy: a reflection on past and future opportunities for microbiology.
Professor Welham praised the world-leading status of UK bioscience and noted the importance of microbiology throughout the range of BBSRC-funded science. Prior to the AGM, Public Relations Manager Dr Benjamin Thompson spoke with her about her research and her work at the BBSRC. The interview can be found on our website.
Photographs showing the highlights from the AGM and President's Dinner can be found in the Annual General Meeting article.
Annual Conference 2015
The Society is looking forward to welcoming members and non-members alike to the 2015 Annual Conference, which will take place from 30 March to 2 April at the International Convention Centre in Birmingham, UK. Whether you are a veteran microbiologist or just starting out in your career, the Conference is a must for everyone with an interest in microbiology providing world class science and excellent networking opportunities. For further information, visit the Society's website.
2014 Society Outreach Prize
Dr Joana Alves Moscoso of Imperial College has been awarded the 2014 Outreach Prize. Joana is a co-founder of Native Scientist, an organisation that engages bilingual pupils in the UK about science in their native language.
We spoke to Joana in advance of our Annual General Meeting – read our Q&A with her on our website.
Contributions and feedback
The Society welcomes contributions and feedback from members, particularly news items that appear in this section, future magazine theme suggestions and ideas for the Comment article. Please contact [email protected]microbiologysociety.org with ideas.
DARIEL BURDASS
Director of Strategy and Communications
[email protected]microbiologysociety.org
---
Image: Ali Hussain receives his prize from President Nigel Brown..