Annual Conference
Issue: What is life?
10 May 2016 article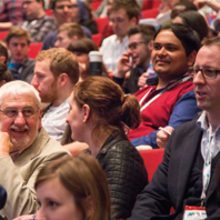 Annual Conference
ANNUAL CONFERENCE 2016
21–24 MARCH, ACC LIVERPOOL
Thank you to all of our delegates, invited speakers and exhibitors who helped make our Annual Conference one of the Society's best yet. During March, we welcomed over 1,400 of you to the ACC in Liverpool to enjoy four days of science and socialising, which included our super talented band The Radicals, who brought the party atmosphere and encouraged some movers and shakers to hit the dance floor!
Delegates attended the Conference from all over the globe to hear breakthrough research, take part in panels and debates, and to network and build connections. Once again our 2016 Conference featured a packed programme of 29 sessions, over 300 talks and 400 posters, all covering a range of microbiology, and this year we included additional lunchtime and evening events as part of the conference experience.
Particular highlights included our Prize Lectures, our Hot Topic Lecture on Zika virus, and our social programme.
As in previous years, research from our Conference received huge attention from the press, with researchers appearing in newspapers, on radio stations and on television channels across the globe.
Thank you to all those who gave us feedback; as always, we value your comments.
SOCIETY-SPONSORED EVENTS IN 2016
Every year we provide financial support for microbiology events held by other organisations. Below are some of the events we have sponsored so far this year. The next deadline for 2016 event applications will be 17 June 2016.
| | | |
| --- | --- | --- |
| 11th Recently Independent Virology Researcher's Meeting, 2016 (RIVR 2016) | 4–5 January | Derby |
| 21st Glasgow Virology Workshop (GVW) | 30 January | Glasgow |
| Legionella pneumophila (1976 to 2016) – From Whole Guinea Pigs to Whole Genome Sequencing: Do We Understand it Any Better After 40 Years? | 31 March | London |
| The 7th European Spores Conference | 18–20 April | London |
| 14th UK Meeting on the Biology and Pathology of Hepatitis C virus | 20–22 May | Cumbria |
| Protistology-UK Spring Meeting 2016 | 6–8 June | Bournemouth |
| Young Microbiologists Symposium on Microbe Signalling, Organisation and Pathogenesis | 29–30 June | Dundee |
| British Yeast Group | 29 June–1 July | Swansea |
| Within Host RNA Virus Persistence: Mechanisms and Consequences | 24–26 August | St Andrews |
| 8th Meeting of the European Society for Chlamydia Research | 6–9 September | Oxford |
| Structural Aspects of Infectious Disease | September | Belfast |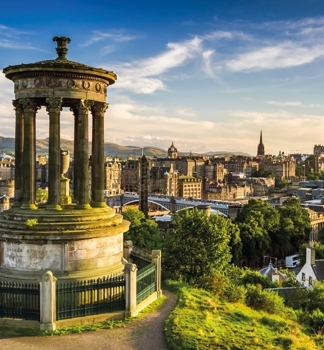 ANNUAL CONFERENCE 2017
3–6 APRIL, EICC EDINBURGH
#MICROBIO17
The countdown has begun to Conference 2017 and in preparation our Divisions have already started to create our next programme. Session titles have now been confirmed and speakers are being identified to ensure that once again our Annual Conference provides delegates access to hot topics, new developments and leading research.
Main symposia:
Anaerobes in infection
Aquatic microbiology
Cell biology of pathogen entry into host cells
Circadian and cell rhythms
Endemic mycoses
Epigenetic and non-coding RNAs in eukaryotes
Geomicrobiology
Heterogeneity and polymicrobial interactions in biofilms
Just passing through – virus infections of the gastrointestinal tract
Macromolecular machines
Microbial cell surfaces
Microbial genomics: whole population to single cell
Microbial mechanisms of plant pathology
Protistology UK Annual Meeting
Regulation of RNA expression during virus infection
Synthetic and systems biology applications in microbiology
Virus workshops:
Antivirals and vaccines
Clinical virology
Evolution and virus populations
Gene expression and replication
Innate immunity
Pathogenesis
Plant virology
Prokaryotic forums:
Environmental and Applied Microbiology Forum
Microbial Physiology, Metabolism and Molecular Mechanisms Forum
Prokaryotic Genetics and Genomics Forum
Prokaryotic Microbial Infection Forum
Add the date to your diary to not miss out next year. Sign up to our newsletter to ensure you are receiving regular updates about the Conference and other Society news, and visit the Events pages for further information.
APPLICATIONS AND PROPOSALS WELCOME
Our programme of events is developed and driven from proposals submitted by our members. In addition to the Focused Meeting proposals, we also welcome proposals for Conference sessions to take place at our annual meeting and applications for grants to support speaker expenses at external events. Further information can be found online, including terms and conditions and forms.
The next key deadlines are below:
Proposals for Focused Meetings 2017 – 17 June 2016
Society-Supported Conference Grants 2016/17 – 17 June 2016
Proposals for Annual Conference 2017 – 16 December 2016
Further information can be found in our events section online.
---
Image: Delegates at Annual Conference 2016. Ian Atherton. Calton Hill, Edinburgh. Thinkstock..