Best of the blog
Issue: What is life?
10 May 2016 article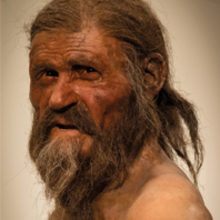 As the weather warms up for those of us here in the Northern Hemisphere, I thought it might be right to look at some of the temperature-related blog posts we've had over the past few months.
Firstly in this roundup, we learnt about the ancient 'Iceman', also known as Ötzi, whose body was discovered in 1991 after spending millennia buried under snow and ice in the Alps. This remarkable find gave researchers the chance to gaze far back into our past. One of these researchers is Dr Frank Maixner, who has been studying Ötzi's gut microbiota. Frank spoke to our Multimedia Producer Anand Jagatia about the work, which may help us better understand human migration thousands of years ago.
When the weather's warm, I like to go surfing. Sadly, I am quite bad at it and spend more time in the sea than on my board. Might this lead to me increasing my risk of coming into contact with antibiotic-resistant bacteria? Anand went to Cornwall to interview Anne Leonard, a PhD student at the University of Exeter Medical School, who is running the Beach Bum Survey to assess the gut bacteria of surfers in Southwest England.
You know what're warm? Hand driers are warm (alright, this is getting a little tenuous now). Might the air coming out of the jet hand driers be responsible for spreading viruses in public washrooms? We spoke to Dr Patrick Kimmitt at the University of Westminster, who has been researching this issue.
We don't tend to find many microbiology-related papers in the journal Nature Physics, but this is exactly the source of some new research we covered in a podcast earlier this year. We learnt from the University of Cambridge's Professor Raymond Goldstein about how the mathematical principals can be used to explore both the swimming of bacteria and the spin of electrons.
We've learnt about a lot of newly discovered microbes over the past few months. Some of my favourites include: Lactobacillus wasatchensis from aged cheddar cheese; the ultramicrobacteria Aurantimicrobium minutum; and three new species of Bifidobacterium isolated from the faeces of baby marmosets.
At the time of writing, we're yet to have this year's Annual Conference, but if the quality of the abstracts is anything to go by, I'm sure you'll have an amazing time. There'll be a host of Conference-related posts and podcasts on our site, so don't forget to have a read of the Microbe Post to see what you might have missed.
BENJAMIN THOMPSON
Head of Communications
[email protected]
---
Image: Ötzi, the 'Iceman'. Thilo Parg/Wikimedia Commons..