Outreach: Crowdsourcing new antibiotics
Issue: What is life?
10 May 2016 article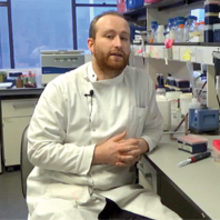 Research Associate Jake Newitt has been working hard at the University of East Anglia over the last six months on the samples from our pop-up events last August, as part of the Small World Initiative. Here, he gives his views on working on the project so far.
The Small World Initiative is giving the general public, students and educators in the UK and Ireland the opportunity to be part of a global initiative to discover new antibiotics from soil bacteria. The samples collected by the public at the pilot pop-up events are now at the University of East Anglia and I have been looking at each to identify any potentially interesting micro-organisms that are producing antibiotics.
I feel that I am a science communicator at heart, which is why I was so enthusiastic to start my Research Associate position for the Microbiology Society. The work that I do entails a classical screening programme for natural products, with an emphasis on outreach and engagement with the general public. The pilot events were organised at Thetford Forest, Suffolk/Norfolk, and Alice Holt, Surrey, for the general public to get involved with the hunt for new antibiotics by collecting soil samples and following their analysis online. At the University of East Anglia (where I am based) I plated out each of these soil samples and took photographs, which were shared with the general public, who were encouraged to try to identify some of the bacteria.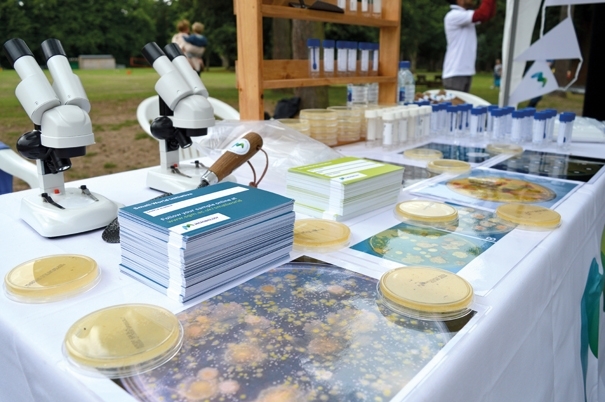 Additionally, I have filmed a video series called Lab Diaries, documenting the stages of this classical screening for natural products. This is in a video blog style that aims to break down barriers between the public and scientific research, which can all be viewed on YouTube. I found this challenged me more than I thought it would, despite the fact that I was a writer and editor for a popular science magazine as an undergraduate! When it came to explaining my field of expertise I was so used to using technical jargon that I found it difficult to describe it in simple, understandable terms.
When I was isolating bacteria, I was predominantly looking for Actinomycetes, and, in particular, Streptomyces. The reason for my focus on this group of bacteria is that more than half of all known antibiotics come from Streptomyces. They are quite often easy to spot – they are usually white and fluffy – and many of them also inhibit the growth of other bacteria around them. These were prime candidates for further analysis. Having isolated over 30 different bacteria (and counting), it was my mission to show that they produced compounds that had antimicrobial properties. Initial bioassays were conducted using soft nutrient agar and an indicator strain (a microbe that we are testing for activity against). This mixture was poured around a small spot of bacteria (that I had isolated from soil), the indicator was given time to grow, and then I would look for an area of inhibition around the isolate.
The future of my work will focus on the elucidation of these compounds; many will likely be rediscovered known compounds, but there is always a chance that a new compound may be found. One thing that has really struck me about my time during this position is just how time flies. There is always more to be done. I have found that, in truth, science is a real labour. A labour of love, but a labour nonetheless. What keeps me going is the idea that I'm pushing the frontiers of the field forward. I believe that the future of natural product discovery lies with molecular engineering, modifying existing organisms in ways that unlocks silent pathways, producing compounds never before seen under laboratory conditions. Whether we can find a new antibiotic this way using the samples from this project will be known with time!
JAKE NEWITT
University of East Anglia, Norwich Research Park, Norwich NR4 7TJ, UK
---
Image: Jake Newitt in the lab at UEA. University of East Anglia. The interactive stand, where participants could look at Streptomyces strains and mixed cultures from soil samples as well as submit their soil sample. Microbiology Society..