Reviews
Issue: What is life?
10 May 2016 article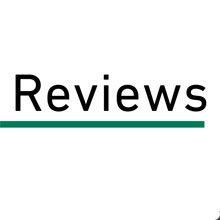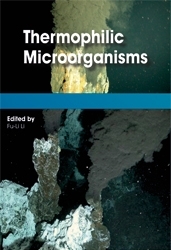 Thermophilic Microorganisms
EDITED BY F. LI
CAISTER ACADEMIC PRESS (2015)
£159.00 ISBN 978-1910190135
Thermophilic micro-organisms are quite a diverse group of micro-organisms and have brought us fascinating scientific and biotechnological interests, such as the diversity and evolutional history of these thermophiles, their ecological roles and adaptation mechanisms to high temperature environments, and their applications in bioprocessing and bioremediation scenes.
This book presents 10 selected topics of thermophilic micro-organisms by the leading experts in each field. It covers subjects such as the ecology of deep-sea thermophiles and their genetic systems, the diversity of thermophiles and their roles in carbon cycling and biomass degradation, and the biochemical properties of a variety of heat-active enzymes and their current and possible applications. Each chapter is concise and readable, providing lucid explanations about the current understanding and prospective views of the fields.
This book would be an invaluable resource for any researcher interested in these exotic microbes and their applications, from senior undergraduates and postgraduates to scientists and engineers.
TAKASHI ITOH
RIKEN BioResource Center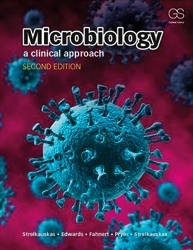 Microbiology: A Clinical Approach (2nd Edition)
WRITTEN BY A. STRELKAUSKAS, A. EDWARDS, B. FAHNERT, G. PRYOR AND J. STRELKAUSKAS
GARLAND SCIENCE (2015)
£60.00 ISBN 978-0815345138
There is no shortage of textbooks that deal with general or clinical microbiology. I have nine in my own office and many other microbiology textbooks that deal with more specialist topics. It is important therefore that books introduced into this market approach the topic from a different angle. My initial thought on being sent this book was that there is little space for a new text in the market or even on my shelf, but having spent time reading this book I believe that it has succeeded in differentiating itself from other apparently similar offerings. The book is aimed mainly at nursing and allied health students and, based on my own experience, I believe that this would be a useful resource for the pharmacy students that I teach.
The topics and depth of coverage reflect a 'need-to-know' approach for the intended readership, reflecting the way that allied health disciplines are often taught. Material is presented clearly and with emphasis at the start of each chapter on why a given topic is important. Each chapter has been colour-coded with 'fast fact' and 'keep in mind' sections that condense the main messages and provide relevant context.
To facilitate learning, chapters have sections titled: 'self-evaluation' and 'chapter-confidence', with a series of multiple choice questions; 'depth of understanding', with more discursive questions; and 'clinical corner', which reinforces the clinical relevance of chapter material.
The book is nicely illustrated throughout and well supported by a website, which incidentally is also excellent. The 'bug parade' section of the website even has embedded sound files to cover the pronunciation of bacterial names and links these to morphology, disease and to the associated chapters in the book. A large number of excellent videos are also available.
In summary, this is an excellent learning resource that is targeted at pre-nursing and allied health students but would be a useful resource for medical and microbiology students and their lecturers.
ANDREW MCBAIN
University of Manchester
---
The below reviews are published online in addition to those in the print or PDF copy of this issue of Microbiology Today.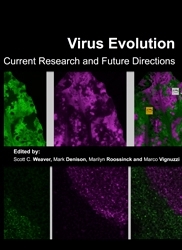 Virus Evolution: Current Research and Future Directions
EDITED BY S.C. WEAVER, M. DENISON, M. ROOSSINCK AND M. VIGNUZZI
CAISTER ACADEMIC PRESS (2016)
£159 ISBN 978-1910190234
As you might expect from a book subtitled 'Current Research and Future Directions', this book does not set out to give a comprehensive exploration of the topic of virus evolution but rather focuses on areas the editors consider to be at the forefront of the field. This highly informative book, written by experts in the field, explores some thought-provoking topics and research approaches. Each of the 12 chapters opens with a helpful summary and covers the subject matter comprehensively. For those interested in exploring a particular theme in more detail, a full reference list is provided. The concepts in each section are clearly explained, although there is some inconsistency in the level of background knowledge provided. The book is well organised and contains informative tables and figures that complement the text, though the figures tend to be on the small side. Overall I found the selected topics to be interesting and the book was not only highly informative but a pleasure to read. This book would best suit individuals with some prior knowledge of evolution, from advanced-level undergraduate students through to experienced researchers, although the price tag may limit the book to institutional purchase.
CAROL LEITCH
MRC-University of Glasgow Centre for Virus Research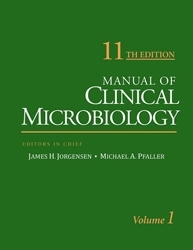 Manual of Clinical Microbiology 11th Edition Volume 2
EDITED BY J. H. JORGENSEN AND M. A. PFALLER
ASM PRESS (2015)
£215.00 (BOTH VOLUMES) ISBN 978-1555817374
The four-year revision cycle has yielded the 11th edition of the classic reference Manual of Clinical Microbiology (MCM11). MCM11 Volume 1 contained some welcome updates and so the expectation for Volume 2 was high.
As with MCM10, Volume 2 of MCM11 begins with Section 4 (Virology), which has undergone a few major alterations since MCM10; Middle East respiratory syndrome coronavorus (MERS-CoV) has been included but a chapter on Hendra and Nipah viruses has been removed, leaving minor references and no index listing. Section 5 (Antiviral resistance) has welcome updates but has downgraded the amount of text on HIV in favour of expanding other viruses and there is minimal discussion of next-generation sequencing.
Section 6 (Mycology) has significant taxonomic updates; most notably Microsporidia have moved to this section from Section 8 (Parasitology). Section 7 (Antifungal resistance) contains useful updates on treatment, including updated in vitro susceptibility data. Section 8 (Parasitology) contains few changes but Section 9 (Antiparasitic resistance) has new information, in particular new information about mechanisms of resistance and genotyping.
Overall, Volume 2 of MCM11 contains enough updates since MCM10 to remain a high-quality reference in diagnostic microbiology.
SUZANNE ENGLISH
University of Cambridge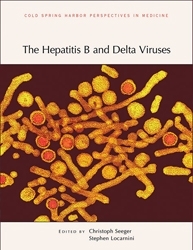 The Hepatitis B and Delta Viruses
EDITED BY C. SEEGER AND S. A. LOCARNINI
CSHL PRESS (2015)
US$135 ISBN 978-1621820888
Viral hepatitis is a preventable disease yet remains a significant global health issue that kills 4,000 people every day, with the majority of deaths caused the hepatitis B virus (HBV) along with its 'satellite' hepatitis delta virus (HDV). Despite a safe, effective and affordable HBV vaccine (which also protects against HDV), over 200 million people are currently infected and no cure is licensed. Why is this the case? Seeger and Locarnini seek to address this issue by inspiring people to realise new anti-HBV strategies by outlining the current state of knowledge about these two important viruses. From world experts in each of the fields, The Hepatitis B and Delta Viruses covers: the history of the viruses; the diseases they cause; their fundamental molecular virology; their origins; and how we are tackling them with vaccines and novel antivirals. While covering what is known, this dedicates much space to the unanswered questions, such as: is it better to target HBV directly or the host's pathogenic response? How does HBV cause liver cancer? And what antiviral resistance mutations are arising during therapy? Only time will tell whether this book has any impact on these questions but it is the perfect starting place for those motivated individuals.
CONNOR BAMFORD
MRC-University of Glasgow Centre for Virus Research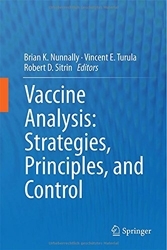 Vaccine Analysis: Strategies, Principles and Control
EDITED BY B. K. NUNNALLY, V. E. TURULA & R. D. SITRIN
SPRINGER (2015)
£122 ISBN 978-3662450246
This book is a very specialist text that focuses on the production and evaluation of different types of vaccines. Due to its very focused nature, it is in my belief unlikely to be of particular interest to those outside this very specialist field. The narrow focus of the book is also reflected in the price tag (£122), which will inevitably restrict its purchase to institutions. The order of chapters doesn't appear to me to be entirely logical, with chapters on flu vaccines and the production and evaluation of vaccines sandwiched between chapters on different types of vaccines. As is the case with many specialist texts, this book 'jumps' straight into the detail. In my opinion, the book would benefit greatly from a general introductory chapter presenting the more basic aspects of vaccination such as the significant benefits that vaccination has had on public health, basic requirements and desired features of vaccines and the different types of vaccines with their applications and advantages and disadvantages. This introduction could also include the basics of vaccine delivery and the challenges to vaccine production and efficacy. Many of the chapters focus on production and laboratory-based evaluation and even in the chapter on vaccine potency, there is surprisingly little on evaluation of efficacy in the intended vaccine recipients (clinical trials). In my opinion, more discussion of safety and efficacy testing in vivo should have been included. Together with an introductory chapter, I believe the book would also benefit from a concluding chapter to summarise the main points. I believe that these additions would also make the book of slightly broader interest.
CHRISTOPHER RING
Middlesex University