Membership Q&A
Issue: World War I
29 May 2014 article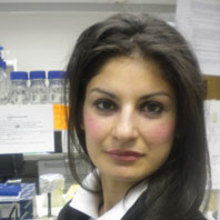 This is a regular column to introduce our members. This issue, we're pleased to introduce Nina Konstantinidou.
Where are you currently based?
School of Microbiology, University College Cork (UCC), Cork, Ireland.
What is your area of specialism?
Medical microbiology, involving both bacteriology and mycology.
And more specifically?
I am investigating a 'language' of two opportunistic pathogens – a dimorphic fungus Candida albicans and a bacterium called Pseudomonas aeruginosa. I am looking at the nature of their dialogue. Interactions between C. albicans and P. aeruginosa are well-documented. They are co-isolated from many infected areas of the human body, including the lungs and wounds. In addition, both can form biofilms on the surface of medical equipment, such as urinary catheters. Biofilms protect the germs from antifungal and antibiotic treatments making them drug-resistant. However, experiments suggest that chemicals secreted from various P. aeruginosa strains can affect the lifestyle of C. albicans. Specific experiments show that the fungus is unable to form drug-resistant biofilms in the presence of bacterial molecules.
The primary aim of my research is to identify C. albicans pathways that mediate the fungal response to bacteria signals. Typically, signals are sensed by membrane receptors and the message is transferred by signal transduction systems, like protein kinases. At the moment I am screening a C. albicans protein kinase library to find mutants with differential responses to bacterial molecules. Additionally, I am developing a molecular reporter with green fluorescent protein (GFP) to enable rapid screening of C. albicans mutants using confocal microscopy.
Tell us about your education to date
As soon as I graduated from Aristotle University of Thessaloniki (Greece), with a BSc in Molecular Biology, Genetics and Biotechnology, I applied for an MSc in Bioinformatics at University College Cork due to my passion for biostatistics, data analysis and programming. After completing my Master's studies I stayed in Ireland to carry out research for my PhD under the supervision of Dr John Morrissey. I was instantly attracted by this project in medical microbiology. I have the opportunity to work with two scientifically important micro-organisms: yeasts and bacteria, and my experiments generate a huge amount of data that I really enjoy processing statistically. Recently, I completed an animal handling training course and obtained Irish (LAST) and UK certificates that enable me to test the hypothesis developed via in vitro studies on animal models in vivo.
Where did your interest in microbiology come from?
Even in childhood I was always curious and detail-orientated. I remember myself generating a mini wild plant herbarium, which is still well conserved. At school, I had the classical questions such as: why are the leaves green and the sky blue, how can medicines treat infected people and what are the rules that govern the 'microscopic' world of pathogens. Hence, microbiology – it had all the answers!
What are the professional challenges that present themselves and how do you try to overcome them?
There are certainly plenty of challenges, like the difficulties of carrying out a new experiment, implementing fresh ideas or working on unknown micro-organisms, but I'm fortunate to work with helpful and supportive colleagues. That, combined with hard work, usually means that challenges aren't quite so insurmountable.
What is the best part about 'doing science'?
The results – definitely! I really look forward to the outcome of the research. It makes all the hard work worthwhile. Good results always compensate for hard work!
Who is your role model?
I have two: Francis Crick and James Watson. They made such a significant discovery – the structure of DNA – a huge milestone in the history of biology.
What do you do to relax?
I like swimming; and enjoy sleeping on my couch – to relax and to enhance my memory!
What one record and luxury item would you take to a desert island?
That's easy! Any Mozart, and an expensive car with a CD player (of course) and a good air-conditioning system!
Tell us one thing that your work colleagues won't know about you!
They probably know this already, but I really can't cook!
If you weren't a scientist, what would you be?
Probably a statistician because of my passion for statistics, or a paediatrician as I love being around children.
If you would like to be featured in this section or know someone who may, contact Paul Easton, Membership Manager at [email protected]