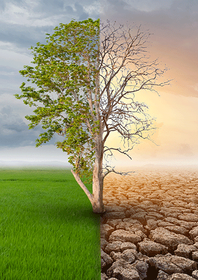 To view and print this document, you will need to download Adobe Acrobat Reader.
Climate Change: Microbes as Our Allies
28 February 2022 publication
The effects of climate change are already evident across the globe. Habitats are disappearing, sea levels are rising and the polar ice caps are melting. The communities most affected are struggling to cope with a rapidly changing world.
In its new climate change report, the Intergovernmental Panel on Climate Change (IPCC) assesses the scale of the impacts and highlights solutions to combat the crisis. It stresses that, with rapid action, the worst risks could be avoided. Steps are already being taken on the international stage. Last year, the 26th UN Climate Change Conference of the Parties (COP26) saw the world come together to accelerate action to tackle the climate crisis through collaboration between governments, businesses and civil society.
One important and often overlooked contributor to both the monitoring and the mitigation of climate change are microbes. Microbes are directly associated with both the production and consumption of greenhouse gasses, making them an important component in climate change models. Microbiology research has revealed ways in which we can harness the power of microbes to avoid climate catastrophe.
---
Image credit: iStock/chonticha wat