Equality, Diversity and Inclusion
One of the Microbiology Society's core values is that we are welcoming to anyone interested in microbes, their effects and their uses. As part of this, we understand and support the need to address diversity and inclusion for the benefit of the discipline and the Society. Greater diversity within all that we do will widen the talent pool available for the field of microbiology and create networks of ideas and collaborations, potentially leading to greater development and innovation. Overall, facilitating an environment of equality and diversity will foster a sense of inclusivity which will pave the way for us to build the capabilities to support microbiology in the future.
Equality and Diversity Policy Statement
The Society formed an Equality and Diversity Working Group in early 2013, chaired by Professor Hilary Lappin-Scott, to review equality and diversity in the Society's activities. The Working Group members were Gavin Thomas, Kim Hardie, Pooja Aggarwal, Lynda Coughlan and Paul Hoskisson. The Working Group produced the Equality and Diversity Policy Statement, which was endorsed by the Society's Council in December 2013. The statement was last updated in 2018 by the Equality, Diversity and Inclusion Ambassadors.

Equality, Diversity and Inclusion Policy Statement 2019

Data and guidance for implementing our Equality, Diversity and Inclusion Statement
Each year, we ask our members to tell us about themselves to help us better understand the makeup of the Society. This helps us make efforts to include our entire community in our initiatives, regardless of background. The 2020 survey is still open; if you are a member or have attended a virtual or physical meeting in 2020 please contact us if you have not received a link to complete the survey.
Microbiology Society Champion, Michael Pascoe, is currently running a survey about the issues faced by LGBTQ+ individuals in STEM fields, and the potential solutions for these issues. Find out more on our current opportunities page. This survey is not limited to members of the Microbiology Society.
As our data show that 45% of our members are women and 55% are men, we expect that where activities are drawing from our community, those involved will show fair gender representation. In order to inform you of the wider composition of the community, we have also provided data below which shows the proportion of the membership which identifies as from a minority ethnic group, and those who disclose a known disability or impairment.
At the end of September 2019, there were 5151 members of the Microbiology Society.
597 Members and 33 non-members completed the 2019 Equality, Diversity and Inclusion survey. Two respondents preferred not to disclose their membership status.
The survey was completed by 12% of the membership.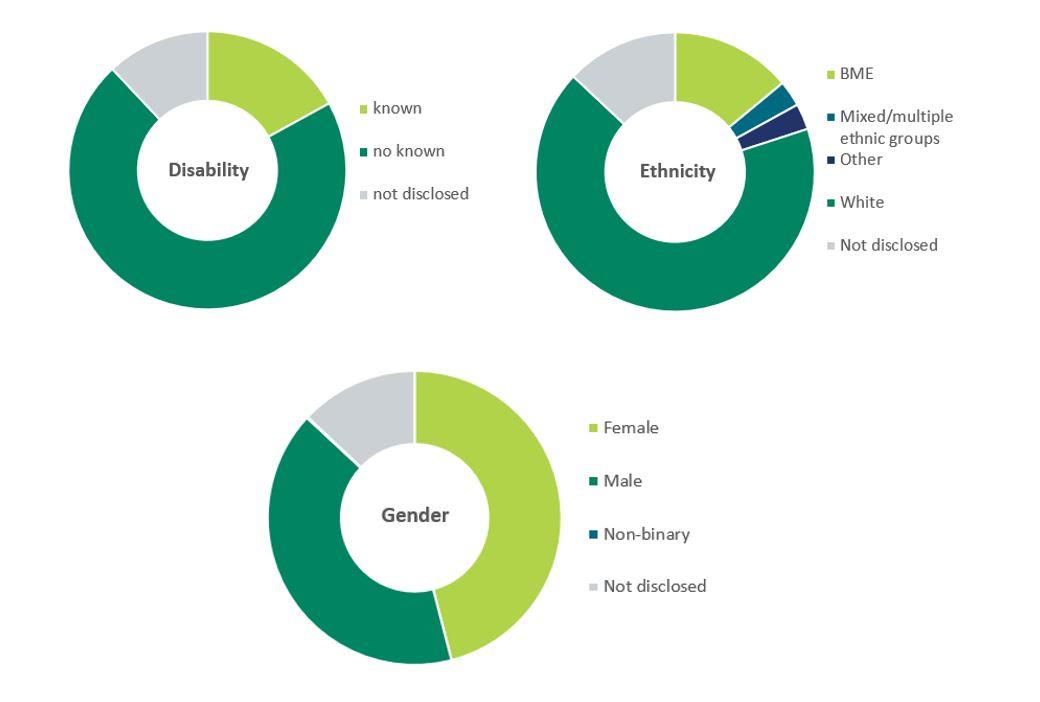 Ways of working
The Society has established ways of working to ensure that diversity and inclusion issues are considered in all its activities. The Society collates year-on-year data via a survey to track and measure progress and is collaborating with other like-minded organisations to share knowledge and best practice in the area.
The Society has embedded equality and diversity across its activities by appointing Equality and Diversity Ambassadors to Council and to each of the Committees. These Ambassadors meet once a year to review the data and put forward recommendations to Council.
Microbiology Society Initiatives
One of our core values is that we are welcoming to anyone interested in microbes, their effects and their uses. We try to make sure that we take appropriate measures to reflect this in our work, by facilitating access to our events, and improving the experience when there. If you have any questions about our work towards inclusion in our spaces, please email us at [email protected].
Helping members access Society Conferences
Members who would not otherwise have the opportunity to attend the Society's Annual Conference can apply for caring costs via our Society Conference Grant. Please see the grant's page for eligibility, application information, and further details.
At the Annual Conference, all attendees have access to free, first-come, first-served creche facilities run by trusted partners. We also provide rooms for nursing and prayer, and have designated quiet networking spaces prioritised for those who require them throughout the venue. Find out more on the Annual Conference page.
We ask all members, attendees at our events and those participating in Society activities to abide by our Code of Conduct, to help ensure a safe environment for all.
Microbiology Society Committee and Council Shadowing Scheme
We run a Shadowing Scheme for members who are interested in learning about the inner working of the Society. This can be very useful for people who want to run for an elected position and who are daunted by the process as it is a very useful opportunity to familiarise yourself first.
External activities
Science Council
The Society is a signatory of the Science Council's Declaration on Diversity, Equality and Inclusion. By signing this declaration, the Society has committed to promoting diversity and to help the Science Council achieve its strategic aim of a more diverse science workforce.
Biosciences Athena SWAN workshop
The Society, working in partnership with the Biochemical Society, British Ecological Society, Society for Experimental Biology and Royal Society of Biology, ran the first Biosciences Athena SWAN Best Practice Workshop in Charles Darwin House on the 11 December 2015. 50 delegates attended the workshop to share best practice and make connections.
The Society has produced a short video of the event highlighting some top tips from the speakers about applying for Athena SWAN awards and the benefits of attending event such as the Biosciences Athena SWAN workshop. You can watch the video below.
The Equality Challenge Unit, part of AdvanceHE, runs the Athena SWAN Awards and attended the event. They have produced a top tips sheet below.

Top tips for Athena SWAN

Royal Society of Biology Returners to Bioscience
The Society is also a participant in the Royal Society of Biology's Returners to Bioscience Group. The group seeks to provide resources and mechanisms to support scientists before, during and after a career break.
Your Life
The Society previously signed up to the Your Life campaign. Your Life was a three-year campaign, which started in 2014, to ensure the UK has the maths and science skills it needs to succeed in a competitive global economy. The campaign aimed to inspire young people to study maths and physics as a gateway to exciting and wide-ranging careers, and by helping employers recruit and retain talent, particularly women. Find out more by visiting the website.
Useful resources
Equality, Diversity and Inclusion in Science and Health (EDIS)
EDIS is a network set up by The Francis Crick Institute, the Wellcome Trust and GlaxoSmithKline which works to develop a coalition with power to influence and drive evidence-based change. Their website includes a section of resources for those interested in diversity and inclusion.
British Dyslexia Association Style Guidelines
We recommend considering the advice in the British Dyslexia Association Dyslexia Style Guide when producing any written content. The style guide provides principles that can help ensure that written material considers the difficulties experienced by some dyslexic people and allows for the use of text to speech to improve the ease of reading.