Our activities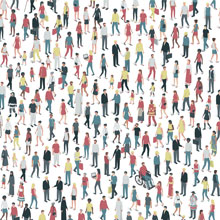 The Society formed an Equality and Diversity Working Group in early 2013, chaired by Professor Hilary Lappin-Scott, to review equality and diversity in the Society's activities. The Working Group members were Gavin Thomas, Kim Hardie, Pooja Aggarwal, Lynda Coughlan and Paul Hoskisson. The Working Group produced the first Equality and Diversity Policy Statement, which was endorsed by the Society's Council in December 2013. Since then, the statement has evolved and become embedded in all of our terms of reference and application processes.
The Society is committed to creating an inclusive culture that supports equality and diversity and fully reflects both its membership and the global microbiology community. The Society seeks to actively encourage all practices that reflect a diverse society.
To address this, the Society will ensure that equality of gender, career stage, ethnicity and disability are appropriately embedded and prioritised across the Society's structure and activities.
Although not similarly embedded at this time, the Society also considers equality of the remaining protected characteristics to be important.
Over the years we have taken steps to be more inclusive; when in 2013 we realised that the representation of women in our activities was very low, we introduced a target for participation, particularly for our conference speakers. Over time, this has improved significantly. We have also reviewed our processes for grant applications and the full Prize Lecture nomination and award process. We have also invested in our Annual Conference to include nursing and prayer rooms and a creche as well as support grants to help members to attend and to cover caring responsibilities. This page contains details of some of our key initiatives and the rest of these EDI pages will give anyone interested a deeper insight into what we do to support all our members.
Microbiology Society initiatives
One of our core values is that we are welcoming to anyone interested in microbes, their effects and their uses. We take measures to reflect this in our work, by facilitating access to our events, and improving the experience when there. If you have any questions about our work towards inclusion in our spaces, please email us at [email protected].