A day in the life of an NHS Clinical Scientist
Posted on July 5, 2022 by Microbiology Society
The UK's National Health Service (NHS) celebrates its birthday on 5 July. It was on this day in 1948 that the service was born, with the aim of providing free healthcare to all. To highlight what it's like to work in microbiology in the NHS, member Dr Benjamin Johns (@DrBenJohns) tells us about his role as a Clinical Scientist in the Public Health Wales NHS Trust.
Tell us about your role
I am a Clinical Scientist in Public Health Wales's (PHW) Microbiology Division. A Clinical Scientist is an HCPC-regulated profession responsible for aiding the prevention, diagnosis and treatment of illness and promotion of public health. The role focusses on leadership, research, service development and quality improvement with the aim of providing excellent clinical scientific services through liaison between frontline clinical colleagues or service users and laboratory staff. Working as part of a team of clinical scientists, biomedical scientists, medical doctors, Physicians' Associates, Medical Technical Officers, Associate Practitioners, Medical Laboratory Assistants and clerical and administrative staff, we deliver frontline clinical, food, water, environmental and public health microbiology services across Wales, in addition to specialist national reference services.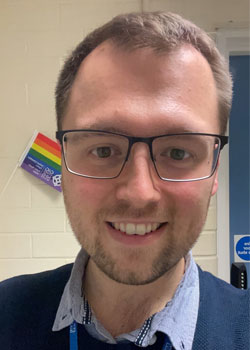 What does a typical day look like?
I'm not sure there is ever a typical day in the NHS! I am currently working at the Food, Water and Environmental Microbiology (FW&E) laboratory at University Hospital Llandough within the PHW FW&E Microbiology Network. The laboratory is accredited by the United Kingdom Accreditation Service (UKAS) to BS EN ISO 17025:2017 and tests foods produced by NHS production units for our patients. We test routine surveillance samples collected by Local Authorities' Environmental Health teams and we test food samples collected as a result of a complaint or outbreak investigation. For waters, we test NHS hospital water samples for Legionella; shellfish for seawater quality monitoring and post-cleaning rinse water from medical equipment such as flexible cystoscopes. For environmental testing, we test everything from surface swabs (e.g. food production units) to pharmaceutical products and operator broth run validations and environmental monitoring of NHS aseptic pharmaceutical production units. This is just our FW&E Network, without even considering our clinical laboratories! A full breakdown of our testing services can be found on the PHW website or on our UKAS Schedule of Accreditation.
My role is to focus on research, service development and quality improvement within the FW&E network. Having recently introduced the first molecular test into the FW&E Network for Listeria monocytogenes, I am now working on molecular testing for Legionella pneumophila from waters; MALDI-ToF-MS for the identification of filamentous fungi; and rapid tests for the enumeration of coliforms and enterococci from water samples, in addition to academic collaborations.
As part of my role, I've also had the opportunity to undertake microbiology and infectious disease ward rounds, activities with our infection prevention and control teams and site visits with Environmental Health Officers.
What is your background and what got you interested in this area of work?
I initially undertook my BSc (Hons) in Biomedical Science at University of Wales Institute, Cardiff (UWIC), UK, so have always had a keen interest in the application of scientific skills to support patient care and protect public health. I undertook my dissertation project in microbiology with Professor Rose Cooper, which is where my interest was first piqued.
I went on to complete my MSc in Biomedical Science (Medical Microbiology) and subsequently a PhD investigating small colony variants of Pseudomonas aeruginosa in chronic infection under the supervision of Dr Sarah Maddocks at Cardiff Metropolitan University, UK.
Following this, I secured employment at the Wales Specialist Virology Centre as an in-house Trainee Clinical Scientist. I worked primarily in the molecular diagnostics laboratory but also spent time in serology and with the point of care testing team.
I then undertook the three-year National School of Healthcare Science's Scientist Training Programme (STP) at PHW which included an MSc in Clinical Science (Infection Science) at Queen Mary University London, UK in order to gain my registration as a Clinical Scientist. I undertook a work-based dissertation project focussed on the introduction of PCR for the rapid detection of Listeria monocytogenes from food samples, under the supervision of Deborah Charles (Lead Biomedical Scientist) and Dr Catherine Moore (Consultant Clinical Scientist & Lead for Molecular Service Development).
During the STP, I worked within bacteriology, Wales Specialist Virology Centre, Specialist Antimicrobial Chemotherapy Unit (SACU), UK Anaerobe Reference Unit (UKARU), Regional Mycology Reference Unit, FW&E, UK Cryptosporidium Reference Unit, UK Toxoplasma Reference Unit, Wales Centre for Mycobacteria, epidemiology and the PHW Health Protection Acute Response Centre.
I have always been thankful for the support of the Microbiology Society during my career development – from my first conference attendance, my first poster presentation, my first oral presentation, being a Society Champion, being a member of the Sustainability Committee and judging abstract submissions on behalf of the Society for the Federation of Infection Societies (FIS) talks.
What do you like best about your job?
The people – without doubt. I am fortunate to work amongst a highly skilled, passionate, multidisciplinary workforce with an unwavering commitment to supporting and continuously improving patient care and public health outcomes. I can honestly say that I look forward to going to work each and every day. I am inspired by my colleagues and am proud to be part of Public Health Wales and the wider NHS.
What do you find most challenging about your job?
Misbehaving microorganisms! Ones that don't grow when you want them to, ones that do grow when you don't want them to and ones that don't grow as expected.
Previously, I would say the challenge of the COVID-19 pandemic. In early March 2020, my training was suspended and I was redeployed to the Wales Specialist Virology Centre to support the national SARS-CoV-2 (COVID-19) testing service. During the early days this was an incredibly challenging operation due to demand outstripping supply of Containment Level 3 facilities, microbiological safety cabinets and nucleic acid extraction platforms compounded by global reagent shortages.
PHW is a dynamic and innovative organisation so we were able to rapidly restructure to prioritise testing, ensuring that we continued to meet the needs of our service users. Rapid verification of new methods and platforms by our scientists meant that we were able to greatly expand our testing capacity to meet demand. Although I continued to support this service over the following 18 months, it was the first few months that I will remember for the rest of my career. Before the establishment of lighthouse labs, before we were able to expand our staffing establishment, during that first lockdown at a time when people were genuinely scared to leave their homes and the roads were empty, the NHS pulled together and delivered a tremendous life-saving service. There was a real 'keep calm and carry on' feel about the first lockdown; working around the clock, 7-days a week, to carry out testing. Ensuring patients were safe to be discharged, clearing the bed for the next patient, who would themselves require testing. Ensuring critical clinical staff were testing negative to enable core services to function. Looking back, I am in awe of how the team pulled together to deliver the service, for the people of Wales, when they needed it most.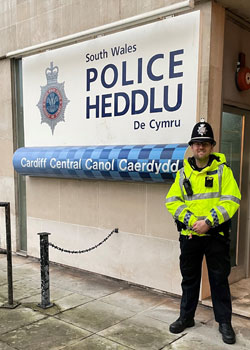 How do you switch off outside of work?
I'm not sure it's exactly 'switching off' but I volunteer as a Special Constable (SC) with South Wales Police. Special Constables are warranted police officers that wear the same uniform, carry the same equipment and have the same powers as our regular, full-time, paid colleagues. We can patrol alone, with other SC's or with our regular colleagues. Working in Cardiff city centre, you'll usually find me driving a 'riot van' on blue lights, attending emergency calls on a busy Friday and Saturday night!
When I'm not in my lab coat or police uniform, I can be found spending time with my fiancé and our three lovely Yorkies!
If you would like to talk to Dr Benjamin Johns about his role, you can contact him via [email protected]. If you are interested in showcasing your work for an awareness day, you can find out more on our website or email [email protected].