Agar Art Contest
Posted on November 8, 2022 by Arindam Mitra
The Department of Biological Sciences at Adamas University, India, organised an Agar Art Contest on 19 September 2022. The event promoted the art and science of microbiology in alignment with the objectives of the Microbiology Society.
Participants registered for this event online, and a few participants reported on the spot. The event occurred in the biolab at Adamas University, Kolkata, India. Suggested themes for this event were microbiology, microbes, COVID-19, 75 years of the Microbiology Society, Sustainable Development Goals (SDG), and 75 years of Indian Independence.
Half of the participants were given pigment-producing bacteria, including Chromobacterium violaceum, Pseudomonas aeruginosa, and Serratia marcescens, to create their art on the nutrient agar plate. Another half was provided with Escherichia coli and Pseudomonas aeruginosa, along with MacConkey and Eosin Methylene blue agar plates, to create their art. Participants were also given an inoculation loop, sterile toothpick, and sterile swabs to inoculate the strains on the agar surface. Inoculation was carried out in the laminar airflow to minimise contamination and reduce exposure to bacterial strains. Certificates were given to all participants at the end of the event. All agar art plates were displayed at the conference.
A presentation about the Microbiology Society and Society-supported events at Adamas University was given by the Society Champion, Arindam Mitra, at the Bionext 2022 conference. After the presentation, many participants showed interest in joining the Microbiology Society. More than 50 participants from Adamas University actively participated in the event. A few participants were also present from other Institutions like Gurudas College. The top three agar art plates, as judged by an external expert, were given prizes at the end of the conference. Feedback from the participants was also received. Most of the participants gave positive feedback regarding the event. Some comments and feedback provided by participants described this event as "the new art of learning science", "a chance to be creative in the lab" and "to learn to work in a given amount of time", "an opportunity to voice ideas, improving systems, policies, and procedures", and one commented that the "learning process was excellent."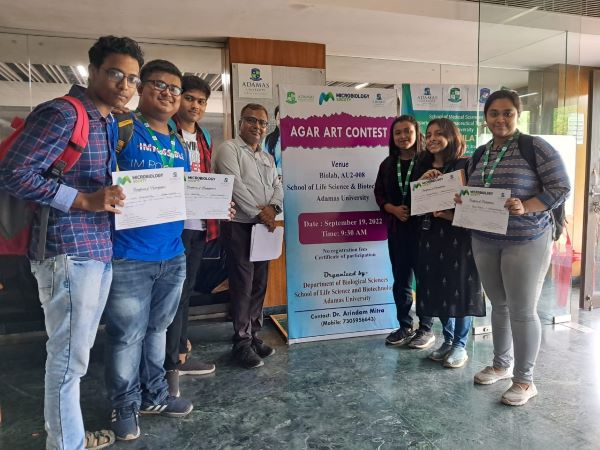 For many participants, this was a new experience. Possible improvements included more practice for the freshers and other participants from allied sciences, such as biotechnology or biochemistry, who also participated in the event. Some suggested more time could be beneficial. Overall, the event succeeded in nurturing the art and science of microbiology.