Assessment of the impact of KDO metabolism on gut homeostasis
Posted on December 16, 2020 by Microbiology Society
Each year, the Microbiology Society awards a number of grants that enable undergraduates to work on microbiological research projects during the summer vacation and provide early- and mid-career scientists the opportunity to gain supervision experience. Over the next few months, we'll be posting a series of blogs from members who were awarded Harry Smith Vacation Studentships in 2020. This week is postdoctoral researcher Dr Andrew Bell, Quadram Institute and undergraduate student Lydia Pouncey, University of East Anglia.
From the student: Lydia Pouncey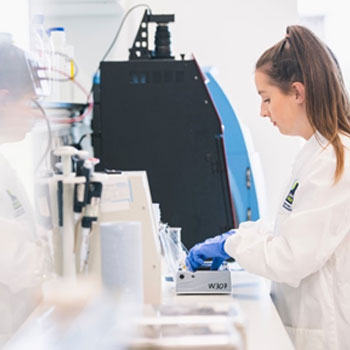 The aim of the project was to clone a gene coding for an aldolase predicted to metabolise the sugar KDO. The protein would then be heterologously expressed in Echerichia coli and its activity against KDO would be tested in vitro by monitoring the production of arabinose and pyruvate. From here, the kinetic parameters of the metabolism reaction can be defined. Site-directed mutagenesis was also to be carried out to determine key catalytic amino acids. Another aim of the project was to assay the impact of KDO on the growth of Salmonella Typhimurium, as informed by preliminary data.
The research carried out in this project provided novel mechanistic insights into the metabolism and utilisation of KDO in rhamnogalacturonan-II by gut bacteria. The enzymatic characterisation (kinetic parameters, enzyme specificity and catalytic residues) of the novel aldolase holds potential for biotechnological and protein engineering applications.
The project has enabled me to gain confidence in the lab and a better understanding of techniques such as thin layer chromatography, mass spectroscopy, gel electrophoresis, gene cloning and site-directed mutagenesis. I also developed my problem-solving and communication skills. If it wasn't for this project, I feel that I would not have been able to gain the knowledge of these techniques and of the laboratory environment at this stage of my career. Our fortnightly lab meetings also made me more comfortable with openly talking about the science and research that I am doing and in developing my critical thinking.
The experience I gained from this project has given me a good insight and knowledge as to what is expected of my final year research project. Talking to people in the research group has given me a better understanding of the characteristics and qualities required to conduct your own research, as well as explaining what a typical day would involve.
This project has confirmed to me that the route I would like to take after university is to do a PhD, which would hopefully lead me into an academic research route.
From the supervisor: Dr Andrew Bell
The studentship allowed me to take responsibility in both conceiving and writing a project proposal and also in independent supervision of a student. These will be valuable skills I can use to further my personal development and use in future grant applications and student supervision.
I learnt the value of ensuring contingency plans are built into project proposals from the outset, to ensure that the project can still be delivered despite technical issues.
I very much enjoyed the opportunity to train and supervise a student and it is something I will look to do more of in the future.
Applications for our 2021 scheme are now open and will close on 17 February 2021. Find out more and apply on our website here. For any questions, please contact

[email protected]

.