Bactobio X Microbiology Society
Posted on November 1, 2023 by Microbiology Society
Bactobio is a biotechnology company that uses next-generation sequencing, machine learning and bioengineering to culture the 99% of microbes which have previously been unculturable. Their first targets are to discover novel antibiotics against the most pressing bacterial infections and help make plant protection sustainable.

We spoke to Microbiology Society member, Dr Mark Wilkinson, Co-founder and Chief Scientific Officer of Bactobio to find out more about how they are hoping to tackle the antimicrobial resistance crisis.
Find out more about how the Microbiology Society and Bactobio are working together in the video below:
Could you introduce yourself and what you do?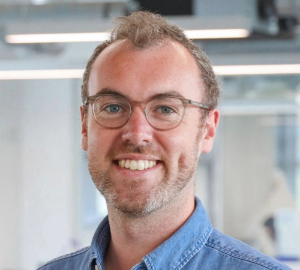 Hi – I'm Mark and I'm the co-founder and CSO at Bactobio. I am a biochemist by training, having studied Biochemistry at Oxford University followed by a PhD in Infectious Disease at Imperial College London and an innovation fellowship at GSK in Madrid. My passions lie in therapeutic discovery and development and translating scientific research to real-world impact.
Since establishing Bactobio in 2020, I have worked with our CEO and co-founder Dr Daniel Hansen to map out our scientific strategies, expand our team, and secure the necessary funding to propel our innovative endeavours forward. Supporting our CEO through three successful funding rounds, we've raised over £10 million from private investors and £4 million from grant funding to find new antimicrobials.
At Bactobio, the journey from a start-up to a leader in our domain has been exhilarating. I have had the privilege of overseeing the growth of our company to over 40 dedicated employees. With a clear vision, an incredible team of scientists and a shared ambition to drive sustainable solutions, the horizon is filled with promise and potential for ground-breaking discoveries.
What inspired you to start Bactobio?
Since my undergraduate degree, I have been passionate about developing therapeutics for infectious diseases. Meeting Bactobio's co-founder and CEO, Daniel, and learning of the ideas he had developed in his postdoctoral studies for antimicrobial drug discovery provoked a passion for harnessing the power of nature to combat the ongoing antimicrobial resistance crisis. Starting Bactobio in 2020, we were acutely aware of global healthcare issues and the silent and growing pandemic that is AMR (antimicrobial resistance). Indeed, since founding Bactobio, AMR-related deaths have risen from 700,000 to 1.2 million.
Practically, having worked in both academia and a large pharmaceutical company, I have seen many aspects of research that can work really well and others that become restricted in an academic setting or an industrial titan. Combined with my passion for therapeutic discovery and development, I was inspired to develop a company where scientists are empowered to develop innovation and work together towards making the world a better place.
We have been able to build Bactobio based on these values to facilitate cutting-edge research and development in an environment that fosters empowerment, collaboration, and impact.
How could the research taking place at Bactobio help to tackle antimicrobial resistance and why is it important?
At Bactobio, our research is focused on discovering new antimicrobials from the untapped potential of previously uncultured microbes. Using technological breakthroughs in next-generation sequencing, machine learning and bioengineering, we aim to discover new antibiotics with novel modes of action that could be game-changing in the fight against AMR. There is no silver bullet that will succeed against AMR, but in consistently delivering novel chemical scaffolds, we hope our platform will help prevent returning to a time when even minor infections were lethal. In doing so, we aim to secure effective and critical medicines for future generations.
What role does industry have in tackling AMR?
Industry engagement is a critical piece in our fight against AMR. At Bactobio, we hope to provide a place where we are able to propel scientific discoveries from the lab benches to bedside treatment. By working closely with academia, healthcare providers and other stakeholders, we believe the combined industry provides an ecosystem for innovation and knowledge-sharing, which in turn accelerates the journey from discovery to the delivery of new antimicrobials.
The platform provided by the Microbiology Society serves as a vibrant meeting ground to engage with a diverse community of researchers from both academia and industry united in tackling AMR. By championing responsible antibiotic use and stewardship, the industry is positioned to extend the lifespan of existing and new antibiotics, playing a crucial role in stemming the tide of antimicrobial resistance.
Why is collaboration important when tackling AMR?
The complexity and magnitude of AMR demands a concerted effort from all sectors: academia, industry, healthcare, governments and beyond. No single tool will be sufficient in slowing the spread of resistance and it requires a coordinated global effort. At Bactobio, we actively seek collaborations with academic institutions and other stakeholders to accelerate the exchange of knowledge, resources, and technologies. We hope by working together in this united front that we can outpace the developing crisis.
What advice would you give to an early career microbiologist wanting to move into industry?
The transition into industry is an exciting leap that allows you to translate your knowledge into real-world problem-solving. My advice to early career microbiologists would be to:
Speak to people. Working in industry is different from academia, and it's important that you discuss your options with professionals from all environments. Most microbiologists will have been in academic laboratories where people have gone into all different career paths and it's incredibly useful to hear their perspective before making your decision. If you do not have a network then try to build one – this can be done by attending conferences, engaging in relevant online communities…or joining the Microbiology Society!
Stay curious. A big part of the industry thrives on new ideas and innovation. Keep looking for answers to nurture your curiosity. Don't be afraid to question the status quo and look for a new way to do something.
Find your passion. Ultimately, you are bound to succeed if you are doing something you love!
By immersing yourself in the industry culture and staying committed to learning and evolving, you'll be well on your way to making significant contributions in the industry, much like what we strive for here at Bactobio.
---
If you are interested in opportunities for organisations to collaborate with the Microbiology Society, please email [email protected].
To find out about the latest updates, follow us on Twitter @MicrobioSoc using the hashtag #KnockingOutAMR.