Belfast on the Brink for Northern Ireland Science Festival
Posted on March 24, 2019 by Lindsay Broadbent
What happens when a city experiences an epidemic of an unknown pathogen? This is the question we set out to answer as part of 'Belfast on the Brink' - an immersive, interactive experience designed for the NI Science Festival by members of the Medicine, Health and Life Sciences faculty at Queen's University Belfast. Over 50 people attended this ticketed event, which was open to anyone over the age of eight.
After a quick welcome talk and a crash course in virology, our new scientists were sent out to assist with the pandemic, with suitably protective clothing of course!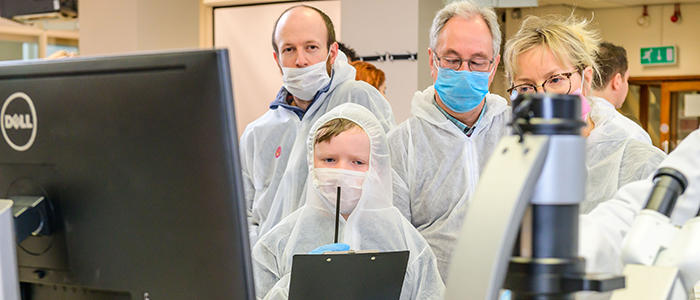 The first stop for our volunteers was at the hospital ward where patients with similar symptoms could be quarantined together and monitored. They were able to see that the virus followed a very similar pattern in all the infected patients, but we still did not know what the virus was, Therefore, our scientists had to take samples from our patients and transport them to our virology lab.
In the lab we were able to use an assay which would tell us which patients were infected. We also cultured the virus on cells to see what kind of damage the virus could potentially cause. Our scientists were able to match parts of the genetic sequence of the virus to other known viruses, helping us uncover what the new virus might look like.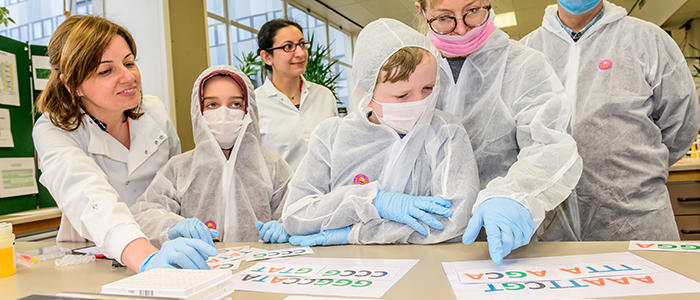 Once we discovered what the virus was, it was named the HULC (Human Unidentified Luminous Contagion) virus. We then enlisted the help of pharmacists to determine how to treat infected patients. Our volunteer scientists were fantastic and managed to create some medication that would alleviate symptoms and they are anticipating a vaccine in the near future.
The next step was to inform the general public about how to avoid infection and what to do if you think you might have contracted HULC. Experts in public health helped our scientists create campaigns to raise awareness of this new disease to try and stop the spread of future infections.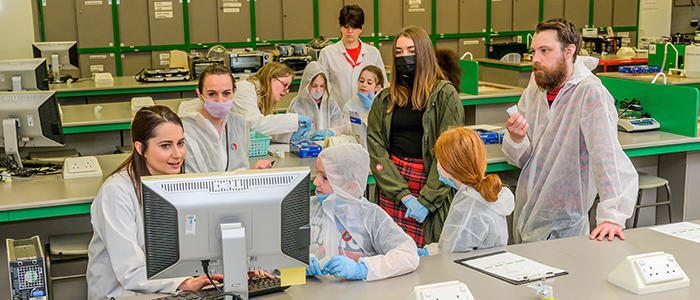 Two Microbiology Society Champions were involved in the organisation of this event:
Lindsay Broadbent said:
"I really enjoyed being involved in 'Belfast on the Brink' from the beginning. As a virologist that has been involved with pre-clinical trials for treatments this is exactly the kind of thing I am really interested in! Science outreach is an important part of our job, and events like this in particular take the mystery out of what we do and make it much more accessible and understandable. I delivered the welcome talk on the day and everyone that attended seemed to be interested and engaged. I also designed the cell culture and sequencing stations in the identification station; making a game out of sequencing was a lot of fun and I think I will use it to explain sequencing to my students! Other members of the Microbiology Society: Dean Coey, Matthew James and Aurelie Mousnier; and lab member Anna de Oliveira helped run the activities in the identification station."
Linda Oyama was involved with facilitating hands-on activities for participants at the detection work station. The activity to detect who was or wasn't infected with the HULC virus at the work station was primarily designed by another Microbiology Society member, Dr Mairead Connor with input from Dr Janet Robertson, Dr Maeve Palmer, a PhD student, Alanna Reid and Linda.
"On the day, we worked alongside the participants using a colorimetric assay to assess what stage of HULC virus infection our patients (Patients A, B, C and D) were at. This was determined by adding pH indicator (red cabbage extract) to four solutions differing in pH (which represented the samples taken from each of our patients), ranging from neutral to slightly alkaline. The higher pH resulted in observance of a deeper shade of green. Once the indicator was added, the samples were analysed using a spectrophotometer to obtain their associated optical density. The higher optical density (and the deeper shade of green) the more severe the infection"