Bioeconomy: Moving Towards a Sustainable Future
Posted on July 11, 2019 by Eva Scholtus
In recent years, the bioeconomy has gained increasing prominence as a tool which presents solutions to some of the world's most pressing challenges. Bioeconomy, the production of renewable biological resources and the conversion of these resources and waste streams into valuable products, holds particular promises for achieving several of the United Nations Sustainable Development Goals (SDGs), including SDG 6 on energy, SDG 8 on economic growth, SDG 12 on sustainable consumption and production, SDG 13 on climate change, SDG 14 on oceans, and SDG 15 on life on land.
In May 2019, Professor Kevin O'Connor, University College Dublin, an academic expert who also has his own business within the bioeconomy (Bioplastech, with patented technology for the manufacture and processing of a range of biodegradable polymers from sustainable and waste resources) participated in the Microbiology Society's A Sustainable Future project launch event. Along with other experts, Kevin spoke about the importance of microbiology for attaining the UN SDGs by 2030. Recently, Eva Scholtus, Policy Officer at the Microbiology Society, talked with Kevin to learn more about his experience working with policy-makers and others within the bioeconomy.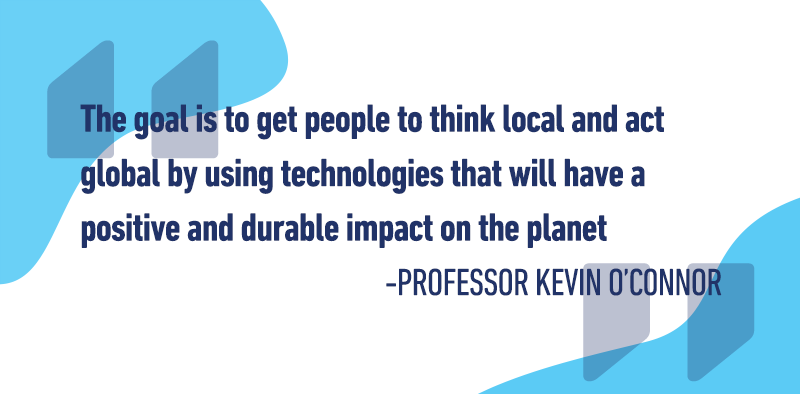 From directing a bioeconomy research centre to setting up your own biotech business, you've had many bioeconomy-related roles. How have the UN SDGs impacted your work?
Kevin O'Connor: I started working well before the UN SDGs were created but, in effect, I was doing research that was already being informed by the UN's sustainable development ambitions and by the Brundtland Report (1984) that tackled things like sustainable production, the use of waste, environmentally-friendly products, and the need to move away from fossil-based resources. Now these are all captured in the UN SDG framework. In a way it's a chicken-and-egg kind of situation: I was doing research before the SDGs but in effect the SDGs had existed in other formats for many years.
At the launch event of the Microbiology Society's 'A Sustainable Future' project, you spoke about how your work relates to Goal 12 'Responsible Consumption & Production'. What are some of the key ways microbiology can achieve the switch to sustainable production and consumption?
In order to change production and consumption we have to move away from fossil and go towards bio-based resources. Microbes are the best in the world at consuming things, they produce enzymes that are extremely powerful and very valuable at breaking down the biomass. Micro-organisms have a plethora of enzymes that can be used to convert bio-based resources into multiple products that are good for human and animal health, and good for material production. In effect, such converted bio-based products can contribute to greater environmental sustainability through reducing greenhouse gas emissions, contributing to resource efficiency, and enhancing human health.
You also spoke about the need to engage and empower a variety of stakeholders, including farmers, in order to innovate and change the policy landscape. Can you tell us more about how your work includes different stakeholders?
Farmers, foresters, mariners, and others, these people produce critical resources and we need them. They manage the land and sea and if they don't feel valued in the bioeconomy then we will fail to achieve a truly sustainable bioeconomy. I work with a lot of farmer co-operatives on biotechnologies and on helping them to identify opportunities. It's not about preaching and saying, "this is what is going to happen and if you don't change you are not going to be part of the future". Instead, it's important to listen and to engage. It's through working together that transformation can occur – but it's a slow process. Working with individual farmers is especially difficult. Economically they are struggling and technology is not their core business. Farmer co-operatives are bigger organisations, they usually have dedicated people that are looking out for new things. I think that is part of the challenge, getting the right structures in place so that when you engage individual farmers they can clearly see a path towards better business and a better life.
In a throw-away society characterised by the excessive production of short-lived or disposable items, how can changes in attitudes and behaviours contribute to global sustainability?
It's very hard to change our own mind so how do you change other people's minds? I think people have to see that their behaviours have consequences. We need to reward the good choices and to disincentivise the bad ones. Switching to low carbon energy, switching to more environment-friendly modes of transport, reducing plastic use, reducing waste generation etc., these are all positive behaviours that should be promoted.
The public perception of bio-based products plays an important role in supporting the bioeconomy. What are some of the common misconceptions people have about bio-based products?
As a society, we cannot have the attitude that we can continue to unsustainably consume, throw-away, and create waste. People think bio-based products are the magical way out and that such products just quickly degrade in nature. Bio-based does not mean biodegradable but rather the material has origins in biology or nature. Biobased resources are in effect also finite and we cannot unsustainably consume them without negative consequences. The use of sustainably managed biobased resources is one part of the culture change we must undergo as a society. The materials we produce can contribute to terrestrial and aquatic pollution.
Biodegradable plastics, for example, are seen as a solution to the global plastic pollution problem. By 'biodegradable' we should understand that products will be attacked by microbes and their enzymes but that a great deal will depend on the environment where they are left. In a controlled environment such as a composting facility the temperature is usually high and there is a high concentration of microbes leading to rapid biodegradation. If you have two pieces of the same biodegradable plastic packaging and leave one in a controlled compost and the other in the sea, you will find that the first disappears within a few weeks whereas the second can last for hundreds of years – since the temperature and the microbe concentration is lower in the sea than it is in the controlled compost. What biodegradables really offer are more end of life management options but certainly not the option for us to simply keep our throw-away attitude.
How can we improve public engagement with the bioeconomy?
My experience of people in Ireland is that they are much more engaged with the climate change and consequently the SDGs than they are with the bioeconomy. Things like water and air pollution, greenhouse gases, deforestation, inequalities, and lack of access to clean water resonate with us. If you can put the bioeconomy in that context I think you have a much better chance of people engaging. Suddenly they will be thinking that they shouldn't be using fossil-based products because these actually affect the Earth's climate. The goal is to get people to think local and act global by using practices and products that will have a positive and durable impact on the planet.
Do you think scientists should play a role in ensuring policy-makers are asking the right questions?
Not all scientists want to or can engage with policy-makers. Scientists who have an interest and a desire to engage should be able to receive the appropriate training that will help them become these experts in engaging with policy-makers. Policy-makers want to solve problems and to have clear opportunities for society at large. They need scientists who can give a clear message and explain to them what the grand challenges are and how science can help them as policy-makers to achieving societal impact. It is also crucial for policy-makers to understand the value of science and research. While we need scientists who can disseminate facts ,we need policy-makers who value science and are able to deliver knowledge based sustainable policy.
What do you see as being the next big thing for the bioeconomy research/industry? Will this be achieved by 2030?
I think the next big thing for the bioeconomy research is implementation. Society should be able to see that industry is actively converting our waste and resources sustainably into products of value coming out on the market. The integration of biodiversity, soil health, marine health and green house gas reductions into bioeconomy supply chains will be a critical part of demonstrating sustainable production. The European Commission and industry are working to revise their Strategic Innovation and Research Agenda so that they have clear achievable goals by 2030. I think that it is no coincidence that this timeframe is similar to that of the SDGs. We can achieve a lot in the next ten years, just as we have achieved a lot in the last decade. Ten years ago, we had a handful of biorefineries in Europe and now we have over a hundred, and that number in growing. It's going to be a huge challenge to achieve all of the UN SDGs by 2030 but we must have an ambitious plan to make significant progress. There is a huge opportunity for microbiology in the bioeconomy which will play a critical role in achieving the SDGs.
For further details on this project, including opportunities to contribute, contact Eva Scholtus at [email protected] or visit the A Sustainable Future page. To find out more about Professor O'Connor's work, read the summary of his Hot Topic Lecture from the Microbiology Society Annual Conference 2018.