COVID-19 testing in the Milton Keynes Lighthouse laboratory
Posted on June 18, 2020 by Connor Hayward
On 2 April, members of the Microbiology Society were given the opportunity to assist with testing efforts for COVID-19 in one of three 'Lighthouse laboratories'. Connor Hayward, PhD student at the University of Leeds, signed up to contribute to the testing efforts. Here, Connor reflects on how the testing process varies from his PhD research and reflects on his time at the lab.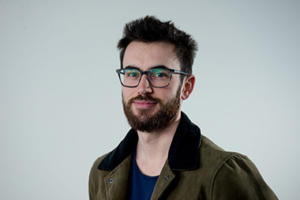 Positivity is a feeling that has often been difficult to find since the pandemic started, but thanks to an opportunity initially highlighted by my supervisors and then signposted to me by the Microbiology Society, it has recently become easier. For the past month I have been helping run COVID-19 diagnostic assays at the National Biosample Centre in Milton Keynes. Each day, this site is processing up to 30,000 samples from key workers as well as symptomatic members of the public. Being part of this operation has helped me rediscover a sense of positivity during an unprecedentedly difficult time.
The Lighthouse laboratories (located in Milton Keynes, Chester and Glasgow) were established as part of the fight against COVID-19 and are tasked with ramping up testing by recruiting researchers from across the country. I applied to be part of this recruitment drive and my colleagues at the Milton Keynes laboratory represent a varied cross-section of biological scientists, from plant scientists and cell biologists, to microbiologists and virologists. This variety is complemented by the mixture of PhD students and postdocs, to group leaders and institute directors. The sense of camaraderie working within a group containing such varied experiences is incredible and during a period of such limited social contact, is something I value greatly.
Being involved in diagnostic testing is very different from my day-to-day role as a PhD student at the University of Leeds, where I am undertaking a project to better understand the replication of foot-and-mouth disease virus. The variety of techniques I enjoyed in the laboratory pre-pandemic has been replaced with a single workflow of COVID-19 samples. Swabs arriving at the centre are triaged for those that can be processed by liquid-handling robots and those that require human intervention. Samples pipetted by hand take longer than the robot and employ a witnessing system with every transfer watched and confirmed by a colleague to ensure accuracy and quality control. The emphasis on following regimented protocols to ensure consistency and quality control is a focus shift compared to my academic research where innovation and investigation take precedence. Once the samples are transferred into plates they pass to the next station where magnetic beads are added before being processed by an RNA extraction robot, again to maintain reproducibility and quality. Purified RNA is then prepared for polymerase chain reaction (PCR) by robots to ensure consistency before being analysed for the presence of SARS-CoV-2 RNA, the causative agent of COVID-19.
Automation plays a major role at Milton Keynes, particularly in maintaining quality control in such a high-throughput work environment, but that isn't to underestimate the importance of the human side of this diagnostic effort. Members of my group at Leeds are now spread across other diagnostics laboratories and being apart means the support they had provided in our research lab now comes from my new colleagues as we work together for a common cause. During a time when people are forced to be socially distant, the diagnostic laboratory has become a beacon for those coming together to do what they can to help and use the skills that they have to offer.
Getting back to normal life still seems distant, but this experience is providing me with a refreshed appreciation for what my 'normal' day-to-day involves. Initially the prospect of moving to a new city and processing samples for 12 hours a day was daunting, but a rapid sense of camaraderie and belonging soon overcame any fears and the positive feeling of being part of something that is of benefit to the current pandemic settled in. I take pride in the small part I am playing in the fight against Covid-19 and feel very grateful for the chance to do so.