Developing a COVID-19 educational app
Posted on October 1, 2020 by Dr Carla Brown
In June, Glasgow-based serious game studio Game Doctor was awarded a £50,000 grant from Innovate UK to develop a casual mobile game to educate young people on coronavirus. Over the last four months the team have been working flat out to design the game, with the beta version almost ready for soft launch. Here, Game Doctor founder and CEO Dr Carla Brown discusses the project and invites the microbiology community to test the game.
About the project
In March, our team carried out pilot surveys to assess the knowledge and attitudes of 135 young people aged 4–16, towards coronavirus. Our findings showed that young people felt invincible towards COVID-19, with only 17% of respondents believing they would catch it. Only 51% believed that a vaccine was needed to combat this virus, and 62% of young people compared getting coronavirus to catching the cold or flu. Furthermore, over 20% reported anxiety over the pandemic. Our findings indicated that young people have extensive knowledge gaps around COVID-19 and that educational interventions are required to reduce infection transmission during the pandemic.
One potential solution for this was gamification. 93% of children and young people play video games in the UK, spending approximately 14 hours per week playing online (Ofcom, 2019). In addition to their high uptake, games have the ability to motivate young people and can track progress and behaviours. This type of platform is also extremely relevant due to the recent and widespread uptake of e-learning technology. This information motivated us to design an educational game for this demographic, and we applied for the COVID-19 Innovate UK competition to support a pilot. The goal of the project was twofold:
Design an effective beta game that improves knowledge and adherence to COVID-19 guidance and reduces anxiety.
Develop game analytics to measure knowledge gaps and attitudes to assess gaps in real-time.
Development Team
To design a game which would be effective in educational and behavioural change, we recruited an expert and diverse team from industry, academia and technology. The team at Game Doctor worked with health psychologist Dr Pamela Rackow from the University of Stirling, COVID-19 researchers Dr Lindsay Broadbent and Dr Connor Bamford from Queen's University Belfast, Professor David Robertson from the University of Glasgow and Dr Roger Harrison, who is based at the University of Manchester. The Data Lab, Scotland, also provided expertise on analytics and the digital landscape across Scotland. We recruited partner schools in Scotland and Gloucestershire to participate as testers during development.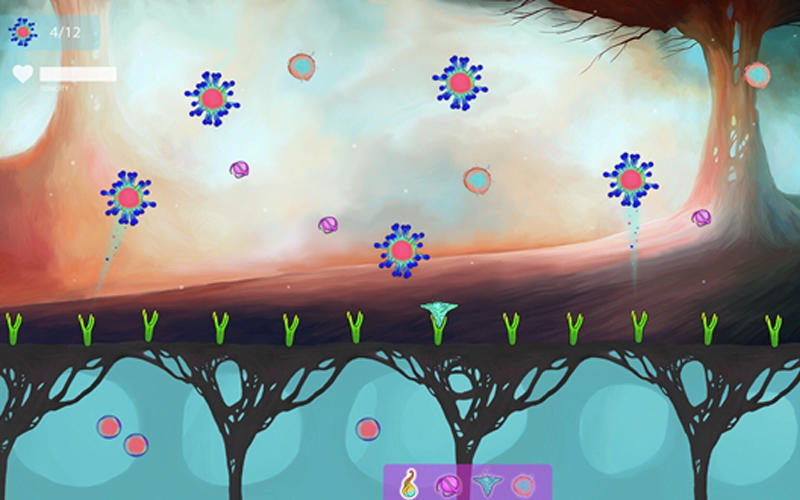 Game Development
Due to the rapidly evolving nature of the pandemic, we challenged ourselves to design and release a game in six months. To align with this, we designed a casual game for mobile devices which can be played and mastered quickly and is accessible to widespread audiences.
The target audience of the game is 8–15-year-olds, made possible through use of simple game mechanics supplemented by complex scientific concepts.
Remedy Quest is a strategy and defence game, with players using combinations of skills to protect against virus invasion, comprised of immune system, drugs and vaccines. Levels of invading virus are affected by external behaviours and events, such as social distancing. Each skill disrupts a specific component of virus infection, inspired by real-life drugs currently in clinical trials. Vaccine use produces a protective immune response in the game. Positive outcomes generate 'research points' – our unique game currency.
To level up drugs and vaccines in Remedy Quest, players use their research points to further investigate different areas of functionality. For example, for one drug in the game, players may choose to improve drug toxicity and concentration, but for another drug they may upgrade its effectiveness. In this environment, our goal is to highlight why vaccine and drug development can take so long, in an attempt to reduce part of the anxiety around this.
To separate Remedy Quest from death and disease, a positive and light art style is used throughout the game. To improve engagement with infection prevention and vaccination, personification was used to design unique and impactful characters for each skill.
We are now undergoing final testing with Scottish schools to assess the effectiveness of the game and educational and behavioural change. By educating students on how the virus infects – and by giving them a platform to treat it – we hope to reduce anxiety and improve adherence to hygiene and government guidance. Our goal is to engage young people and help them feel more involved with taking action during the pandemic.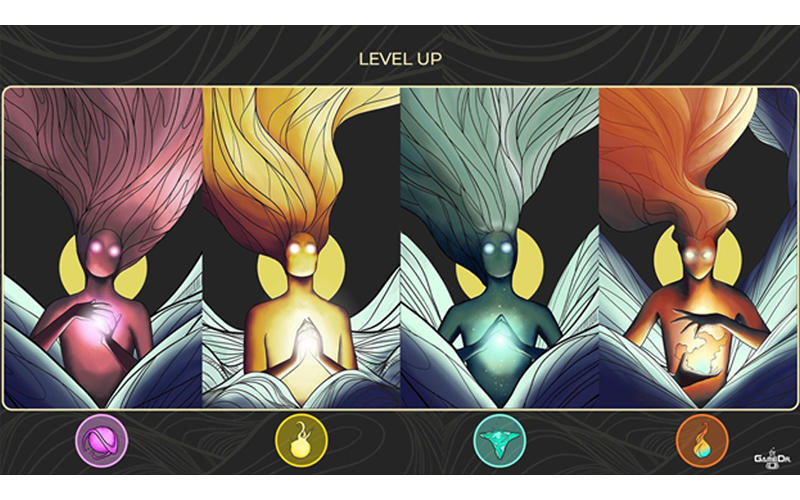 Validating our approach
Game design was informed by a period of extensive user research in June with schools from Scotland and England. Game prototypes were tested throughout development with school partners and members of the general public. All game content was reviewed by health psychology and COVID-19 consultants. Beta game will be disseminated to schools via the Times Education Supplement website. Game analytics were developed to measure player engagement and gaming behaviour. Research with Dr Pamela Rackow will be conducted using this data to evaluate the game's effectiveness.
Get involved
We are looking for members of the scientific community to test the game and invite their families and children to join them. If you are interested in testing the game, please join the Google Play testing track online.
If you are interested in testing the game for iOS, please contact the team by e-mail: [email protected]
New teaser for the trailer can be viewed on YouTube
For more information on the project or game, please visit the Game Doctor website
The team
Design Team: Dr Carla Brown (designer and producer), Lorna Van der Stighelen (artist), Ant Lewis (developer), Calum Robb (audio), Marcus Gray (animator)
Health psychology consultant: Dr Pamela Rackow, University of Stirling
Scientific consultants: Dr Connor Bamford, Dr Lindsay Broadbent, Professor David Robertson, Dr Roger Harrison, The Data Lab, University of Edinburgh
---