Exploring co-culturing to enhance antimicrobial compound production among isolates generated through the Antibiotics Unearthed Programme
Posted on January 27, 2021 by Dr Niall O'Leary and Leah McPhillips
Each year, the Microbiology Society awards a number of grants that enable undergraduates to work on microbiological research projects during the summer vacation and provide early- and mid-career scientists the opportunity to gain supervision experience. Over the next few months, we'll be posting a series of blogs from members who were awarded Harry Smith Vacation Studentships in 2020. This week is lecturer Dr Niall O'Leary and undergraduate student Leah McPhillips from University College Cork.

From the student: Leah McPhillips
My project was developed from the Microbiology Society's Antibiotics Unearthed Programme I undertook as part of my undergraduate course last year, which investigated soil as a source of antimicrobial compound-producing bacteria. We only focused on pure cultures then, but here I got a chance to investigate other variables that might have an influence on antimicrobial compound production. There were three principal aims for my project:
Determine if the co-cultivation of bacterial isolates obtained from various soil environments, including previously isolated antibiotic producers, influenced antimicrobial activity against a range of indicator strains of pathogenic bacteria.
Determine if the antibiotic production spectrum of Streptomyces species isolated in the first stage could be broadened or influenced by N-acetylglucosamine inclusion in the growth media.
Co-culture Streptomyces isolates with a mycolic acid containing bacterium, in this case Corynebacterium glutamicum.
We find ourselves in the midst of an antibiotic resistance crisis at present, and there is a desperate need for novel treatments and accelerated discovery of new antibiotics to treat multi-drug resistant infections. The exploration of alternative cultivation conditions as a means to "unlock" the expression of otherwise unexpressed antimicrobial compound pathways in bacteria, is thus, a promising opportunity to at least, in part, address this global crisis. The antibiotics unearthed programme provides an example of how the discovery component could be carried out in universities, in tandem with teaching activities and student labs. By manipulating the methodology behind the programme, I believe my results show that optimisations are possible in the isolation and induction steps, to increase the potential biodiscovery return from such activities.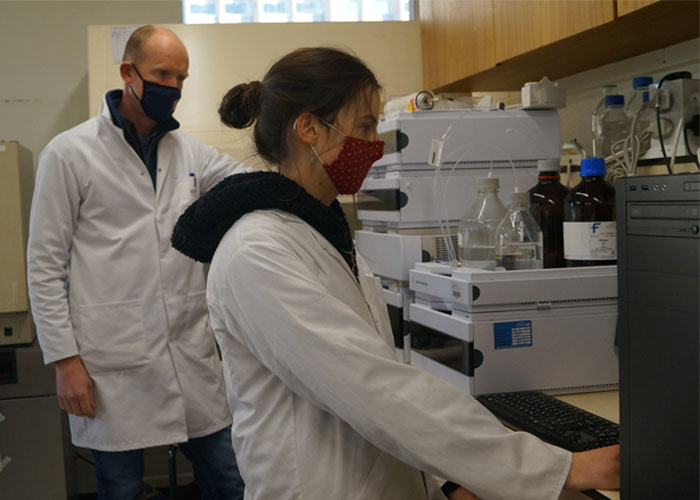 Without a doubt, this project has been incomparably beneficial for me. Not only has my participation consolidated in me that I definitely want to pursue a career in research; it has also greatly increased my confidence not just in practical laboratory skills but in my own capabilities. Having the onus on myself to ensure everything ran according to plan and on time, my results were interpreted correctly to carry out the next line of investigation and so on, which was both a challenging, yet very fulfilling role. It has been a real eye-opening experience to get such an insight into the way in which research is carried out in the environment of a research lab.
From the supervisor: Dr Niall O'Leary
The Harry Smith Vacation Studentship bursary allowed me to direct attention and resources to a few loose-ended questions which emerged from outputs of a research-led teaching activity. Throughout the studentship, which facilitated Leah's investigations, aspects emerged which I may now develop toward formal funding applications. I would also add, that awards such as the Harry Smith Vacation Studentship, while aimed at student development, also provide educators with evidenced examples of their drive to provide high quality research-led teaching and learning experiences. Such evidence can be very important in institutional academic promotion schemes! Finally, the rooting of the bursary from the Society, also allows for networking opportunities for both the student and supervisor, with other awardees and/or Society members with shared research interests.
Applications for our 2021 scheme are now open and will close on 17 February 2021. Find out more and apply on our website here. For any questions, please contact

[email protected]

.