International Day of the Elimination of Racial Discrimination: Omololu Fagunwa
Posted on March 21, 2022 by Microbiology Society
International Day of the Elimination of Racial Discrimination takes place annually on 21 March as a commemoration of the same date in 1960 when police in South Africa killed 69 people at a peaceful protest against apartheid. This year's theme is 'voices for action against racism', which specifically aims to highlight the importance of public participation and representation, freedom of expression and to peaceful assembly, as well as recognising the contribution of people and organisations in fighting racial discrimination.

This year, to raise awareness, we interviewed member and Champion, Omololu Fagunwa. Omololu discusses some of the challenges he has faced as a Black, international student in the UK.
---
"Black people and people of colour are still hugely underrepresented in most fields of science. The ceiling needs to be removed." Omololu Fagunwa
---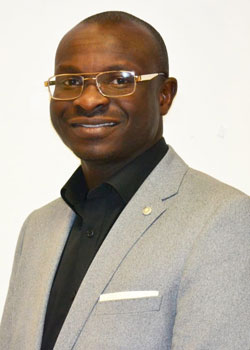 Could you tell us about yourself?
My name is Omololu (meaning precious child). I was born and grew up in Lagos, Nigeria. I received my first degree in microbiology from Olabisi Onabanjo University, Nigeria and later obtained my MSc in Biotechnology at Coventry University, UK. I am still based in the UK, concluding my PhD in Biological Sciences at the University of Huddersfield. I had my viva just before Christmas and am staying to make some final corrections to the thesis. I also have a link with the Ministry of Health in Nigeria.
What research or projects are you working on currently?
My PhD focused on isolation of probiotics and cellulose degrading bacteria from the gut of people with various diet types. I used culturing, metagenomic and nutritional analyses. While this project may be in the final phase of reporting findings, I am very much open to continuing to work on microbiome research at any UK-based group.
It's International Day of the Elimination of Racial Discrimination on 21 March 2022; will you be doing anything to raise awareness?
I will not be doing anything spectacular other than reposting some of my write-ups that promote the contributions of Black, Asian and minority ethnic (BAME) people on social media.
As a Black person and international student of microbiology in the UK, what are some of the challenges you have faced?
I have had some terrible experiences in the past. While studying Biomedical Sciences at a UK University, I was racially discriminated against by some senior staff members who were supposed to ensure elimination of racial discrimination. I was threatened with being sent to Nigeria for raising some concerns with the school. I don't believe such threats and discrimination would have occurred if I was a home student, rather than an international one.
Is there any advice that you would give to other people of colour working in (or hoping to work in) science?
Believe in yourself, be humble to learn and collaborate, find a niche within your field and be tenacious.
When and why did you first become interested in microbiology?
I wanted to study medicine but could not make the admission list. Instead, I was offered microbiology. I became interested in microbiology after some months into the course. I was particularly fascinated by reading textbooks on laboratory diagnosis of tropical diseases.
If you hadn't gone into science, what career path would you have chosen?
I would have been an architect or done something involving making technical drawings.
Do you think more needs to be done to support Black people and people of colour working in (or hoping to work in) science?
Yes. Black people and people of colour are still hugely underrepresented in most fields of science. The ceiling needs to be removed. There should be more intentional effort to support Black people to be the best they can.
Do you have any role models, if so, who?
I am inspired by the works and life of Michael Faraday, Alexander Fleming, Oyewale Tomori and lives of a few others that I have seen exhibit excellence in their scientific endeavour as well as their Christian faith.
Could you tell us why you decided to join the Society and become a Champion?
I want to be part of the large community of microbiologists in the UK and Europe. I joined the Champion scheme to promote the field of microbiology and the Microbiology Society.
If you would like to get more involved with Society activities, or become a Society Champion, you can find out more via our Get Involved webpage.