LGBTQ+ STEM Day 2022: Rebee Penrice-Randal
Posted on November 18, 2022 by Microbiology Society
LGBTQ+ STEM Day takes place annually on 18 November to celebrate and highlight the work and barriers of LGBTQ+ people in science, technology, engineering, and maths (STEM).

This year, to celebrate the diversity of its community, the Society is hosting an online event: Queer in Microbiology: A Conversation. Rebee Penrice-Randal is one of our members organising the event, so we caught up with them to find out more about their work and experience of being queer in microbiology.
Could you tell us about yourself?
Hello! My name is Rebee, I am a year post-PhD and I identify as queer. I work as a post-doctoral research associate at the University of Liverpool, UK, as a molecular virologist and bioinformatician, where my research focuses on using RNA-sequencing methods to characterise severe coronavirus disease from clinical samples. This is actually a continuation of my PhD! I also work as a research scientist for TopMD Precision Medicine Ltd, where I look at gene expression data from whole blood to identify prognostic or diagnostic markers of disease. Beyond science, I am an amateur photographer and I love going to local gigs in Liverpool, hanging out with my dog and tending to my houseplants.
It's LGBTQ+ STEM Day on 18 November; are you doing anything this year to raise awareness?
Yes! We are hosting an online event, Queer in Microbiology: A conversation, through the Microbiology Society. Following discussions at the LGBTQ+ meet up at Annual Conference 2022 in Belfast, it came to light that people in our community would benefit from role models. In response to this, myself and the other organisers have organised an online event to start the conversation more broadly. The event includes a panel of those within the community at different stages of their career, and will allow them to discuss their journey.
Have you ever had any concerns about going into academia as someone who is openly part of the LGBTQ+ community?
I have had good experiences so far. I am at the stage of my career where I am thinking of the next steps, and sometimes it does cross my mind that my next position could be a different environment, and different challenges could arise. That being said, I try not to let these thoughts take too much power and just be myself.
Do you think the STEM community is becoming more open to talking about issues affecting people identifying as LGBTQ+?
I hope so! I think it's hard to give an absolute answer on this though, for so many reasons, especially as I could live in an echo chamber. My direct network appears to be very open at the peer level, and I have been pleasantly surprised by discussions I have had with people in more senior positions. I don't think I could ever generalise this though. It's also important the other way around; because I am comfortable, I always try to create a safe space for people to discuss these issues with me if it is appropriate for them. I think this becomes easier the more you progress through academia, so hopefully, if I continue along the academic path, alongside others, we can keep contributing to this openness.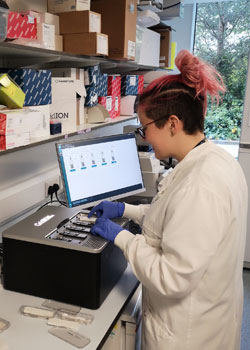 Could you tell us a little about your studies and/or work experience?
I am a molecular virologist and bioinformatician. I have been interested in viruses for as long as I can remember. I know that my mother's life journey has a lot to do with this too. Growing up, my mum worked in the social sector supporting vulnerable people, with a specific involvement in LGBTQ+ and HIV/AIDS work. Therefore, I had an understanding of the human immunodeficiency virus (HIV) and how this impacted people's lives from a young age. Fascinated by how a virus could cause so much stigma, I volunteered for HIV charities from 16 years old and I eventually volunteered for three months in Zimbabwe, working on community health projects when I was 18. I completed a BSc(Hons) in Physiology at the University of Liverpool, UK, where I worked on alphaviruses. I then continued my studies at the Liverpool School of Tropical Medicine, UK, gaining an MSc in International Public Health Planning and Management.
In 2021, I graduated from the University of Liverpool, with a PhD in Virology. During my PhD, I worked on reverse genetic systems from many negative strand viruses such as ebola, influenza and Crimean–Congo hemorrhagic fever virus, but moved onto a MERS-CoV sequencing project (before the pandemic!). This work then rapidly evolved into sequencing SARS-CoV-2 from many clinical samples to assess viral tissue tropism and viral genetics. I also used RNA-sequencing to investigate the host response to SARS-CoV-2 and Influenza A Virus from whole blood of patients at point-of-care and in animal models. As you can imagine, we generated a lot of data, which I am continuing to add to and analyse using bioinformatic approaches.
If you hadn't gone into science, what career path would you have chosen?
Given my relationship with what I do, I can't see myself doing anything else. I have walked this journey due to the anecdotes from the HIV pandemic and the impact this had on the queer community; the experiences I had volunteering as a young person and adult in addition to my huge interest in science and biology. I guess if it wasn't biological research, I imagine it would be more public health centred and probably social research. If I was to come up with something a bit more interesting, I guess I would have loved to do something with art, photography and/or music!
Have you experienced any bias or prejudice at university as a result of your LGBTQ+ identity?
Not that I am aware of. Although it's probably important to highlight that I am probably invisibly queer to people who don't know me very well. I feel like I have only ever been judged on my work, but it's also hard to say, because I don't know any different! It would be good to discuss this with others.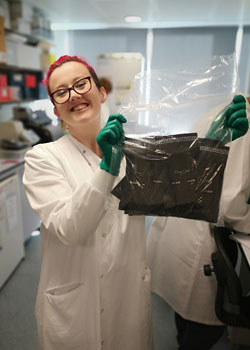 What advice would you give to someone considering coming out while in STEM/considering going into STEM?
You can do it, and you have a wonderful community here, even if you can't find us straight away! There is strength in community, and you deserve to be free to express yourself in your personal and professional life, no matter how you identify.
Do you think LGBTQ+ students get enough support in universities?
I have always found support through my peers when it comes to LGBTQ+ things. It would be nice to see a better level of understanding from those not within our community; I think challenges within our community can often be invisible and not understood so much. A little bit of education can go along way and possibly make people feel safer and more open.
Do you have any role models, if so, who?
Career wise, I don't know! I follow a lot of queer scientists on Twitter, which does make it feel possible to walk this path and be out. It is still quite isolating within academia. I think we could definitely benefit from more diversity at the top!
Outside of my career, it's got to be my mum! She has been an ally to the LGBTQ+ community before I even in existed, and she has taught me so much about creating safe and open spaces for expression and identity. We all have the power to do this for each other and think we should strive to do this in academic spaces.
What has been the highlight of your career so far?
Surviving a pandemic during a PhD on coronaviruses?! Yep. That was a bit mad, and very challenging. But I did it and I want to keep on going!
What do you hope to achieve in your career in the future?
I would love to have my own lab one day. I really enjoy mentoring and leading others and thinking about all things viruses. I am one year out of my PhD, so I am slowly working towards the next step. We shall see how it goes!
If you would like to contribute content for an awareness day, week or month, please read more about how to get involved.