LGBTSTEM Day: Michael Pascoe
Posted on July 5, 2019 by Microbiology Society
First held on 5 July 2018, LGBTSTEM Day is an initiative to celebrate diversity and inclusion of LGBTQ+ individuals in STEM. This year, our Member Engagement Officer, Eve, interviewed two of our Champions about their journey as LGBTQ+ individuals in STEM. In this interview, Michael Pascoe talks about his journey being a cis gay man in academia. Michael is a pharmaceutical microbiologist at Cardiff University finishing his PhD, and recently attended the LGBTQ+ networking session at the American Society for Microbiology (ASM) conference.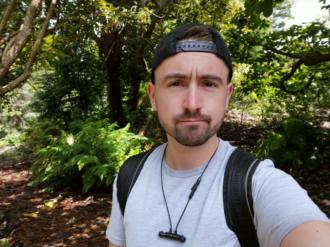 Can you briefly introduce yourself?
My name is Mike. I'm a cis gay man and a microbiologist from Cornwall. I'm currently finishing my PhD in Pharmaceutical Microbiology in Cardiff School of Pharmacy & Pharmaceutical sciences. Outside of academia, I attend a lot of music events and festivals, love kayaking and volunteer my time to various causes.
You attended the LGBTQ+ networking session at the ASM conference this year, how was it?
The session was a fantastic opportunity to meet other LGBTQ+ microbiologists from around the world. We all took turns introducing ourselves and our work and had an open discussion of some of the issues that affect LGBTQ+ scientists. Afterwards, a few of us headed out to some bars in The Castro, where many of San Francisco's gay bars are situated. The networking session was really interesting, but I wish it had been promoted better and was made more visible. The conference took place a week before Pride and so it was a missed opportunity to let the rest of the conference know that LGBTQ+ people are here, queer and proud to be microbiologists!
LGBTSTEM Day is on 5 July, are you doing anything to celebrate the occasion and bring attention to the issues around representation in STEM?
I'm fortunate that Cardiff University is consistently ranked as the most LGBTQ+-friendly university in the UK and organises a programme of events each year to mark the occasion. I was planning to head to a few lectures which showcase the fantastic research being conducted by my LGBTQ+ peers.
Has being openly LGBTQ+ affected or shaped your career in any way?
Growing up as a gay person in Cornwall was challenging, especially during my teenage years. There were periods during my schooling in which my mental health was really poor and I wished I could just be "normal" like everyone else. However, after going to university at Cardiff Met, I was really able to grow as a person and forge an identity I could be proud of. Getting through the tough times has made me a more compassionate person and so I dedicate a significant amount of my professional time to causes I care about including STEM outreach and harm reduction work. I'm a volunteer chemist with The Loop and just got awarded funding from the Wellcome Trust to kick start a harm reduction outreach programme in the Cardiff Capital Region. I strongly believe I wouldn't have seized the same opportunities without my background as a gay person.
Would you say there has been a shift in perception of LGBTQ+ people in STEM?
I must admit that as a cis-gendered white male, I don't experience the same barriers and discrimination that my trans, BAME and female colleagues face. However, I do feel as though LGBTQ+ scientists still face some uphill challenges with being out at work. Whilst open discrimination has become rarer these days, homophobic and transphobic attitudes still pervade certain fields. It's also easy to forget that the UK has a good record on LGBTQ+ rights. However, my colleagues from other countries find it challenging to live openly in the UK as they need to remain closeted to their family and friends at home.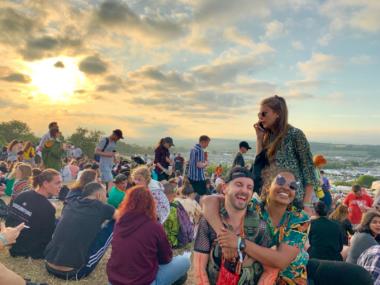 Have you experienced any bias throughout your academic career?
Whilst I haven't experienced any overt bias during my academic career in the UK, I still have to be considerate of which international conferences I attend. Homosexuality is still illegal in 72 countries and major discrimination issues still exist in other European countries. I refuse to travel to places where I would have to conceal my sexual identity or where I perceive there being a risk of being attacked, which is something my non-LGBTQ+ colleagues never really have to consider.
Can you tell us more about your PhD research?
I'm investigating using photosensitisers to disinfect medical surfaces. These chemicals produce reactive oxygen species when you excite them with visible light and have the potential to be a safe and environmentally-friendly alternative to traditional disinfectants. I'm working with an industrial sponsor to develop the technology, so the project is really translational and has been focused on the end-application right from the start.
If it wasn't science, what career path would you have chosen to pursue?
I love arts and crafts and working with my hands. I strongly considered studying Product Design at university before finally opting for Biomedical Science and so I like to imagine I'd be a designer of sorts in another life!
What advice would you give to your younger self (regarding your identity, career, professional decisions)?
Life has a funny way of taking turns that you could never expect. Small events and conversations can lead to huge changes in direction. Although there will be some hard times, you'll be a much stronger and more compassionate person when you get to through to the other side. Try to keep some perspective and remember that the best way to help yourself is to help others. Keep busy and seize whichever opportunities come your way and you'll end up with a varied and interesting early career.
Would you like to add anything?
I want to thank the Microbiology Society for supporting LGBTSTEM day and for giving me the opportunity to share my experiences as a gay scientist. I'll be organising an LGBTQ+ networking session for the Microbiology Society Annual Conference 2020 in Edinburgh next year, so I hope to meet plenty of fresh faces there! More details to follow.
Before we finish with all the questions, can you tell us why you decided to join the Society?
I joined the Society after completing a Harry Smith vacation studentship during the second summer of my undergraduate degree. I presented my results at the Society's Annual Conference in Liverpool in 2016 and have been a member since! It's been fun being a Society Champion and it's been great that I've been able to apply for grants to support events at Cardiff University.
And finally, what would you tell someone who is considering joining the Society?
Joining the Society is a useful way to extend your professional network with likeminded microbiologists. However, if you're going to join, I recommend becoming an active member and engaging with the fun opportunities the Society offers. The more you put in, the more you get out.
If you would like to get involved with Society activities, or become a Society Champion, contact our Member Engagement Officer Eve at [email protected]