Meet 2023 Sir Howard Dalton Young Microbiologist of the Year finalist: Kate Morling
Posted on September 21, 2023 by Microbiology Society
The Sir Howard Dalton Young Microbiologist of the Year Prize is awarded by the Society each year. The prize recognises and rewards excellence in science communication by a Microbiology Society member who is a postgraduate student or postdoctoral researcher, having gained their PhD in the last two years. In the lead up to the final, taking place on 3 October 2023, we will be getting to know each of the finalists in this blog series.

Kate Morling (University College London, UK)
What are your current research interests?
I am interested in using small molecules to manipulate viral infectivity, specifically, through mimicking or interfering with interactions between the virus and host proteins. My research focuses on Human Immunodeficiency Virus (HIV). I am interested in finding new antiviral drugs with novel mechanisms, as HIV-1 continues to cause hundreds of thousands of deaths every year, and current therapies are limited by side effects and resistance. In addition, I adapt our most potent molecules to make chemical probes, such as targeted protein degraders, and use them to improve our understanding viral infection. Specifically, I am looking at how the HIV capsid shields the viral genome from innate immune activation, the role of capsid-binding cofactors in infection and the mechanism of capsid uncoating. I hope to then use this work to guide design of inhibitors with increased potency and reduced sensitivity to resistance mutations.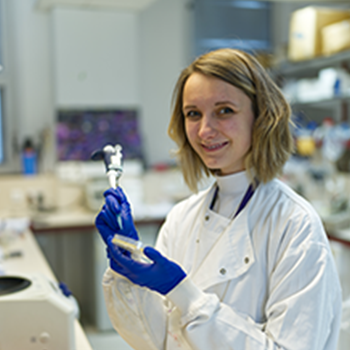 What is the theme of your talk?
My talk focuses on our design and characterisation of small molecules which inhibit the HIV-1 capsid, a relatively unexplored drug target. The HIV-1 capsid is a conical structure which safeguards reverse transcription of the viral genome, shielding it from innate immune detection as it transverses the cytoplasm to the nucleus. HIV combination therapies have been hugely successful at suppressing viral replication and increasing life expectancy, yet there is still no cure, and drug resistance is a persistent threat. Therefore, drugs with novel mechanisms are needed. We have used rational design to develop a series of inhibitors which cause allosteric changes in the capsid structure. Our molecules inhibit HIV-1 infection with nanomolar potency and bind the conserved cofactor binding site on capsid. They are predicted to alter the timing and location of capsid uncoating, and we are working to characterise their mechanism of action and susceptibility to resistance mutations associated with current capsid inhibitors.
How would you explain your research to a GCSE student?
HIV is a virus which can cause the disease AIDS (Acquired Immunodeficiency Syndrome), through attacking the body's immune system. There is no cure for HIV, but current therapies prevent transmission and people can live long and normal lives on treatment. We are looking at new ways to inhibit HIV-1 infection by designing molecules which target HIV-1's capsid protein. The HIV capsid is a cone-shaped structure which has the essential role of delivering the enclosed viral DNA safely to the core of the cell during infection. Our molecules prevent HIV-1 infection in cells, and we are working to understand their precise effects on the capsid. We are also investigating whether our molecules are still effective against viruses which have developed resistance to other capsid targeting drugs, such as recently approved Lenacapavir, and working to understand how these mutations cause resistance, to guide design of molecules which are more effective against viruses with these mutations.
If you weren't a microbiologist, what would you be?
An artist! I enjoy practical work and attention to detail, which are important both in the lab and in the art studio. I enjoy thinking imaginatively, experimenting with new ideas and trying to convey concepts in innovative ways, which helps me to design new experiments and present my research to different audiences, but could also be applied to art. I also enjoy learning new things, and, as with microbiology, there are always new techniques, skills and tools to learn to use in art. I have found art has been a great way to relax during my PhD!
Why is it important for you to be a member of the Microbiology Society?
The Microbiology Society provides an excellent platform for me to access research from and network with a huge number of researchers across this discipline, both in virology and in the broader antimicrobial drug discovery field. Earlier this year, I attended the Microbiology Society Annual Conference. This was a fantastic opportunity to share my work on HIV capsid inhibitors, receive feedback from experts in the field ahead of publication, and build confidence in public speaking. I also formed new, multi-disciplinary research collaborations through attending the wide variety of talks and gained new perspectives and insights into my work. The society also provides helpful funding, and I was able to attend the conference thanks to a generous travel grant provided by the Microbiology Society.