Meet 2023 Young Microbiologist of the Year finalist: Ed Deshmukh-Reeves
Posted on September 15, 2023 by Microbiology Society
The Sir Howard Dalton Young Microbiologist of the Year Prize is awarded by the Society each year. The prize recognises and rewards excellence in science communication by a Microbiology Society member who is a postgraduate student or postdoctoral researcher, having gained their PhD in the last two years. In the lead up to the final, taking place on 3 October 2023, we will be getting to know each of the finalists in this blog series.

Ed Deshmukh-Reeves (University of Kent, UK)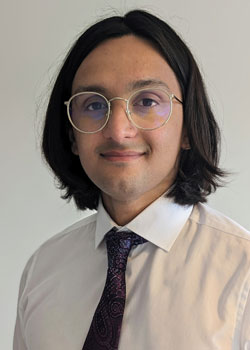 What are your current research interests?
Currently my key research interest is biofilm formation; in particular the formation of polymicrobial biofilms and the cross-kingdom interactions that occur within these biofilms. Another key area of interest is the formation of biofilms on medical devices, and how host factors can influence the rate of formation and the constitution of the resulting biofilm.
What is the theme of your talk?
My talk will focus largely on the human fungal pathogen Candida albicans and its role in biofilm formation on medical devices of the upper airway. We have data to suggest that C. albicans acts as a progenitor species to the polymicrobial biofilm – its ability to quickly adapt to host factors and develop a large biological-scaffolding allows the easier attachment of less naturally adherent yet potentially more virulent bacterial pathogens.
How would you explain your research to a GCSE student?
Many patients in hospitals rely on ventilators in order to breathe. These ventilators require medical tubing to be extended to the patient's trachea. The tubing can either go through the mouth and down to the trachea (endotracheal) or a hole can be made from the outside of the throat and accessed directly (tracheostomy). While these devices function exceptionally in providing respiratory support, they can often fail due to microorganisms growing on the tubing. This is especially a problem when these microbes drop down from the tubing, deeper into the lungs causing a serious infection called ventilator-associated-pneumonia. What makes this scenario even worse, is that many of the patients that have this kind of medical apparatus are already critically ill, so an extra infection on top of their existing condition is often fatal. One of the microbes that can grow particularly well on the medical tubing is a fungus called Candida albicans. The research we do suggests that Candida albicans and potentially other microbes can use our blood and proteins to grow extra thick and sticky meaning the likelihood of microbes dropping deeper into the lungs is much higher. In understanding how Candida albicans uses our blood and protein to grow we can come up with cleaning and maintenance strategies to prevent growth on the tubes in the first place, or develop new kinds of medical tubing that is specifically resistant to microbial growth.
If you weren't a microbiologist, what would you be?
One of the aspects of research that I enjoy is that it is largely self-directed so I think I would enjoy working as some kind of artist or maybe an architect! (Although I think I lack the artistic ability…).
Why is it important for you to be a member of the Microbiology Society?
The Microbiology Society has provided excellent opportunities to connect with a network of world-leading microbiologists. It has also given me a platform to present my own work, which has been critical for the development of both my research project specifically as well as my own career development. The feedback from world-leading experts in the Microbiology Society network has been instrumental in how this research project has unfolded.