Meet the Sir Howard Dalton Young Microbiologist of the Year Finalists: Aisling Brady
Posted on September 12, 2022 by Microbiology Society
The Sir Howard Dalton Young Microbiologist of the Year Prize is awarded by the Society each year. The prize recognises and rewards excellence in science communication by a Microbiology Society member who is a postgraduate student or postdoctoral researcher, having gained their PhD in the last two years.

Finalists shortlisted from oral and poster presentations at Annual Conference 2022 will present their research at the Society Showcase on the 5th of October. In the run up to the event, we will be meeting the finalists and getting to know a bit about each of them and their work.
Aisling Brady: PhD student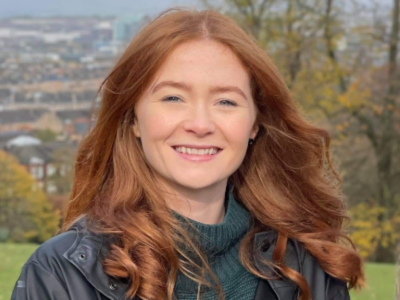 What is the title of your talk?
To lyse or not to lyse? Investigating the role of the arbitrium system in phage lysis-lysogeny decisions
What are your current research interests?
I am fascinated by evolution! To be more specific, I am interested in the interactions that go on between bacteria and their viruses (phages) and the molecular mechanisms that allow these organisms to co-exist.
How would you explain your research to a GCSE student?
Phages are viruses that infect bacteria. After infecting a host cell, the phage has an important decision to make: should it replicate to make more viruses and move on, killing the host in the process? Or should it stay put and remain inside the host cell? Some phages have a clever system called arbitrium that uses small chemicals to allow the phages to talk to each other. By communicating, the phages can make the right decision at the right time. My work aims to understand the genes involved in this system and their roles – like putting a jigsaw together!
If you weren't a microbiologist what would you be?
A barista or a coffee roaster. I adore coffee and the variety that comes with it – whether that be the type of coffee, where it comes from, the method of brewing – I think it's an amazing process. I also don't think I could have made it through my PhD without it!