Meet the Sir Howard Dalton Young Microbiologist of the Year Finalists: Bethany Pettifor
Posted on September 19, 2022 by Microbiology Society
The Sir Howard Dalton Young Microbiologist of the Year Prize is awarded by the Society each year. The prize recognises and rewards excellence in science communication by a Microbiology Society member who is a postgraduate student or postdoctoral researcher, having gained their PhD in the last two years.

Finalists shortlisted from oral and poster presentations at Annual Conference 2022 will present their research at the Society Showcase on the 5th of October. In the run up to the event, we will be meeting the finalists and getting to know a bit about each of them and their work.
Bethany Pettifor: Final year PhD Researcher at Bangor University, UK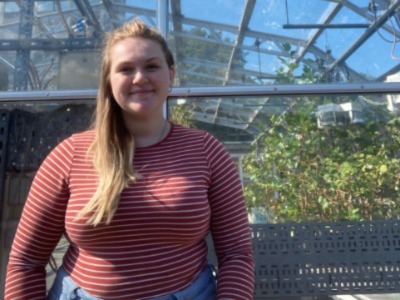 What is the title of your talk?
Investigating the ecology and infection biology of Gymnopus fusipes, a root rot pathogen of woodland trees
What are your current research interests?
I am interested in exploring biotic factors which contribute to tree declines in the UK, particularly for acute oak decline (AOD) and chronic oak decline (COD). My current research is focussed on the latter (COD), specifically relating to the fungal pathogen, Gymnopus fusipes, a causal agent of root rot in declining oaks. I enjoy utilising a suite of techniques, both culture-based and molecular, to be able to investigate different aspects of this understudied pathogen.
How would you explain your research to a GCSE student?
Gymnopus fusipes is an understudied fungus that causes root rot in trees across Europe. I started with a search of all existing research on this species, assessing its reliability, and identifying knowledge gaps. From here, I developed methods for working with it in the lab, including how temperature affects growth, important when thinking about climate change. I developed a diagnostic test, similar to the Covid-19 PCR test, to detect G. fusipes in tree samples; this was important as many infected trees show no signs of disease. Finally, I will investigate exactly how G. fusipes causes root rot, by looking at the genes linked to infection.
If you weren't a microbiologist what would you be?
A chef! I really enjoy cooking and making up new recipes with fun ingredients and flavours. I also find chopping vegetables very therapeutic, which has been a great way to relax throughout the PhD process!