Meet the Sir Howard Dalton Young Microbiologist of the Year Finalists: Ellen Harrison
Posted on September 29, 2022 by Microbiology Society
The Sir Howard Dalton Young Microbiologist of the Year Prize is awarded by the Society each year. The prize recognises and rewards excellence in science communication by a Microbiology Society member who is a postgraduate student or postdoctoral researcher, having gained their PhD in the last two years.

Finalists shortlisted from oral and poster presentations at Annual Conference 2022 will present their research at the Society Showcase on the 5th of October. In the run up to the event, we will be meeting the finalists and getting to know a bit about each of them and their work.
Ellen Harrison: Fourth year PhD student at the Department of Plant Sciences, University of Cambridge, UK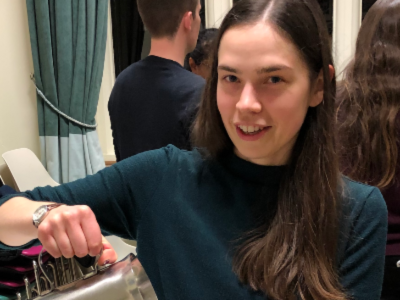 What is the title of your talk?
Utilising a novel microbiological assay to investigate Vitamin B12 uptake in microalgae
What are your current research interests?
The aim of my PhD is part of the Micro-Ecological Life Support System Alternative (MELiSSA) project, supported by the European Space Agency. I have been developing an edible bioavailable source of Vitamin B12 for astronauts on long space missions. B12 is essential for humans, and there are different forms of the vitamin, some of which cannot be used by humans. Only some bacteria can make B12, and like humans, some microalgae are B12-dependent. Therefore, I'm growing edible microalgae and bacteria in symbiosis to study how they interact, and if their interaction can enrich the algae with B12 for human consumption on Earth or in space.
How would you explain your research to a GCSE student?
We have a strain of Chlamydomonas reinhardtii, a green microalga, that is B12-dependent and, in the right conditions, can make some forms of vitamin B12 more bioavailable to humans. I developed a method (bioassay) to quantify the bioavailable form of B12 by comparing the growth of this microalga on an unknown sample to a standard curve (different concentrations of B12). This bioassay can be used to quantify how bioavailable to humans the vitamin B12 in products like microalgal diet supplements are, or to study how vitamin B12 is accumulated by microalgae more generally.
If you weren't a microbiologist what would you be?
A TV critic. I love watching TV, from the very trashiest to more serious dramas like Succession. I'll watch anything and enjoy discussing it over coffee with my lab group.