Microbe Zone winner Dr Bruno Silvester Lopes
Posted on February 3, 2020 by Dr Bruno Silvester Lopes
In November 2019, the Microbiology Society supported the online competition 'I'm a Scientist, get me out of here!' This programme connects scientists and school students in a fast-paced online chat. Here, the students have the opportunity to ask scientists anything they want and then vote for their favourite to win a cash prize. Dr Bruno Silvester Lopes won the Microbe Zone of November's I'm a Scientist competition, and here he talks about what it meant to him.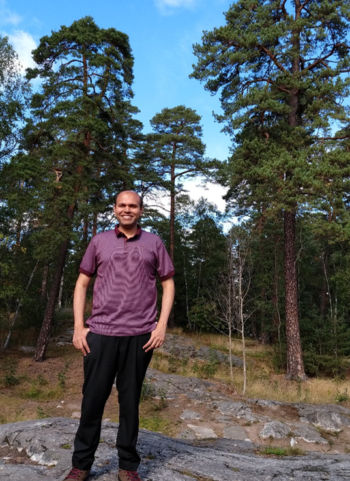 I grew up in India where I studied for my GCSEs and A Levels. At first, I wanted to be a doctor but although I got marks which would allow me to study medicine elsewhere in India, my family wasn't very keen on sending me, so I sought help from my mum's friend; whose daughter studied microbiology and visited their home to see what this subject was all about. After learning more, I decided to go ahead with it. In 2006, I graduated with BSc (Hons) in Microbiology and Biochemistry. I then went on to pursue my Masters in Biochemistry after which I received an offer from the University of Edinburgh to pursue a PhD, either in microbiology, or biochemistry. I finished my PhD in 2012 and came to the University of Aberdeen, where I am now a Postdoctoral Research Fellow working on pathogens that cause hospital acquired infections and foodborne gastroenteritis. In 2016, I was awarded a PGCert in Academic Practice and also elected Fellow of the Higher Education Academy.
I'm a Scientist, Get Me Out of Here is a competition where students or school pupils get a platform to have conversations with scientists who have had different career paths. This competition runs for two weeks, during which scientists have 30-minute chats with the students, and engage in answering their questions, which can range from ethical questions about the environment and sustainability – to what food do you like.
I was assigned to the Microbe Zone, which specialises in microbiology and has scientists working in this field answering various questions. From my experience I learnt that the students were keen on knowing how various fields of sciences can be interlinked, and how microbiology can contribute towards improving our society and making Earth a better place to live. This activity also gives scientists the chance to make an impact on how they contribute towards improving public health and make people more aware about some of the basic knowledge they have forgotten. As kids we all knew what is meant when someone said, 'prevention is better than cure'. Today many people may not really think about this phrase as often, so events like these re-emphasise some of the basic dogmas which can help in preventing infections and other diseases.
I am someone who likes to think about science and its interconnectivity. I have collaborated with many people in the past and present and this power of collaborative thinking has really helped to drive my knowledge ahead. We all have our gifts, but there is always something special in learning and increasing our understanding. So whatever you do, always think about how you and we can do it. This is something that I would say has contributed greatly to my knowledge. I am someone who likes a bit of everything, but it is my friends and collaborators who have increased my scientific knowledge I would say. I am a lifelong learner.
It feels great to have won and my prize is dedicated to the students and the teachers that have inspired them. I plan to use with the prize money to do talks at science festivals and participate in public engagement activities that will allow exposure of more students in understanding what microbiology is all about. It has made me realise that my work is inspiring students all over the UK, even if I am not a schoolteacher. It just shows what happens when we don't keep ourselves limited to our own little space or bubble.
My advice for anyone thinking of participating in I'm a Scientist, is to read about any unusual facts in your field and see how it integrates with other fields. At the same time also be aware of the ethical dilemmas that one can encounter. Listen to what the student has to say and if you don't know the answer just be honest and point the student to other resources. Personally, I didn't prepare, but I had dedication, devotion and determination and along the line I could see that my words were making a huge impact on the lives of students. One challenge that I did encounter was with my typing speed. The first day was a bit difficult because I didn't know what to expect and what was expected of me. Sometimes students would ask 10 questions in 30 seconds and just keep asking – so you need to find out which questions get priority and answer these first. If they still have any doubts, they can ask the question on the I'm a Scientist Forum where there is a chance for all the scientists to give answers.