New microbes discovered in a tomato plant, on a throat swab and on a salamander
Posted on October 19, 2021 by Laura Cox
Each month, the Microbiology Society publishes the International Journal of Systematic and Evolutionary Microbiology (IJSEM), which details newly discovered species of bacteria, fungi and protists. Here are some of the new species that have been discovered and the places they've been found.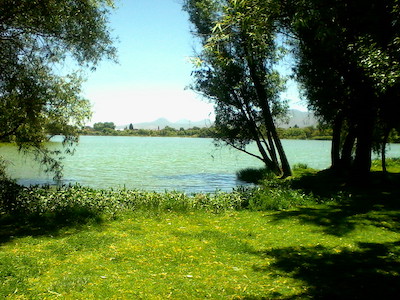 Discovered in 1984, the Anderson's salamander is a reddish-brown amphibian covered in black markings. Outside of zoos, the salamander is found in only one place on Earth: a small, high-altitude lake in Mexico, called Zacapu Lagoon. This month, researchers investigating a skin condition of a salamander in Schönbrunn Zoo, Austria. When investigating the micro-organisms associated with the skin of the salamander, which was suffering from redness, ulcerations and shedding, the research group discovered Luteolibacter ambystomatis, a rod-shaped, Gram-negative bacterium.
In the South of China exists the Pearl River Estuary. This complex network of rivers and streams combines both saltwater and freshwater ecosystems, providing a range of biological niches within a relatively small area. It is here that two new species of bacteria were discovered this month. First, a never-before-seen species of bacteria that produces golden-yellow colonies when cultured in the lab. This yellow bacterium, which is the first of its genus as well as species, was named Agilicoccus flavus. Meanwhile, in saltier waters downstream, a rod-shaped, pink bacterium called Roseaomonas ponticola was discovered by researchers.
The Pearl River was not the only aquatic source of microbes this month, further west, in France, Pectobacterium quasiaquaticum was discovered in water samples collected from a river in the south of France and in surface water collected from an artificial lake in the South of Paris. In Shantou, China, Penaeicola halotolerans was isolated from a shrimp pond, and Anoxybacillus karvacharenisis, a cream-coloured, rod-shaped bacterium that thrives at warmer temperatures was found in a hot spring.
The rhizosphere is a frequent source of new microbial species. This complex ecosystem around the roots of plants is host to several bacteria and fungi and is an essential contributor to plant health. This month, researchers from the Republic of Korea discovered an orange-yellow species of bacteria living around the roots of a tomato plant. They named this new species Flavobacterium dauae, after Dong-A University, where the bacterium was first isolated.
Two new bacteria were discovered in people this month. Researchers in Germany found Acinetobacter geminorium on throat swabs collected from twins during routine microbiological screening. A. geminorium is the 66th species in the genus, most of which have previously been found in soil and wetland environments, but their isolation from the skin of people is not uncommon. Meanwhile, in France, a woman with gingivitis was the source of a new species of bacteria, which researchers called Selenomonas timonae. This bacterium was collected from a mouth lesion caused by plaque-induced gingivitis, which is inflammation of the gum.
Spanning 18,600km2 the Kubuqi Desert is the seventh-largest desert in China. Due to overgrazing, the desert has expanded in size, but in recent decades, efforts have been underway to reverse desertification through a process called greening. Since 1988, one-third of the desert has been restored ecologically, with vegetation being replaced and ecosystems restored. It is here that researchers have found a new species of bacteria, which they named Luteimonas deserti. This slimy, bright yellow bacterium was first isolated from Kubqi Desert soil by researchers investigating changing soil ecosystems. Meanwhile, in Korea, another yellow bacterium was found in the soil. Researchers discovered Sphingosinicella flava in a soil sample collected from a maize field.