Q&A with professor Nigel Brown, Fellow of the Learned Society of Wales
Posted on May 1, 2023 by Professor Nigel Brown
We caught up with Microbiology Society Council member and ex-president Professor Nigel Brown on his recent election as a Fellow of the Learned Society of Wales.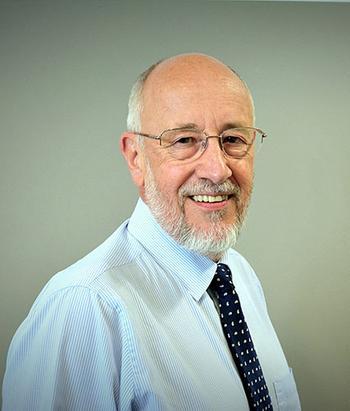 Congratulations on your election. Could you tell us about it?
The devolved administrations have academies and learned societies that are focused around the specific issues of those devolved administrations. The Learned Society of Wales is a relatively recent national academy for business, society, the arts and science. Their fellowships bring together people who represent excellence in their fields.
They selected me because of my work within microbiology, such as my work on metal resistance in bacterial systems. I have also done some work for the Welsh Government in the Sêr Cymru, "Welsh stars" programme, and I've done things for the universities of Swansea, Cardiff, and Aberystwyth.

What does being a Fellow mean?
It means that they are expecting me to have a lot of input to Wales, and I think that is very important for the Microbiology Society and our membership. There is a Welsh Microbiological Association, for example, and I think it is a society that we should be working with.

How do you feel about being elected?
I was asked by a colleague if I'd be interested in standing for election. I didn't expect to be elected, so it is a great honour. It's flattering to have more letters after your name!
The Learned Society of Wales isn't a society of microbiologists, it's a society not only of scientists but also people who represent excellence in humanities, arts, engineering and other fields. A whole variety of professionals who contribute to Wales and the Welsh economy are a part of it. It is great to be acknowledged by people outside of your peer group.

What does this mean for the Microbiology Society?
I think it's important that we have as many microbiologists as possible who are acknowledged as Fellows of the Royal Society, Fellows of the Royal Society of Edinburgh, Members of the Royal Irish Academy, and Fellows of the Learned Society of Wales. We have several of these across the Society already!
Of course, one of the interesting things is that we now have two former presidents who are fellows of the Learned Society of Wales, myself and Professor Hilary Lappin-Scott. So we will be pushing the importance of microbiology in the Learned Society of Wales.

Is there any advice you would like to give to other Microbiology Society members?
There is no single career path that will lead you to this, or any other, endpoint. What you've got to do is take the advantages when they come!