Science and the Assembly 2017
Posted on June 14, 2017 by Jonathan Hamston
Earlier this month, Microbiology Society staff and members attended the annual Science and the Assembly event at the National Assembly for Wales in Cardiff. Organised by the Royal Society of Chemistry, the event aims to strengthen links between Welsh policy-makers and the STEMM community. In this post, Policy Officer Jonathan Hamston gives us an insight into the event, for which the theme was 'Antimicrobial Resistance'.
Professor Sir John Holman, President of the Royal Society of Chemistry, opened this year's Science and the Assembly. In his keynote address, he discussed the threat posed by antimicrobial resistance and the need for scientists and policy-makers to work together to develop a coordinated response. He particularly praised the work of the Learned Society Partnership on Antimicrobial Resistance (LeSPAR), of which the Microbiology Society is a member.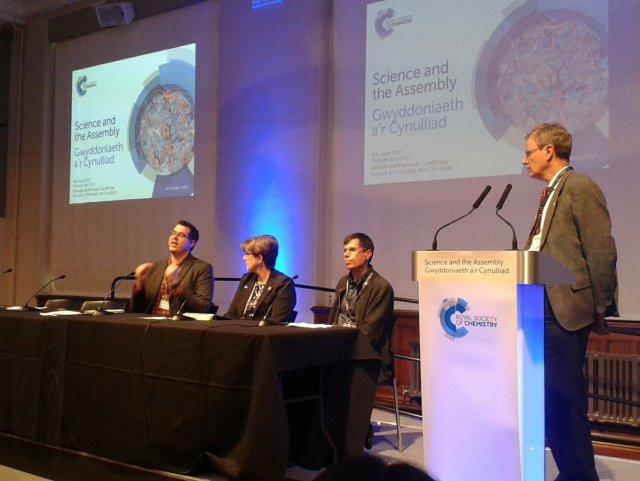 Novel antibiotics and alternatives
Several Microbiology Society members participated in the panel discussions. Professor Eshwar Mahenthiralingam, from the Cardiff School of Biosciences, spoke about exploring new sources of antibiotics, focusing on the possibilities of exploiting Burkholderia bacteria, which produce novel polyketide antibiotics. Dr Geertje van Keulen of the Institute of Life Sciences, Swansea University, looked at opportunities to obtain new antimicrobials from diverse or extreme environments, as well as finding new uses for familiar antimicrobials. Dr Arwyn Edwards from IBERS, Aberystwyth University, followed this by talking about developing the next generation of scientists, highlighting in particular the great work being done by the Society's Antibiotics Unearthed initiative. Panellists talked about the long road from discovering antibiotics to obtaining funding for development, and the role of serendipity in the discovery of new antimicrobials.
Infection, antibiotic resistance and stewardship
Dr Rowena Jenkins of Cardiff Metropolitan University kicked off the second session by talking about alternatives to antibiotics, particularly focusing on honey-based products to tackle wound infections. Almero Barnard, of Neem Biotech, discussed the role of industry in developing novel antimicrobials, and Dr Lovleen T Joshi of the Cardiff School of Pharmacy talked about the potential for developing rapid diagnostics to detect antimicrobial resistant bacteria and help reduce unnecessary use of antimicrobials. Lastly, Dr Rachel McMullan of The Open University gave a talk about the role of 'disgust' in protecting people and animals from infection, and showed how handwashing regimes in hospitals were a cost effective way to reduce the spread of pathogens.
Working together – scientists and policy-makers
A key theme from many of the panellists was the importance of interdisciplinary research. Time and again they referred to working with colleagues in chemistry, medicine, bioinformatics and other disciplines to realise the opportunities from new discoveries in microbiology. This was challenging and often expensive, and policy-makers could help advance this agenda, supporting innovation and unlocking funding.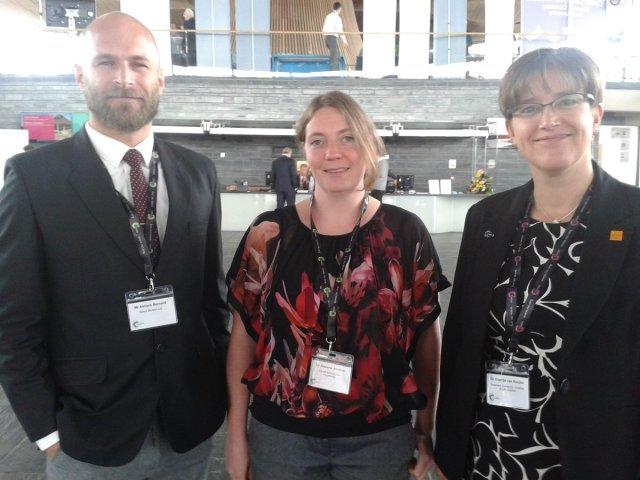 After the panels, delegates moved on to the exhibition hall, where the Microbiology Society and LeSPAR were present to discuss their work on antimicrobial resistance. There were speeches by Assembly Members, taking a break from the General Election campaign, including one from Vaughan Gething, Cabinet Secretary for Health, Wellbeing and Sport, who detailed some of the work being done in Wales to research and combat antimicrobial resistance, and praised the role of scientists in tackling this issue.
This event was a valuable opportunity for researchers, learned societies and science educators to meet with policy-makers and each other.
If you would like to know more about the Society's science policy activities and opportunities to get involved, visit our website, keep an eye on our newsletter, or contact [email protected]. Also, don't forget to read our new policy briefing on antimicrobial resistance.