Spotlight on Grants: Applied Microbiology in Uganda
Posted on August 17, 2017 by Kostas Gkatzionis
Every year, the Microbiology Society awards grants from its International Development Fund to support members' activities in countries where microbiology teaching or diagnostics require development. Dr Kostas Gkatzionis writes about his trip to Uganda earlier this year to run activities on applied microbiology for students at Kyambogo University.
Food microbiology is essential to build capacity in Uganda for food safety and quality testing, as well as increasing Uganda's chances of full participation in international food trade. This is why in January 2017, together with Dr Ediriisa, I organised three weeks of activities on applied microbiology at Kyambogo University, with a focus on techniques for characterising bacterial flora in fermented foods.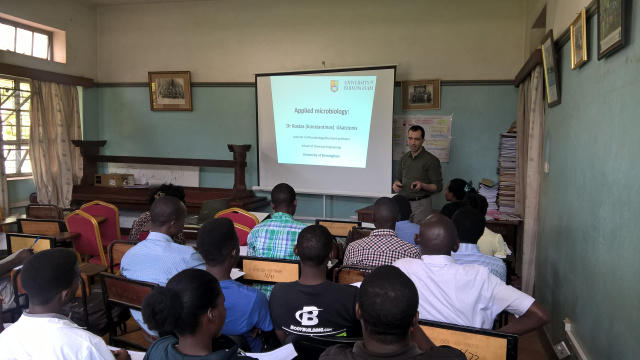 Seventy-eight people took part, including University staff, researchers, undergraduates and postgraduates, as well as scientists from government and the food industry. We delivered a series of lectures, ranging from the DNA–RNA–Protein complex to emerging trends like nanomaterials and their interaction with microbes. We also ran a computer-based exercise on ComBase as an example of a predictive microbiology tool to advance food safety with minimal, and free, resources.
One particular highlight was a visit to the laboratories of the National Crops Resources Research Institute (NaCRRI). We were welcomed by Dr Henry Wagaba, Head of the Biosciences Laboratory, and there the students took part in sequencing food microbes, including DNA extraction, PCR amplification and gel electrophoresis.
For the undergraduate students, visiting the institute was a unique experience, and something that they wouldn't normally have the opportunity to do. NaCRRI is one of the few places in Uganda with equipment to support molecular biology analyses and the practical aimed to demonstrate the principles of microbial identification while exposing the students to a research-driven environment.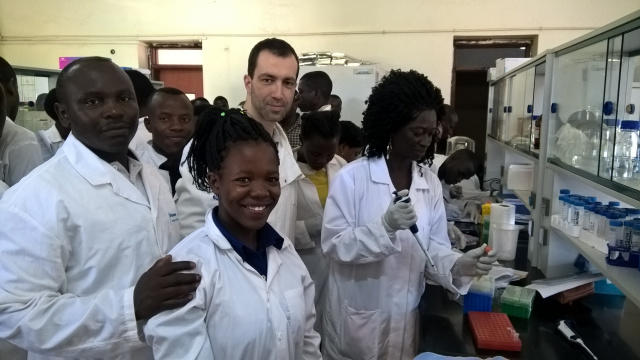 Lastly, we organised a conference in Najjera, 10km from Kampala city centre. The theme was 'Multidisciplinary Approach in Food Research: Offering Solutions for National Development', and I presented examples of projects and research case studies linking applied sciences to the food industry.
The conference was attended by the Vice Chancellor and University Senior Management as well as the public and the press, and attracted delegates from academia, food businesses and government authorities. Such conferences on microbiology are extremely rare in Uganda and its surrounding countries, and the event highlighted the contribution of Kyambogo University and its potential capacity for establishing a biannual microbiology event in the region.
The visit to Uganda also initiated valuable networking opportunities that otherwise would be impossible to achieve, and naturally, we discussed potential future collaborations and grant applications . The materials shared through the teaching activities led to new teaching resources for programmes at Kyambogo University.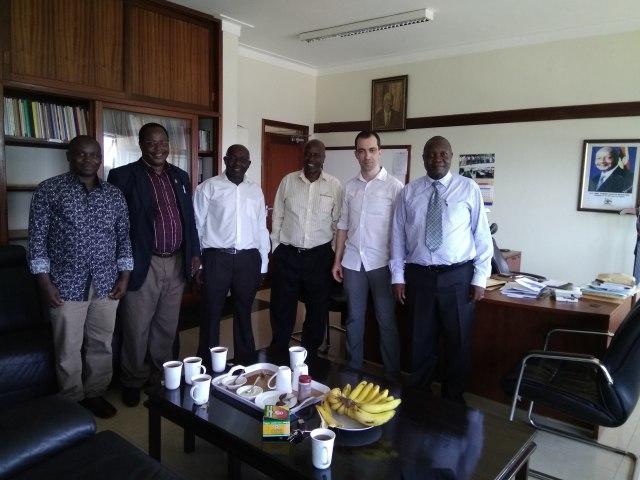 I would strongly recommend this grant scheme, and we are grateful to the Microbiology Society. The programme was positively received by the students, and I was impressed with their approach to learning, and their genuine and enormous gratitude for what is considered a given in the UK. However, the activity was very educational for myself too. Understanding the culture and way of business in Uganda is essential before designing joint grant applications or joint teaching programmes aiding the European–African collaboration.
Through such training programmes, the country is empowered with skills for effective detection of foodborne pathogens. They also advance research into fermented foods that are central in the Ugandan diet and essential for nutrition and food sustainability in rural areas. We hope this will gradually be a stimulus for more microbiologists in Uganda, which will provide the basis for strengthening the country's food control system. In the long run, this could lead to the promotion of population health, agricultural productivity and the expansion of international food trade.