The beginning of e-Bug Ukraine
Posted on March 11, 2020 by Rachel Exley
Just over a year ago, I had the opportunity to attend a meeting in London celebrating the 10th anniversary of e-Bug as a member of the Microbiology Society. In addition to being a very enjoyable and informative meeting, it led to an exciting new partnership between e-Bug and Ukraine.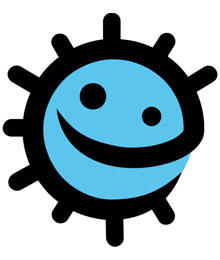 e-Bug is an educational resource consisting of lesson plans, online games and activity packs which aim to raise the understanding and awareness of micro-organisms and the spread, prevention and treatment of infection. The resources have been designed to complement the National Curriculum and are freely available for use in the classroom or community and endorsed by NICE.
The e-Bug project was initiated in 2006 and is coordinated by Public Health England's Primary Care Unit and at the time, included 10 EU partners. It has now expanded to include 28 partner countries, and the resources have been translated into more than 20 languages. During the anniversary meeting, the e-Bug team shared their plans to extend e-Bug even further. They presented a map highlighting existing partners and encouraged anyone with an interest in launching e-Bug in new countries to get in touch. Realising that Ukraine was not an existing partner country I discussed this with my colleague and former graduate student Mariya Lobanovska who immediately saw this as a great opportunity.
In 2017 Mariya organised an exhibition called 'Microbes are like people' in her hometown of Kharkiv in Eastern Ukraine. The exhibition was put together with support from her then PhD funders, the Anatoliy Denisenko Charitable Foundation, and with colleagues at the V. N. Karazin Kharkiv National University and the Landau Centre – a dedicated centre for public engagement founded by the University. In this exhibition, children were invited to explore the world of microbes, learn more about the immune system and understand how infectious diseases can be treated. The exhibition also highlighted the difficulties the world faces when dealing with outbreaks and epidemics. It was attended by hundreds of school children from Kharkiv and neighbouring cities and was a great success.
Mariya suggested the idea of bringing e-Bug to Ukraine to her colleagues in Kharkiv and to the e-Bug UK team. They supported the proposal and in May 2019, Mariya along with Victoria Kruglova of the Landau Centre, and a team of volunteers from the Departments of Biology, English and Ukrainian Language at Kharkiv National University began to translate all of the materials, including the young adult materials - making Ukraine the first partner country to translate the young adult resource. In addition, working with the e-Bug website developer Kirn Chakraborty, the Ukrainian e-Bug website was created. As a result of their hard work and investment, e-Bug Ukraine was ready to go live after just a few months!
The launch event took place in November 2019. It began with a symposium for teachers at Kharkiv National University who were welcomed with a presentation from Victoria Kruglova, who introduced e-Bug and shared the objectives of this project with the participants. For the rest of the day, volunteers from the Department of Biology and Medicine gave overviews of the Junior, Senior and Young adult materials, ran workshops on how the teachers, parents and children can use the website, and gave practical demonstrations of some of the materials. The symposium ended with a networking session allowing the participants to discuss ideas and, importantly, to begin to form a network of e-Bug users. I was invited to record a short video for the symposium, giving me the opportunity to share my own experiences of teaching children about microbes and hygiene and to explain why, as an academic with an interest in infectious diseases and bacterial pathogenesis; I think it is important that children grasp the importance of microbiology from an early age.
More than 100 teachers from Kharkiv and Kharkiv region attended the symposium and the following day over 120 teachers joined a live webinar, which enabled the e-Bug team to raise awareness of the e-Bug resources and activities among teachers from 15 different regions of Ukraine. The launch event received positive feedback and resulted in invites to many schools who were keen to learn more about the project.
After only three weeks more than 20 schools across Ukraine had already used e-Bug resources, which shows there is enthusiasm among teachers for this exciting new project. Since then, a dedicated Twitter page and a new Facebook page have been launched to help spread the word, and the feedback indicates that the materials are going to be a great resource for teachers and students. I was delighted to have had the opportunity to contribute to the launch event and look forward to e-Bug being used as widely as possible across Ukraine.