These are the Champions: Sagar Aryal
Posted on June 23, 2016 by Benjamin Thompson
The Microbiology Society has a number of Champions across the world who highlight the work of the Society and run microbiology-related events in their local area. In this post, we meet Sagar Aryal, who works at St. Xavier's College in Kathmandu, Nepal. We caught up with him to learn a little about microbiology in Nepal, his career and the publications he has set up.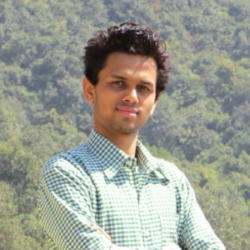 Sagar, where are you in your career?

Currently, I'm working as a teaching assistant at St. Xavier's College, helping undergraduate and postgraduate students with their studies. I'm also a student myself, and am coming to end of my Master's degree in Medical Microbiology – my theory courses are finished, but I'm yet to complete my thesis.
What is your Masters thesis about?
There are lots of people with tuberculosis (TB) here in Nepal, particularly pulmonary TB. I'm working on a hospital-based study to detect the genes related to multidrug-resistant (MDR) TB. I've been extracting DNA from sputum samples of patients and using PCR to identify the genes. It looks like there are some cases of MDR-TB in Nepal, though thankfully not that many.
What would you like to do after your degree?
To study for a PhD is my dream, but I think I'll work for a few years here in Nepal before I look for one. There are few opportunities to study for a microbiology-related PhD in Nepal, so it's likely that I'll have to move abroad, perhaps to the USA or Europe.
Why did you decide to study microbiology?
To be honest, I never really considered it while I was studying for my undergraduate degree. Later, after I completed my undergraduate and got enrolled in my Master's degree in the same college, I felt the need and importance to promote microbiology in Nepal, in Asia and across the world. During my Masters, I really loved the link between information technology and microbiology. After I started my blogs, websites, magazine, journal and social media pages, I thought that I have decided and locked my career in the field of microbiology.
What are some of the challenges you face when studying microbiology in Nepal?
It's very hard to get a research job after studying microbiology – those available are mostly teaching or simple laboratory work. Access to molecular biology laboratories is also a problem; while we're able to do plating, antibiotic sensitivity testing, PCR, things like that, there's no easy access to RT-PCR or sequencing. The lack of funding opportunities means that we have to search for grants from the government or from international societies and funding bodies. Sometimes we have to fund research out of our own expenses.
You do a lot of work communicating microbiology to others, could you tell us about that?
While I was studying, I started a microbiology-based blog, which has proved to be very popular. I thought I could expand on this and considered starting a magazine or a journal, but I was worried that I was too young to start them both myself! With some help from my professors and others at the college, I started the online magazine Microbiology World in 2013. The magazine is published bi-monthly and publishes write-ups and short communications, often by undergraduate and postgraduate students.
After the magazine, I had the idea of starting a scientific journal so that people like us from low-income countries also get chance to publish their research. In 2014, I started the International Journal of Microbiology and Allied Sciences (IJOMAS), an online journal that comes out quarterly and SXC Journal of Science and Technology (official journal of St. Xavier's College), a bi-annual print journal which just published its first issue in May 2016, where I work as Managing Editor.
Is it mainly Nepalese research that you publish?
Actually articles come from a wide area, including India, Pakistan and countries in Africa. The journal is free to publish and open access, as my aim was to create something for low-income countries. IJOMAS has 28 editors and 20 associate editors and is fully peer-reviewed.
How do you find enough hours in the day to do all these things?
The main things you need are interest and dedication! It can be difficult, however – for the journal I have to collect the articles myself and send them to the editors and the reviewers. I also have to populate the website. It's a big commitment and previously I had to manage these projects alongside my studies as well. My teaching assistant work is from 06:00 to 14:00 – after that I'm free to work on the magazine, journal and my blogs.
A year ago, Nepal was struck by a terrible earthquake – from a microbiology perspective, how have things been since?
At the time we were afraid that there would be an outbreak of cholera and other infectious diseases. Thankfully, there was a lot of information and awareness from the government and from national and international organisations on how people could protect themselves from the disease, which meant an outbreak never happened.
What do you like about studying microbiology in Nepal?
Whenever I go and teach other students, I like to explain the opportunities that studying microbiology can bring. I'm happy that I can talk about things that aren't study-related – those are taught by their professors – and I can let others know how important it is to publish papers and to go to conferences, to apply for grants, things like that of which there is not a lot of knowledge.
I also do a lot of social media work; my microbiology page on Facebook has around 213,000 followers, mainly from South Asia and the US. I use this page to tell people about the latest events or conferences, or to make calls for papers for the journal, as well as post informative or funny images related to microbiology.