World Refugee Day: Adnan Al-Hindi
Posted on June 20, 2022 by Microbiology Society
World Refugee Day takes place annually on 20 June to honour the strength and courage of people forced to leave their home country to seek safety from conflict or persecution. Taking place since 2001 to commemorate the anniversary of the 1951 United Nations Convention relating to the Status of Refugees, the aim of the day is to increase empathy and understanding for refugees around the world.

In the UK, Refugee Week also takes place around this day to celebrate the contribution, creativity and resilience of refugees. This year's theme is #HealingTogether through creativity and conversations.

Our conversation took place with member Professor Adnan Al-Hindi, who received support from the Society through a collaboration with the Council for At-Risk Academics (Cara). We find out more about Adnan's life and career.
---
"Despite the hard conditions we lived in, as all refugees do, we were committed to education." Professor Adnan-Al-Hindi
---
Could you tell us about yourself?
I am Adnan Al-Hindi; I was born in the Al-Shatti Refugee Camp in the Gaza Strip. I completed my primary, secondary and undergraduate studies in the Gaza Strip in science (biology) then moved to the UK to obtain a PhD in Medical Parasitology and Tropical Medicine from the University of Liverpool, UK. I was based in the Gaza Strip, working as a professor and researcher at the Faculty of Health Science, Islamic University of Gaza, Palestine and then I moved to the University of Glasgow, UK for three years.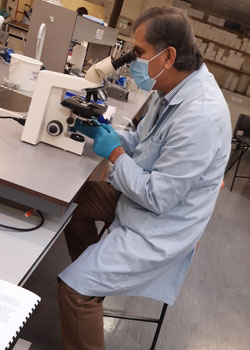 What research or projects are you working on currently?
Recently, I have successfully completed my Council for At-Risk Academics (Cara)-funded post-doctoral research fellowship at the University of Glasgow, UK, in which I investigated the molecular evidence of Toxoplasma gondii in rodent brain tissue trapped in local markets in Gaza City. The research results of this two-year project were presented at the International Symposium of Toxoplasmosis, held in the USA. The findings of my recent Cara-funded research have prompted the Mayor of Gaza City to reconsider the local markets' design and policy.
Could you tell us about your own experience of becoming a refugee?
I lived in Al-Shatti Refugee Camp since birth. At that time it was very crowded, with big families and open sewers. Despite the hard conditions we lived in, as all refugees do, we were committed to education.
In 2020, the Microbiology Society provided some support to you via Cara; did you find this useful and, if so, how did it help?
I highly appreciate the support from the Microbiology Society that enabled me to complete the first part of my project about the molecular epidemiology of Toxoplasma gondii in the brain tissue of rats trapped in local markets in Gaza City.
Is there any advice that you would give to other refugees working in (or hoping to work in) science?
I would advise them to learn advanced biological/molecular techniques when they conduct their projects. They should also give attention to publications and conferences.
Do you think more needs to be done to support refugees working in (or hoping to work in) science?
Yes, we should take into consideration the differences in the education system of their countries compared to the UK.
When and why did you first become interested in microbiology?
It started when I was an undergraduate, then I joined the Faculty of Science, Islamic University of Gaza, Palestine in 1995. I then completed my MSc and PhD and supervised the research projects of my students.
Do you have any role models, if so, who?
My mother and father are my role models; they struggled to support a large family of 14 and they worked hard to make us happy, and encouraged us to help others and adhere to good values.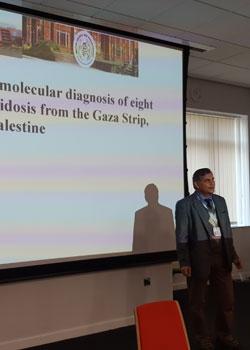 What are some of the highlights of your career so far?
I'm a dedicated researcher and parasitologist with 25 years of experience in academia. I have taught and supervised undergraduates and postgraduates from multiple disciplines in subjects ranging from general biology and zoology to advanced epidemiology, parasitology and research methodology.
Through leading the Faculty of Health Sciences, the Admission and Registration Unit and the Biology Department at the Islamic University of Gaza, Palestine over the past 12 years, I have encouraged a research-led teaching environment that emphasised the active role of students in learning by implementing the initiative of community-based learning. To support the role of technology in the learning process, I co-led the implementation of 'E-bug' in Palestine: the UK's initiative in providing a free online educational resource.
My internationally renowned research focuses on addressing both locally and globally relevant challenges through investigating prevalent zoonotic diseases in Palestine such as Toxoplasma gondii by genotyping and sequencing multiple genetic strains. Aside from my interest in molecular epidemiology, I successfully published research articles that investigate environmental health issues such as water impurity, which encouraged policy makers to take serious steps to improve water quality.
My international collaboration through fellowships and research grants in the UK, the USA and France has built my professional identity as a researcher, senior lecturer and academic leader. Due to my outstanding research in science the Royal Society, UK also endorsed me for the Global Talent VISA last year and the British Society of Parasitology granted me with honorary membership for life.
To find out more about Cara's work, you can visit their website and support them and microbiologists like Professor Adnan Al-Hindi by donating.