Launch Event - A Sustainable Future: The role of microbiology in achieving the United Nations (UN) Sustainable Development Goals (SDGs)
02 May - London, United Kingdom
Overview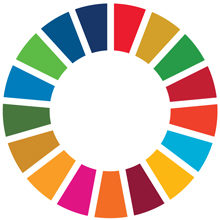 Overview
To mark the 75th anniversary of the Microbiology Society in 2020 we are embarking on an ambitious project that will demonstrate the value and raise the profile of microbiology in addressing the world's biggest challenges, by focusing on how microbiology can help to achieve the United Nations Sustainable Development Goals.
The launch event will take place at Central Hall, Westminster and include a panel discussion and Q&A session about the opportunities and challenges in achieving the SDGs. The conversation will focus on how the UK and Irish Governments can make better use of microbiology to meet their SDG commitments. It will be followed by a drinks reception providing an opportunity for networking between microbiologists, industry, NGOs, policy-makers and other stakeholders interested in the sustainable development agenda.
Please note that registration is essential for the event.
Follow us on Twitter @MicrobioSoc. Updates on the 'A Sustainable Future' project can be found using the hashtag: #MicroGlobalChallenges
Please email [email protected] if you require further information.
Programme
Programme
Time
Description

14:30–15:00

Registration and refreshments

(George Thomas Room)

15:00–15:15

Opening remarks (Robert Perks Room)

Professor Judith Armitage FRS

President of the Microbiology Society and Professor of Biochemistry, Oxford Centre for Integrative Systems Biology (OCISB) (University of Oxford, UK)

Professor Paul Kellam

Chair of the Microbiology Society Policy Committee; Vice President, Infectious Disease & Vaccines, Kymab Ltd; and Professor of Virus Genomics, Department of Medicine, Division of Infectious Diseases (Imperial College London)

15:15–15:20

Introductions from moderator

Dr Lisa Cross

R&D and Industry Scientific Portfolio Manager, Centre for Environment, Fisheries and Aquaculture Science (Cefas; Weymouth)

15:20–15:40

Opening statements by panel members

Professor Sir David Baulcombe FRS FMedSci

Regius Professor of Botany and Edward Penley Abraham Royal Society Research Professor (University of Cambridge, UK)

Professor Kevin O'Connor

Director of BEACON, the Science Foundation Ireland Bioeconomy Research Centre; Member of the School of Biomolecular and Biomedical Science and the Earth Institute (University College Dublin, Ireland); and A Sustainable Future project Steering Group member

Professor Penny Hirsch

Research Scientist (Rothamsted Research, UK)

Dr Tina Joshi

Lecturer in Molecular Microbiology, Lead for Microbial Diagnostics and Infection Control Research Group (University of Plymouth, UK); and Member of Microbiology Society Policy Committee

15:40–16:20

Panel discussion led by moderator
16:20–17:00
Q&A session with audience
17:00–17:10
Closing remarks
17:10–18:00
Drinks reception (George Thomas Room)
Registration
Registration
This event is free to attend.
There are limited number of places and registration is essential.