Fleming Prize: a short history
The Fleming Prize Lecture is awarded annually to an early career researcher who has achieved an outstanding research record within 12 years of being awarded their PhD. The award was first established in 1976 and named after Alexander Fleming, co-founder of the Microbiology Society (previously known as the Society of General Microbiology), member and its first President (1945-1947).
Alexander Fleming was critically acclaimed as one of the pioneers of modern medicine. He was awarded the Nobel Prize in 1945 alongside Ernst Boris Chain and Sir Howard Walter Florey for the discovery of penicillin and its curative effect in various infectious diseases.
Establishing the Fleming Prize Lecture – a short history
The Fleming Prize Lecture was established after founding member Professor Howard Rogers, suggested a Prize Lecture should be established to recognize the work of early career microbiologists.
Professor Rogers originally suggested that the award should be named after Alik Isaacs, who co-discovered interferon alongside Jean Lidenmann. However, it was later decided following a suggestion from the Society's first overseas member Roger Stainer, that the award should be named after Alexander Fleming, co-founder of the Society, member and its first President (1945-1947).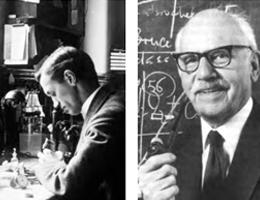 Pictured far left: A young Alexander Fleming (1881-1955) in his laboratory at St Mary's Hospital, Paddington, London, in 19O9. St Mary's Hospital Medical School, Science Photo Library
Pictured right: Howard Rogers (1918-1990), one of the original members of SGM and the instigator of the SGM Fleming Award. SGM
Since the award was instituted, 44 early career microbiologists have been awarded the Fleming Prize and many of them have gone on to achieve distinguished careers, honours and in one case (Paul Nurse) a Nobel Prize.




Early years
Birth of the pioneer of modern medicine
Sir Alexander Fleming was born on 6 August 1881 at Lochfield, near Darvel, Ayrshire, Scotland. Following his school education he worked in a shipping office for 4 years, enrolling at St Mary's Hospital Medical School in Paddington in 1903 and qualifying with distinction in 1906. He trained as a doctor and graduated with a BSc degree with Gold Medal in Bacteriology.
By the age of twenty-seven he was a lecturer at the very institute where he had first begun his training. Here he continued to progress his research into antibacterial substances and bacterial growth.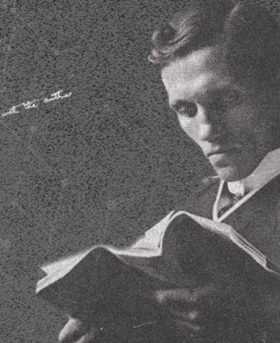 Antimicrobial resistance
An early warning about the overuse of antibiotics.
Fleming also discovered that bacteria developed resistance whenever too little penicillin was used or when it was used for too short a period. For this reason, he cautioned about the use of penicillin in his many speeches around the world, warning people not to use the antibiotic unless there was a properly diagnosed reason, and if used, to ensure the proper dosage was taken and for the proper length of time for the antibiotic course.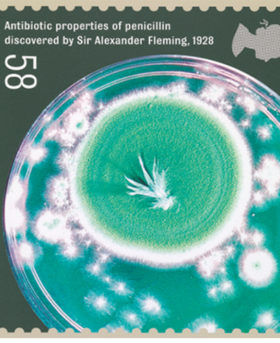 Legacy
Founding member and first President of the Microbiology Society
In 1945 he became the first President of the Microbiology Society when it was formally inaugurated on 16 February 1945, at a meeting of original members at the London School of Tropical Hygiene (pictured right at the Second International Congress of Microbiology).
He has received many honours and was elected Fellow of the Royal Society in 1943 and was recognized for his contributions to modern science by Time magazine in 1999, who named him as one of the most important people of the 20th Century. Visit our past presidents page to learn more about Sir Alexander Fleming.