Fleming Prize Lecture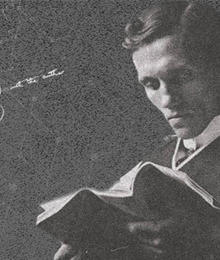 Established in 1976 and named after Sir Alexander Fleming, co-founder of the Society of General Microbiology (SGM), member and its first President (1945-1947) the Fleming Prize Lecture has recognized the work of 44 early career microbiologists, many of whom have gone on to achieve distinguished careers, honours and in one case (Sir Paul Nurse FRS) a Nobel Prize.
The recipient of the Fleming Prize Lecture will receive £1,000 and be expected to give a lecture based on their research at the Microbiology Society's Annual Conference. They will also be strongly encouraged to publish the lecture in one of the Society's journals, whichever is the most suitable. This decision will be at the discretion of the Editors of the journals.
Learn more about some of our previous Fleming Prize Lecture winners in a series of Q&A's.

Since the award was instituted, 44 early career microbiologists have been awarded the Fleming Prize. Find out more about them here.

The Fleming Prize Lecture was first established in 1976 and named after Alexander Fleming, co-founder of the Society of General Microbiology (SGM), member and its first President (1945-1947).
Key details
Nominations for the Prize are welcome from any member of the Microbiology Society, regardless of membership period or category. Nominees do not have to be a member of the Society.
Successful nominees and awardees will be notified by the end of November. Each Prize winner is also awarded £1,000.
Details of the nomination process, award criteria and administration are available below.
Fleming Prize Lecture videos
At the Microbiology Society's Annual Conference 2023, Dr Tanmay Bharat discusses his work on Structural Studies of Prokaryotic Cell Surfaces.
Nominations process
We welcome nominations for early career researchers who have achieved an outstanding research record within 12 years of being awarded their PhD. Years may be added to this total in respect to substantive reasons, which could include maternity/paternity leave, long-term sickness, or similar reasons. If you have any questions about eligibility, please contact [email protected].
All nominations should be accompanied by a CV pro forma at the time of submission. If you require inspiration for your nomination, please see the example nomination forms based on real previous winners, available on the Prize Lectures page.
After nominations are received, an appointed Prize Award Panel, chaired by the General Secretary of the Society, will be responsible for presenting a shortlist for the Prize Medal and a recommendation for all other Prize winners to Council for acceptance when they meet in September. The successful recipient will be invited to accept, and the recipient will be formally announced in Autumn.
If your nomination is unsuccessful, please remember that we automatically consider all Fleming Prize nominations again, for as long as the nominee remains eligible for the Prize. The Society office will contact you each year in order to update the nomination.
Award criteria
The Fleming Prize recognises individuals who have made a distinct contribution to microbiology early in their career.
Nominations should include:
Evidence of the individual's achievements since they became an independent researcher.
Evidence of a significant research programme.
Clear context if the individual you wish to nominate has taken a career break(s).
Clear evidence of the individual's contribution where they are known to be a highly collaborative researcher, in order to aid the award panel's understanding of the level of independence the individual has reached.
Evidence of mentoring and training others.
Additional information
All supplementary material required by the rules of the award must be provided at the point of nomination. If you foresee any problems meeting the advertised deadline, please contact [email protected].
We welcome nominations from groups of members. Please contact [email protected] if you would like to be put in touch with someone to help.
The Microbiology Society supports equality, diversity and inclusion (EDI), and asks that members making nominations consider the entire talent pool available. You can find out more about our policy and see our most recent data on the EDI page.
For questions about the Fleming Prize, please contact [email protected].
---