Society Events Grant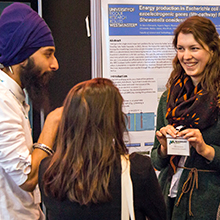 Funds are available to support eligible members attending the Society Annual Conference or one other Society meeting per year.
Maximum award:
Eligible members in the UK can apply for up to £350 for Annual Conference, and £200 for Focused Meetings (in-person attendance only).
Eligible members outside the UK can apply for up to £650 for Annual Conference, and £400 for Focused Meeting (in-person attendance only).
Applications requesting a contribution towards registration fees to attend Society online events will be considered.
International Focused Meetings
Eligible members can apply for funding to attend the Society's overseas Focused Meetings up to a maximum of £750.
Eligibility requirements:
Eligible membership categories:
Full Member
Full Concessionary Member
Postgraduate Student Members
Undergraduate Student Members

Minimum membership period required:
A minimum membership period of one year and two consecutive membership payments is required. Postgraduate and Undergraduate Students with three-year memberships will need to have completed one year membership (three-year membership payment constitutes consecutive payment).
What is covered by the grant?
Caring Costs
Eligible Members who wish to apply for additional sum of up to £400 towards childcare expenses, or other similar caring needs should request this in the caring cost grant section of the application form.
Creche Facilities
All registered delegates will be offered the opportunity to make use of these free childcare services at Annual Conference (not available at Focused Meetings), which will be offered on a first-come, first-served basis.
If you are unable to secure a place with our creche, and you need to pay for childcare services, you, will need to provide a clear breakdown of costs. Please note that as funds are limited and the Society endeavours to support as many applicants as possible, we may not always be able to fund the full amount requested.
If your application for caring costs is successful, copies of itemised receipts will be required to process your claim.
Application process
Applications should be made online via
Mi Society
.
You will be required to provide a full breakdown of expected costs of attendance in the appropriate part of the application.
Please read all information on this page carefully and ensure you have read and agreed to the grants
terms and conditions
before submitting an application.
Deadlines for Submitting applications.
Opening and closing dates for applications to attend the following events in 2024 are below:
Annual Conference 2024 will open on 18 January and will close on 1 February at 23.59 BST.
Pseudomonas 2024 will open on 8 May and close on 22 May at 23:59 BST.
Award criteria
Applications will be considered by the Society against the following criteria:
Applicant fulfils the stated eligibility criteria.
Attendance of the event is dependent on a clear and stated benefit to the applicants' professional development.
Applicants who have provided a detailed breakdown of costs including cost saving measures and how other sources of funding have been sought towards costs of attending the meeting.
If we receive more applications than we are able to fund for Annual Conference 2024, priority will be given to those presenting at the conference, early career members, and those without access to alternative funds.
Administration of awards
Applicants should expect to receive notification of the outcome of their application approximately six weeks after the closing date.
Applicants will be notified of an awarded grant via email. The grant award will also be displayed on the Mi Society account under 'Grant History'.
To claim a grant, successful applicants should log into Mi Society, and enter the award amount in the grant claim form. Claims must be made within three months of the funded event. Awards not claimed within this time will automatically be withdrawn by the Society.
Awarded funds will be paid to the applicant's nominated account by bank transfer within one month of an award claim being made. Please note that overseas payments may take slightly longer.
Grant recipients are responsible for their own conference registration, accommodation, and travel bookings.
Enquiries about this scheme should be made by email to [email protected].