Society Conference Grants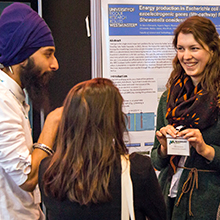 Funds are available to eligible members to support their attendance at the Annual Conference or one other Society meeting per year.
Restrictions for applications from international members have now been removed and international members can apply to either the Society Conference Grants or Travel Grants. Members must review the eligibility criteria for each grant and determine which is the most suitable for their circumstances.
Key details
Maximum award: Eligible members can apply for up to £350 for Annual Conference, and £250 for Focused Meetings.
Deadlines: dependent on events – see below.
Eligible membership categories: Full Concessionary and Postgraduate Student Members.
Minimum membership: no minimum membership period required.
Please read all information on this page carefully and ensure you have read and agreed to the grants terms and conditions before submitting an application.
Deadlines for submitting applications
Eligibility
Postgraduate Student Members and Full Concessionary Members who are presenting work.
What is covered by the grant?
Awards are made on the basis that funds are sought from as many avenues as are available to the applicants and therefore are intended as a contribution to the costs of attendance.
Caring cost grants:
Eligible Full Concessionary and Postgraduate Student Members who wish to apply for additional sum of up to £500 for childcare, caring needs or other similar costs should request this in the caring cost grant section of the application form.
If ineligible for a Society Conference Grant, but you wish to apply for childcare, caring or other similar costs, you should use the same application form and complete the section for caring cost grant.
Application process
Applications should be made online via Mi Society.
All required supplementary material should be provided at the point of application. Full expected costs of attendance should be given in the appropriate part of the application.
Award criteria
Applications will be considered by the Society against the following criteria:
Applicant fulfils the stated eligibility criteria.
Applicant's abstract has been accepted by the meeting organisers.
Attendance of the event is a clear and stated benefit to the applicants' professional development.
The supporting statement acknowledges the applicant's career stage and the necessity of attendance for their career development.
Deadlines for submitting applications
Opening and closing dates for applications to attend the following events in 2023 are below:
Annual Conference will open on 02 Feb 2023 and close on 16 Feb 2023 (midnight)
Candida and Candidiasis will open on 06 March 2023 and close on 20 March 2023 (midnight)
In recognition of the fact that the Candida and Candidiasis 2023 Focused Meeting is taking place outside the UK and is longer than other Focused Meetings in the 2023 events programme, applicants can apply for up to £750 to cover attendance at this meeting.
Administration of awards
Applicants should expect to receive notification of the outcome of their application approximately one month after the closing date.
Applicants will be notified of an awarded grant via email. The grant award will also be displayed on the Mi Society account under 'Grant History'.
To claim a grant, successful applicants should log into Mi Society, and enter the award amount in the grant claim form. No receipts are required for Society Conference Grants.
Awarded funds will be paid to the applicant's nominated account by bank transfer within one month of an award claim being made.
Grant recipients are responsible for their own conference registration, accommodation, and travel bookings.
Enquiries about this scheme should be made by email to [email protected].